Catherine Fritsch didn't plan the launch of her lingerie Web site, which went live Jan. 10, to coincide with Valentine's Day.

"It's not really even lingerie," she insists. But then again, coincidences have surrounded her line of sleepwear, as she prefers to call it, since she conceived the idea in 2008. Sweet Revenge, her label of five pieces (so far), actually began as a happy mistake.

After completing her degree in costume design and technology at Indiana University, Fritsch, 37, spent one year on a master of fine arts degree in design and technology at the University of Illinois before realizing she'd be better served working instead of studying.

So she returned to Indianapolis, where she worked for the Indiana Repertory Theatre for 11 years, "in a dark, messy costume shop with a view of a garage."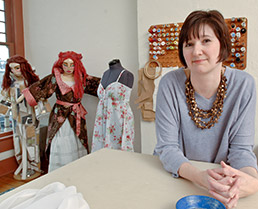 No, those aren't backup singers. The mannequins are sporting the creations of sleepware designer Catherine Fritsch, including a piece from her manufacturer. (IBJ Photo/Robin Jerstad)
Desperate for a change in scenery, she rented an adorable Victorian studio space in Noblesville (floor-to-ceiling windows and a marble fireplace) and founded Mercurious Designs. Custom wedding gowns are what pay the bills, but Fritsch describes the company as a pattern-making endeavor, since she designs prototypes for everything from laptop bags to plus-size lingerie for companies nationwide.

Fritsch was fine with her hodgepodge of projects, since they allowed her to determine her own hours while making a living being creative in her inspirational space.

But without a defined clothing collection, she couldn't participate in Midwest Fashion Week, something she figured would be good exposure. So Sweet Revenge was born in 2008, just in time to be included in the fashion show.

"I chose sleepwear because it requires so little fabric, which means low cost," she said. "I sent a large collection down the runway, thinking I'd get some bites from buyers at the show and that would give me a reason to manufacture one or all of the pieces."

That didn't happen, but she's decided to manufacture, anyway.

Six months after sending her prototype to a manufacturer in California, 600 pieces of her vision are stacked in boxes on her studio floor. Now she just has to find a place to sell them.

But she doesn't seem pressured to push her stock out the door. She admits her pieces (a nightgown, two camisoles, bloomers and a pair of tap pants made of a gauzy cotton lawn weave) are probably too springy to be marketable right away. To Fritsch, Sweet Revenge has been less a profit endeavor and more a learning experience.

"I wanted to become more intimate with the manufacturing process, since I toy with the idea of starting a small workroom since the Midwest doesn't really have a good clothing manufacturer," she said. "People tend to think things made in China aren't any good, but it's just not true. There's plenty of shoddy work here, too."

Whatever direction Fritsch decides to go—whether expanding her line of lingerie or opening an independent manufacturing business—it seems serendipity is on her side. As I sat in her studio, sipping coffee amid a mass of tulle and lace, someone called from a university in Florida to offer her a faculty position.

"That was weird," she said with a casual shrug. "I didn't even apply for that."•
__________

If you'd like to share your own style ideas or know anyone who's making waves in the fashion community, contact Gabrielle at gposhadlo@ibj.com. This column appears monthly.