Indianapolis-based Kiwanis International is competing for $1 million in a Facebook contest.
Sponsored by
J.P. Morgan Chase of Columbus, Ohio, the Chase Community Giving contest began Jan. 15 and runs through Jan. 22. The organization
with the most votes from Facebook users will receive $1 million.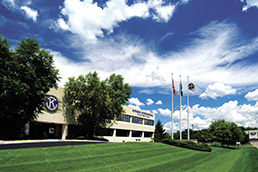 Kiwanis International is trying to
win $1M through Facebook. (Photo Courtesy Kiwanis International)
An advisory panel will award a second million-dollar
prize, based on the merits of a proposed project. Kiwanis proposes spending the money on its Key Leader camps for high school
students.
Kiwanis is the only Indiana-based organization among the 100 finalists chosen in December, Public
Relations Manager Jo Lynn Garing said. Other finalists with a national and local presence include the Susan G. Komen Breast
Cancer Foundation and American Cancer Society.
Please enable JavaScript to view this content.