Do we need another pizza chain in central Indiana? Well, that depends on how you define "need."

Sure, some intersections seem overrun with pizza choices. If you stand at just the right spot near Indiana University Hospital, you can see five of them. But, for now, that's not the case near the in-the-works Anson development in Zionsville. And that's where the first local edition of Fox's Pizza Den (6565 E. State Road 334, 769-2336) has set up shop.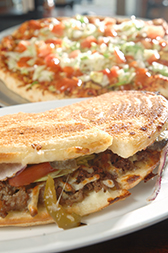 Folded pizza crust replaces bread as the container for the signature Wedgie sandwich at Fox's Pizza Den. (IBJ Photo/Robin Jerstad)
Its large cheese pie ($12.99) features a pillowy crust and boasts the lowest saturated fat, total fat and caloric content of the major chains. A Taco Pizza from the Gourmet section of the menu ($8.99 for a small) kept the spice under control and offered a tasty layer of taco meat and a sprinkling of nacho chips to go with the nicely blended sauce and cheddar cheese. Breadsticks ($3.99) were from the irregular, Papa John's school and thus portioned by weight (3/4 lb.) rather than number. A Custom Stromboli ($6.99 for a sizable small up to $11.99 for a large) puts the pressure on patrons to pick up to five ingredients to mix with the sauce and cheese. Three were plenty for us and they were nicely blended into a wholly satisfying enclosure—although charging an extra 50 cents for sauce seemed miserly.

Of course, carving out an identity requires some sort of signature dish. Fox's is the Wedgie ($7.99). Described, debatably, as "Like a Panini—only better," the Wedgie takes a pizza crust and folds it over lettuce, tomato, mayo and pizza cheese along with a choice of sandwich meats and other cheeses. We went with the steak variation, which proved a gut-busting—in a good way—combo of shredded sirloin steak, sweet peppers and onion. Fox's may be based in Pittsburgh, but clearly management has visited Philadelphia.

For now, just being in its lonely location may be enough for Fox's. But as other chains inevitably discover the area, the Pittsburgh-based company should be able to hold up on its own merits. And while Indy may not need another chain, I wouldn't complain if a Fox's burrowed into my neighborhood.•

—Lou Harry

__________

Last in a month-long series of visits to new pizza places.