Frank Hagaman is known as a developer for the homeless.
His not-for-profit Partners in Housing Development
Corp. builds supportive apartments for low-income people who have a history of drug or alcohol abuse, are frail or elderly,
or have HIV/AIDS or chronic mental illness.
For most of its 17 years, the organization used federal low-income
tax credits to develop its projects. But tax-credit projects are expensive, running an average of $120,000 per unit since
they typically involve new construction or major rehabs. And the deals can take up to three years to develop because of lengthy
government reviews and the need to sell the tax credits to private developers.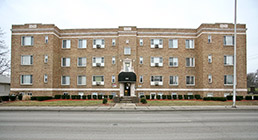 Partners in Housing specializes
in urban apartment communities, such as the recently acquired Crown Point apartments at 38th Street and Boulevard Place. (IBJ
Photo/Perry Reichanadter)
So Hagaman, a former banker, came up with a new strategy: Raise an equity war chest, buy
underperforming properties on the cheap, fix them up, and use the resulting cash flow as a permanent funding source for resident
services.
His pitch to various social-service and homelessness-prevention groups helped land the organization
a $2.5 million grant from Lilly Endowment Inc. in 2008. The group leveraged the funds to borrow another $6 million.
The shift in strategy came at an opportune moment: Partners in Housing Development seized on a weak real estate market
to acquire three urban apartment communities in the last 18 months—the 121-unit Orleans at 10th Street and Shortridge
Road, 60-unit St. George at 21st Street and Boulevard Place, and 40-unit Crown Point at 38th Street and Boulevard Place.
The group—which now owns about 600 total units in 12 apartment communities—paid roughly $4 million for
its newest acquisitions and plans to spend $4 million more to fix them up. If all goes according to plan, each of the communities
should be debt-free in about a year, throwing off cash to support on-site programs offered by partners such as Midtown Mental
Health from Wishard and the Homeless Initiative Program from Clarian Health.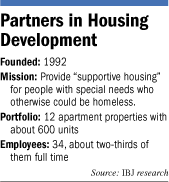 For the Lilly Endowment money,
the group pledged to add 150 supportive apartment units within 36 months, at a cost of $40,000 per unit.
After
just 18 months, they added 220 units at a cost of about $32,000 each, including rehabilitation.
"I wish
we had more developers like Frank who are willing to take the chances he takes," said Michael Hurst, a program director
for the Coalition for Homelessness Intervention and Prevention, a local not-for-profit with a mission of coordinating a city-wide
approach to end homelessness. "He won't go into a project without lining up financing and services for residents,
but developing affordable housing in this community and this economy is really challenging."
Only a handful
of developers are building housing in Indianapolis that's both affordable and provides on-site support services, Hurst
said. Among them: Englewood Community Development Corp., Hubbard Development Co. and Herman & Kittle Properties Inc.,
all of which are locally based.
Herman & Kittle is partnering with The Julian Center on a 71-unit supportive
apartment project at 34th and Meridian streets.
The demand for such units remains strong: The coalition projects
Indianapolis will need 600 more affordable, supportive apartments by 2013, Hurst said.
Partnership in Housing
Development bought its new apartment units for $17,000 to $21,000 each and plans to spend about $15,000 per unit for bathroom,
kitchen and utility repairs—well below the $80,000 to $250,000 per-unit national range for tax-credit deals, said George
Tikijian, principal of locally based Tikijian Associates, who represented the group on its deals.
"They
don't do Taj Mahal rehabs, but they fix them up and own properties without debt, and cash flow sustains them,"
Tikijian said. "It's a really cool way of doing it."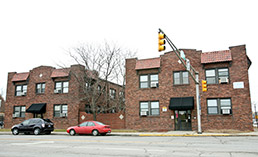 The group has no debt on the St. George
apartments at 21st Street and Boulevard Place. That means rent revenue can fund support services for residents. (IBJ Photo/Perry
Reichanadter)
In addition to the Lilly grant, the group gets financing from the Federal Home Loan Bank, community
development block grants and other federal sources. It also collects $1.5 million per year for federal rental assistance.
Hagaman, 59, said he learned the ins and outs of apartment acquisition and management from his mentor, John Watson
of locally based Van Rooy Properties. He now has a staff of 34, about two-thirds of them full time.
Many of the
existing residents in the acquired properties, including Orleans, which PIHDC bought in December, are "marginally housed,
just getting by and making due" and therefore eligible for the group's services, Hagaman said.
One
challenge for the group is communicating with neighbors of its communities—many are delighted to see repairs and
improvements, but they worry about the demographics of the people moving in. PIHDC emphasizes the services and support component
of its mission.
"All of our properties become an asset to the community at the end of the day, and we're
in many cases a far better landlord than was existing," Hagaman said. "Our property management is mission-driven,
not profit-motivated. It's a profound difference."
The portfolio is about 95-percent occupied, and
the group boasts 90-percent rent collection, despite an average salary for residents of $11,000.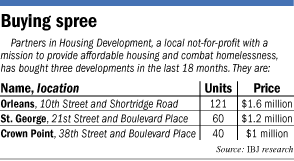 The group's communities include the Blue Triangle Residence Hall at 725 N. Pennsylvania St.,
a 1924 YMCA dormitory that had been vacant 27 years when PIHDC renovated it in 1998; and Colonial Park
at 4421 E. Washington St., a 106-unit complex built in the 1930s where units now include upgrades such
as ceramic tile and parquet wood floors.
Partners in Housing Development has its corporate
offices in one of its projects, Mozingo Place at 2811 E. 10th St., which features 22 apartments and first-floor
business space.
The group has no plans for new acquisitions in the immediate future—the priority now is
getting a handle on operating the new properties, Hagaman said.
Later this year, the organization may consider
new tax-credit deals, or whatever more compelling opportunity arises.
Hagaman prefers to call his organization
a "not-for-loss" instead of the more traditional description.
"Obviously, if we lose money,
we can't continue to do what we're doing," he said.•
Please enable JavaScript to view this content.