The Indiana State Teachers Association entered the 2010 legislative session hobbled. And a securities-fraud case Secretary of State Todd Rokita brought against the union last month could make matters worse, blunting its ability to help elect Democrats in November.

The ISTA long has been one of the most powerful forces in Indiana politics and the largest source of campaign cash for Democrats running for the Indiana House of Representatives. But Rokita's complaint seeks to freeze all ISTA assets until a conservator or receiver can sort out the scandal over its insolvent Insurance Trust.

In a close election year, ISTA's troubles could tip the Statehouse balance of power—giving Gov. Mitch Daniels a GOP majority for his last two years in office. The Democrats now have a 52-48 edge in the House, while the GOP has a commanding 33-17 majority in the Senate.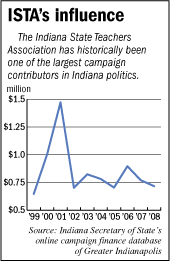 For Democrats, sidelining the ISTA would be like stripping Republicans of support from the Indiana Chamber of Commerce or the Indiana Manufacturers Association.

"[ISTA is] terribly important, because they're one of the organizations that really does lean in one direction at election time," IUPUI political science professor Bill Blomquist said.

"We have a lot of interest groups in Indiana politics that give heavily to both sides, and mostly favor incumbents over challengers. Few lean to one side."

In May, Warren Williams, then ISTA's executive director, resigned after state regulators discovered a $67 million deficit in ISTA's Insurance Trust. The trust, which provided health and long-term-disability benefits to teachers, had only $19 million in assets, 88 percent of which were invested in high-risk private equities or hedge funds.

In the wake of the scandal, the Washington, D.C.-based National Education Association temporarily took over the trust, and bought ISTA's downtown office building. Within a month, several teachers filed a lawsuit seeking class-action status against union leaders and their financial advisers. ISTA and the NEA then sued Williams and Robert Frankel, the trust's former director.

Rokita, a Republican, jumped into the fray late in the year, filing a civil complaint that seeks an accounting of ISTA's funds and the freezing of its assets. Rokita's Securities Division has asked for an expedited hearing, but a date hasn't been set yet.

A weakened giant

ISTA officials say their organization remains formidable. The union still has 48,000 members and a $23 million annual budget, though employment over the past year has fallen from 176 to 82.

Schnellenberger
Three-quarters of staff cuts were finance and administration positions related to running the Insurance Trust, ISTA President Nathan Schnellenberger said.

The Insurance Trust provided health care benefits to more than 2,000 teachers. Their benefits are now being administered by the local office of UnitedHealthcare, a Minnesota-based health insurer.

ISTA continues to handle disability payments to the 650 teachers covered under that plan. To free up money to apply toward those obligations, the union boosted annual membership dues $40, to $489.

It's unclear whether Rokita's investigation or other litigation eventually could force ISTA to set aside millions of dollars to restore lost Insurance Trust principal.

While the trust debacle may have been embarrassing, it hasn't diminished the union's political influence one iota, Schnellenberger insists. ISTA's rivals will spend 2010 testing that theory.

"Has any of this affected, or will it affect, our lobbying or our election work? No," Schnellenberger said. "We'll continue to lobby for the children of Indiana for what we think's best for public education, and we'll continue to work for candidates who support public education, just as we have in the past."

As usual, ISTA's three-person lobbying team is pressing the union's positions this legislative session about school spending, education policy and the state budget.

ISTA's separate political action committee historically has been one of the biggest sources of campaign cash in Hoosier elections, contributing about $1.5 million—primarily to Democrats—in every two-year cycle.

Unlike teachers' membership dues, PAC contributions are voluntary. Schnellenberger said 70 percent of ISTA members give the suggested $24 or more annually, and they've kept up their donations despite the Insurance Trust scandal.

Perhaps even more important, ISTA regularly mobilizes many of its 48,000 members on behalf of the candidates it supports.

Indiana Chamber of Commerce President Kevin Brinegar acknowledged ISTA's clout. He said both his organization and the ISTA recognize their resources can make or break tough campaigns in key legislative districts.

"In the last election, there were about a dozen [Indiana House] races decided by 500 votes or less," Brinegar said. "When you've got that many close races, for any one candidate to have superior resources to be on the radio every week, get an extra piece of direct mail out, or have an extra-coordinated get-out-the-vote campaign on Election Day, that can make the difference."

Longtime teacher

Visit Schnellenberger's ninth-floor office at 150 W. Market St. and you'll be treated to a terrific view. The Statehouse rotunda is across the street. Amid the hardwood floors, potted plants, flat-screen television and small private kitchen, Schnellenberger has posted ISTA's slogan: "No whining. No excuses. No drama. Just results."

The 58-year-old came up through the union the long way. He spent 33 years as a science and driver's education teacher, all but four of them 170 miles southwest of Indianapolis at Forrest Park Junior/Senior High School in the town of Ferdinand, population 2,336.

As a teacher, he saw the benefits of ISTA membership in addressing everything from contract negotiations to classroom conditions. As a result, he was more than happy to volunteer for the political candidates ISTA supported, handing out literature door to door.

"Everything about an education employee's job is controlled by an elected official, either in the Statehouse or on a school board," Schnellenberger said. "Because of that, by necessity, ISTA should be involved in those processes."

ISTA's political choices, such as which Statehouse bills to support or candidates to endorse, all originate at the grass-roots level, Schnellenberger said. They then percolate up through the union's Issues and Concerns Committee.

Both Republicans and Democrats can earn ISTA's support, Schnellenberger said, but contributions skew away from the GOP because of its positions on a host of issues, from standardized testing to collective bargaining.

"For me, it's not about political parties," Schnellenberger said. "It's about supporting those people who support public education, in the way that we see public education, the way we feel it should be delivered."

Toeing the line?

David Orentlicher was one such candidate. He represented the House's 86th District—one of the most competitive in the state—from 2002 to 2008. Over several campaigns, he received $94,900 in ISTA contributions, records show.

Orentlicher, who's now exploring a run for Marion County prosecutor, said ISTA's candidate-evaluation process involved a questionnaire and interview. He said the union was especially helpful mobilizing the 200 to 300 people he needed each Election Day to stand outside polling sites and hand out his leaflets.

An IUPUI law professor, Orentlicher said he regularly voted his conscience. It just happens that his education philosophy aligns with ISTA's.

"I don't doubt there are times when legislators will, if they're unsure how to vote, they might be influenced by donors," Orentlicher said. "In my case, what happened is I voted as I thought, and sometimes I lost support [from other donors] because of that. That's the way it needs to be."

State Rep. Nancy Dembowski, D-Knox, has received even more support from ISTA, with contributions totaling $114,500 since 2004. Dembowski expects a tough re-election campaign this year. But she said she doesn't have to toe a line dictated by ISTA to continue receiving its money.

"I don't know I ever felt they demanded complete adherence to every position they take," she said. "They want you to be accessible and to come discuss their issues so you understand them. They're reasonable enough to understand this is a difficult time, and they need to participate in the same pain everyone is a part of."

ISTA agenda

ISTA's biggest battle this session is protecting education funding as the state tries to bounce back from a recession that dragged down tax revenue.

On Dec. 28, Daniels ordered $297 million cut from K-12 public education. School funding is about half the state's budget, or $6.5 billion annually. The governor already had sliced 20 percent in spending at state agencies and 6 percent from higher education.

With the help of Indiana Superintendent of Public Instruction Tony Bennett, the Indiana State Board of Education then laid out a "Citizen's Checklist" of recommendations on how to absorb Daniels' cuts.

ISTA recently added its voice to the debate, arguing that school corporations should instead tap their cash reserves and rainy day funds to get through the next year without laying off teachers. ISTA wants the Legislature to allow schools to shift more money from their capital-projects funds and cut all appropriations for virtual charter schools and private-school tax credits.

Rep. Greg Porter, D-Indianapolis, immediately incorporated ISTA's agenda into House Bill 1367, which House Speaker Pat Bauer, D-South Bend, then endorsed.

Before the session concludes in March, legislators also will debate potential shifts in the distribution of school funding and two other ideas the union strongly opposes—elimination of teacher collective bargaining, and the introduction of merit pay.

Then ISTA's real test will come in November, said Daniel Seitz, managing principal of lobbying firm Bose Public Affairs Group.

"There are those who rightly, or hopefully, believe that ISTA has been impaired, and may be less of a force," he said. "Clearly, the governor's agenda is always very forward-thinking. Some of the things he wishes to do with education have not had the full support of ISTA."

"They'll be looking to see whether there's an opportunity."

Stephen Graham, a retired University of Indianapolis political science professor, believes any ISTA weakness will be temporary.

"Their power can wane from session to session," Graham said. "But for the long term, they're going to be an important player in Indiana state politics. … They're going to continue to be a powerful voice for schoolteachers in this state."•