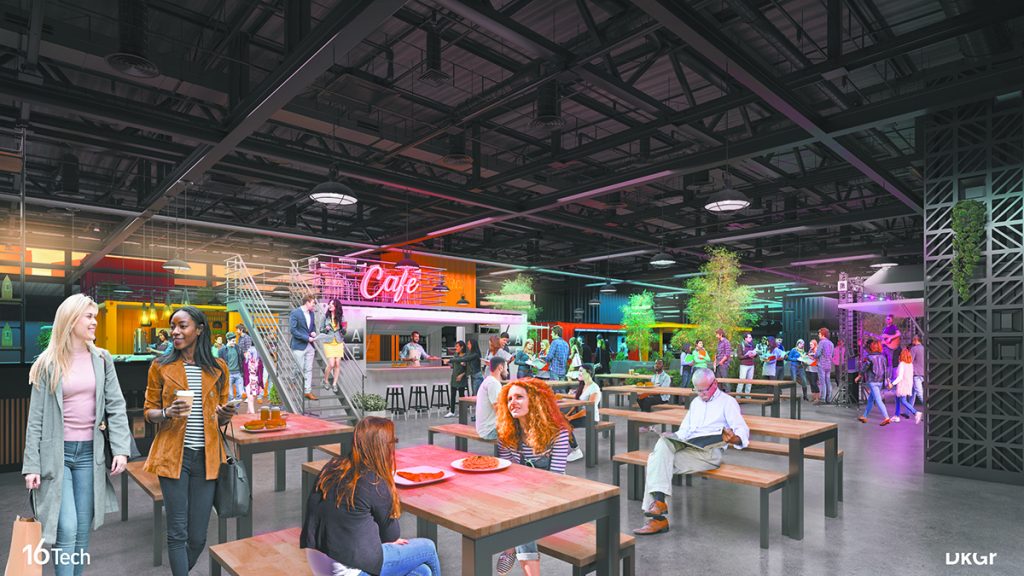 The long-planned 16 Tech Innovation District along Indiana Avenue northwest of downtown is at a pivotal moment—one its organizers say could serve as a catalyst for tremendous growth at the 50-acre campus and for central Indiana overall.
The first office building in the $500 million project will open in June.
And work is underway to turn the former Citizens Water headquarters into a 109,000-square-foot Innovation Hub with a makerspace, an artisan food marketplace and a business incubator with flexible office space.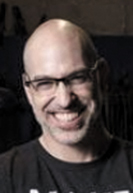 The hub—expected to open next January—will provide the amenities that organizers say should draw established companies, startups and big thinkers to the campus, sparking a powerful economic engine of collaboration and innovation.
Interest in 16 Tech is already high—with the first 120,000-square-foot building fully leased and a second office building, which is still in the blueprint phase, almost one-third pre-leased.
And, project developers said, interest is building for a 200- to 250-unit apartment complex that is set to start going up later this year.
"This project has been a long time in the works, but now, with the construction and imminent opening of these first buildings, it's becoming very real," said 16 Tech CEO Bob Coy. "We're starting to see a visual transformation, and with that happening momentum for this project is building and will feed on itself."
Eventually the campus, nestled between White River and Fall Creek, is expected to include parks, walking paths and other amenities. And within a decade, organizers say, it could employ more than 3,000 highly skilled workers and boast more than 1 million square feet of office and lab space.
The project—initiated by the Central Indiana Corporate Partnership, Indiana University and other partners—is overseen by the not-for-profit 16 Tech Community Corp. and is funded through a variety of public and private sources.
So far, more than $10 million for general operations is coming from Lilly Endowment Inc., Richard M. Fairbanks Foundation and other corporate, philanthropic and individual donors.
And organizers have raised more than $100 million in funding for public infrastructure and physical development of the district, including:
◗ $55 million from the city for public infrastructure.
◗ $33 million from Lilly Endowment for land acquisition, public infrastructure and place-making projects.
◗ $23 million in Innovation Hub financing through federal and state tax credits and a $7.3 million loan from Lake City Bank.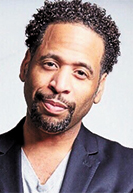 Construction costs for Innovation Building 1, Innovation Building 2 and the residential development are being funded by the developer of those projects, Indianapolis-based Browning Investments.
And 16 Tech Community Corp. has signed three key deals to operate the Innovation Hub, including a multi-year deal with 1776—which manages seven incubators in Pennsylvania, Virginia, Delaware, New Jersey and Washington, D.C.—to oversee the development of the flexible office space and innovation area.
Alex Bandar, founder of the Idea Foundry in Columbus, Ohio, has been signed to a multi-year deal to shepherd the makerspace. Bandar, who is working on a handful of makerspace projects throughout Ohio, has been consulting with 16 Tech for the past several months.
And 16 Tech has hired local chef Craig Baker to usher in the artisan market. Baker has worked in several local and national restaurants—most recently Cunningham Restaurant Group as the executive chef—and runs the consulting firm CCCB Inc.
All-star lineup
The additions of Bandar, Baker and 1776's chief, Shelton Mercer, are a big boost to the project, Coy said. "This is an all-star lineup."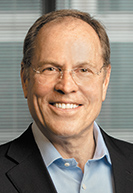 Key to the Innovation Hub, Bandar said, is creating not only a physical facility with space and tools where people can work and gather, but also events and programming that bring people together for an exchange of ideas.
The 15,000-square-foot makerspace is expected to mirror some concepts from the Idea Foundry, which is one of the largest makerspaces in the world, with more than 800 members and 60,000 square feet of space.
The 16 Tech makerspace will feature computer-controlled machine tools, 3D printers and robotics in a member-driven workshop and fabrication studio, along with STEM programs for students and a collaboration hub for local startups and other companies. While Bandar said the focus will be on "making physical products," there will also be coding and app-development classes as well as internet-of-things training.
Bandar found his passion for the maker movement during a moment of humiliation. Having just received his doctorate in computational metallurgy from Lehigh University in Pennsylvania, his sister—an artistic metalsmith, sculptor and professor of jewelry in Vermont—asked him to teach her students about the science behind welding metal. Armed with his new degree and "giant ego," Bandar said he discovered in five minutes that he wasn't able to teach the students anything practical.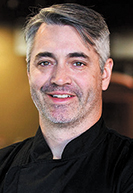 "They were all better machinists, welders and blacksmiths than I," he said. "If I had an idea, maybe I could write a computer program about it or design an alloy, but if my sister or her artist friends had an idea, they just made the damn thing."
From there, Bandar decided he wanted to create a place that put a premium on creativity and where people could come and trade ideas, learn from one another and "make stuff—practical hardware products and software programs and apps."
Out of that, The Idea Center in Ohio was born 12 years ago and has forged a national reputation. Bandar said 16 Tech's makerspace could have that kind of reputation—and up to 500 members—within five years.
Membership costs for the makerspace are still being finalized, Bandar said, but would likely be in the $50- to $100-per-month range with discounts for students and entrepreneurs. Corporate memberships would be in the $100- to $300-per-month range.
"Being a member of the makerspace means you're a part of a community and you can share resources with other community members," Bandar said.
The much-acclaimed Idea Foundry is much larger in square footage compared to the planned makerspace at 16 Tech, but Bandar doesn't think that will hurt the local venue.
"In Columbus, things are pretty spread out," Bandar said. "Having a more compact footprint, I think, could really help bring people together for the type of networking and exchange of ideas we're looking for."
There's already been lots of interest in the makerspace with only a modicum of marketing and publicity.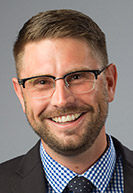 "Our Facebook page has 500 followers and we've had meetups with 50 people here," Bandar said. "We definitely see a big interest. We're going to have our next meetup later this month and from there they will recur monthly. We think the following will grow pretty quickly, and once this facility opens and people see what we have to offer, it will really take off."
Bandar envisions the makerspace attracting a wide variety of users, including serious-minded business folks, people making and testing a product for a side hustle, and even hobbyists.
More than co-working space
Mercer, the brains behind new-look innovation centers at seven locations on the East Coast, was a "very meaningful" hire for 16 Tech, Coy said.
"What he's doing is not the typical co-working space. That far undersells what he's created," said Coy, who was CEO of a seed-stage investment organization in Cincinnati before coming to 16 Tech in mid-2017. "1776 brings an element of connectivity to its projects and capitalizes on a mentorship network it has built nationally and globally."
Mercer, a serial entrepreneur who has played in the business arenas of sports and entertainment, made a splash in 2015 with his work on the Pennovation Center, a 60,000-square-foot innovation hub at the University of Pennsylvania in Philadelphia.
"The co-working space is just one element of what we're doing at 16 Tech," Mercer told IBJ. "Not only are we going to have various flexible office and desk options, we'll have garage areas for innovation, suites for corporations, meeting and conference rooms, and other creative elements."
Those elements will include a bleacher area that will connect the first and second floors of the facility—and that can also seat 75 or so for gatherings—as well as lab space for things like robotics and biosciences.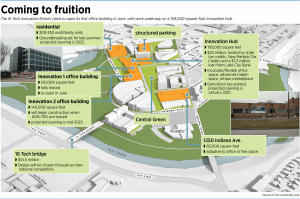 "In addition," he added, "every member will have access to growth services, mentoring and coaching. We can help members with things like raising capital, putting together a pitch deck or a pricing model, designing a website and developing a go-to market strategy. We're a full-service incubator and accelerator. This space will be absolutely unique to Indianapolis."
Rental prices in the flexible office space will start as low as $200 per month and will be competitive with other co-working spaces in the market.
Pennovation reached capacity in 3-1/2 years, Mercer said.
"I see the same type of success in Indianapolis," he said. "I think we'll have more than 250 members and dozens of companies within three years."
Mercer emphasized that while the Innovation Hub building might appear to have three separate components, "it's designed to work as a single ecosystem with deep integration."
Recipe for success?
16 Tech is cooking up a recipe for success, Coy said, with the addition of Baker to head up planning of the artisan food marketplace, which will feature eight eateries and 16 retailers.
The artisan market will be fashioned after a European-style farmers market with a "free-flowing atmosphere that feels like you're outside," Baker said.
"It's going to be more like a retail center, with a butcher shop, bakery, barber and flower shops," he added. The space will be all on one floor with seating "in the center, more like a living room than a formal market."
"We feel this [market] is the glue," Baker said. "Everyone needs to eat.
"Key to this place is the location. Everyone will walk by twice a day," he said. "We're the heartbeat of this facility where people from various backgrounds will cross paths and gather."
But the artisan marketplace won't just serve passersby. It will also be a place for restaurateurs and retailers to innovate.
Baker, a big advocate of the Indiana-grown movement, intends to showcase a wide variety of food options and is open to working with startup eateries as well as more established food-service providers. Baker anticipates holding events in the space, too, including restaurant rollouts and food introductions.
Retail booth rent will be as low as $20 a day with utilities included. Restaurant space will be about $2,000 a month, Baker said.
The spaces will be designed so they can change tenants in three days, he said. Many of the restaurants will also offer delivery options, not only for surrounding businesses but for area residents as well.
The artisan marketplace is key to achieving the vision to make 16 Tech a place where people "live, work and play," Coy said.
About 25% of the space in the food marketplace is already spoken for with non-binding pre-lease deals, Baker said. "We expect to make tenant announcements at the end of March," he added.
Flurry of construction ahead
Construction on 16 Tech's third building—its second office building, Innovation 2—won't begin until it is 60% to 70% filled through pre-lease deals. 16 Tech officials have letters of interest for about 30% of the space, and they are optimistic they will hit the threshold to start construction on the 140,000-square-foot building by the end of this year.
Construction of that building—which is directly south of Innovation 1—will take approximately 18 months, with the building targeted to open in mid 2022.
Construction of 16 Tech's first housing project—a 200- to 250-unit complex—is also set to begin this year. Coy said the development is expected to expand over time, with as many as 750 housing units constructed by 2030.
Innovation 1, which will be owned by Browning, cost $30 million to construct, and is fully leased. It will house small, tech-oriented companies, as well as two major biosciences groups.
The Indiana Center for Regenerative Medicine, part of the Indiana University School of Medicine, will be on the fourth floor, while the Indiana Biosciences Research Institute will take up much of the first three floors.
IBRI is already headquartered on 16 Tech property, in the Biotechnology Research and Training Center at 1345 W. 16th St. IBRI researchers collaborate with private firms and academia on a variety of high-impact, long-term projects.
The top two floors of Innovation 1 will house the Central Indiana Corporate Partnership and its affiliated organizations, including BioCrossroads, Conexus Indiana and TechPoint. The groups promote a variety of fields, including life sciences, logistics and technology.
"This is not just a real estate development," said Ian Nicolini, vice president of economic development for the Indy Chamber.
"You can't confuse this with other office parks or complexes," he said. "This is a place where key businesspeople, entrepreneurs, people in research and development will all come together with bankers and venture capitalists to help Indianapolis be a city that competes for jobs of the future.
"And the fact that an important part of the plan is to reach out to the area neighborhoods—businesses and residents in the area—only strengthens it as a hub of innovation."•
Please enable JavaScript to view this content.