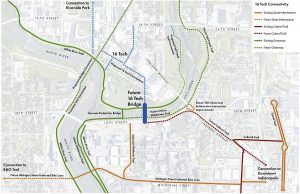 Officials for 16 Tech have selected a design team for a $14.5 million bridge that will lead into the innovation district and is expected to serve as a signature structure for the region.
The 16 Tech Community Corp., the not-for-profit guiding the 50-acre development on the northwest edge of downtown, in February issued a request for qualifications and proposals for the structure, which will span Fall Creek from 10th Street and Riley Hospital Drive into 16 Tech.
The design team announced Wednesday will be led by Stuttgart, Germany-based engineering firm Schlaich Bergermann Partner, or SBP, in collaboration with New York City-based Practice for Architecture and Urbanism, or PAU, and seven other firms.
The bridge will be funded by Lilly Endowment Inc. and the city of Indianapolis. The Lilly Endowment's share will come out of a $38 million grant the foundation awarded 16 Tech in 2018, much of it earmarked for public space design.
The bridge will span 350 feet. In addition to accommodating vehicles, it will serve pedestrians and bicycles and will connect to walking and biking trails.
Officials said 33 design teams responded to a public request for qualifications. Six finalists were invited to respond to a request for proposal and interviewed by a committee of local and national experts in design, public transportation, urban planning and landscape architecture.
The finalists were SPB, Germany-based Behnisch Architekten, Boston-based Kennedy & Violich Architecture, Netherlands-based MVRDV, Boston-based NADAAA and Norway-based Snøhetta.
Founded in 1980, SPB focuses on the design and construction of innovative bridges, lightweight roofs, slender towers, signature buildings, moveable structures and pioneering renewable energy technologies.
Its notable bridge projects include a series of six bridges for Toronto's new Port Lands development; a new pedestrian bridge for the Ralph C. Wilson, Jr. Centennial Park in Buffalo, New York; the Consol Energy Wingtip Bridge in Glen Jean, West
Virginia; and the Phyllis Tilley Memorial Bridge in Fort Worth, Texas.
Six of the seven firms picked by SPB for its team are minority-owned or woman-owned or both. In addition to PAU, the members are:
– Moniteurs Communication Design, Berlin;
– Martha Schwartz Partners, New York;
– Shrewsberry & Associates, Indianapolis;
– CTL Engineering, Indianapolis;
– Circle Design Group, Indianapolis;
– Synnov Group, Chicago.
"SPB assembled a cohesive and diverse team that integrates engineering, architectural design thinking and innovative community engagement," said Bob Coy, president & CEO of 16 Tech, in written remarks. "The SBP team shares our vision to create an emblem of innovation for downtown Indianapolis, and we are excited to partner together."
Please enable JavaScript to view this content.