There's a lot that separates Indianapolis Colts quarterback Peyton Manning and New Orleans Saints signal caller Drew Brees, the former Purdue University star.
Manning, drafted in 1998, has been to 10 Pro Bowls. Brees, who came out of Purdue in 2001, has been to three. Manning has been named National Football League MVP a record four times. Zero for Brees.
From their career paths to the money they make, Manning and Brees are, in many ways, miles apart.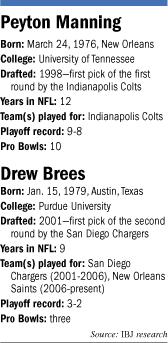 But there are also some intriguing parallels between the two who have led their teams to Super Bowl XLIV in Miami on Feb. 7.
For starters, both men are lionized in their adopted hometowns.
Manning is credited with turning Indianapolis into a football town.
"I don't think any two athletes have done more for their franchise than Michael Jordan and Peyton Manning," said Ray Compton, Colts vice president of sales and marketing from 1997-2005. "I really have to wonder, if it wasn't for Peyton Manning, if this franchise would still be here, if Lucas Oil Stadium would be here."
Compton recalled that the year before Manning arrived, the Colts averaged about 45,000 fans per home game and "most were wearing opposing team jerseys."
But Manning has done more than put fans in the stands. He's been active with Indianapolis Public Schools, St. Vincent hospitals and other local charities through his Peyback Foundation.
"I truly believe all the things he does off the field easily eclipse his accomplishments on the field, and that's saying something," said Kevin Speer, St. Vincent Health senior vice president. "What he does, his personal involvement, his fund raising, the generosity he shows us with his time, is nothing short of amazing."
Brees is no less a savior in New Orleans—coincidentally where Manning grew up while his dad, Archie, played for the Saints.
Merchandise emblazoned with "WWBD: What would Breesus do?" has become common in the Bayou.
In some parts, that phrase would be sacrilegious, but not so in New Orleans. And who can blame Saints fans, a long-suffering bunch who, before Brees arrived, endured three-plus decades of losing, then watched their city get pummeled by Hurricane Katrina in 2005?
A Sports Illustrated article this year proclaimed Brees as "an athlete as adored and appreciated as any in an American city today."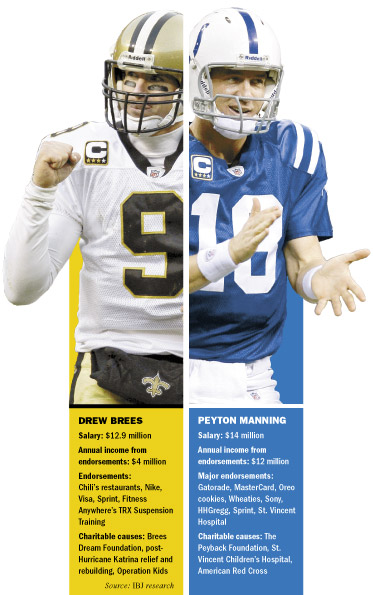 And to think, it almost didn't happen. The Miami Dolphins in 2005 were hot for Brees, who played for the San Diego Chargers but was due to become a free agent following that season. Brees mangled his shoulder during the last game of the 2005 season, and Miami ownership became fearful it would never heal.
But Saints Coach Sean Payton wanted the Purdue University product, and Brees immediately embraced the effort of rebuilding the football franchise and the hurricane-devastated city.
"I can't even think about that," said New Orleans activist Owen Brennan about the possibility of Brees' landing in Miami.
"What he's done for this city is absolutely immeasurable," said Brennan, executive director of the Mardi Gras parade in New Orleans. "Any other scenario other than him coming here is a nightmare."
Reflections on team ownership

It was more than Manning's rocket laser arm and ability to read defenses that made him successful in Indianapolis.
"He is the ideal player for this community and an ideal player for this team," Compton said. "He has a workman-like attitude and he blends so well with the inner workings of the Colts organization."
Manning in some ways is a mirror reflection of Colts owner Jim Irsay and President Bill Polian, Compton said.
That showed this year when there was upheaval within the Colts locker room after coach Jim Caldwell and Polian decided not to go for an undefeated season. Manning called a players-only meeting to get them focused on the future.
"Peyton is the Pied Piper for that franchise," Compton said. "And everyone else falls in line."
Brees, too, has unmistakable leadership qualities on the field and in the community.
But Brees is no carbon copy of Saints owner Tom Benson.
"Brees is beloved, Benson is loathed in New Orleans," said John Feinstein, best-selling author and Washington Post sports columnist. "Remember, Benson wanted to move the Saints out of New Orleans after Hurricane Katrina. He wanted to pull up stakes and head to San Antonio or Los Angeles."
National Football League Commissioner Paul Tagliabue quashed discussion of the Saints' moving. But the relationship between Benson and New Orleans remains strained.
"It was Drew Brees that galvanized this team's relationship with the city," Feinstein said.
Brees' hands-on approach to rebuilding New Orleans' public schools—and their sports programs through his Brees Dreams Foundation—has raised his profile to rock-star status in the city. He's also raised more than $3 million for Purdue.
"His involvement in the community in a unique situation has set him apart from all other star athletes," Feinstein said. "He's not just sitting in front of a TV camera doing United Way commercials."
Commercial credibility
No one is saying Brees' star is going to eclipse Manning's—at least anytime soon. But many sports marketers think Brees' endorsement power is definitely pointed skyward.
"A lot of people are wondering if Drew Brees' time is just beginning," said Mark Winneker, senior vice president for The Marketing Arm, a Dallas-based sports and entertainment marketing firm. "I think you're really going to see his star rise after the massive exposure he gets leading up to the Super Bowl."
Manning's already there. With MasterCard, Sprint, HHGregg, Sony, Oreo cookies and Wheaties deals to his credit, he earns more than $12 million annually from endorsements.
Brees' biggest deals are with Chili's restaurants and Fitness Anywhere's TRX Suspension Training system. He has smaller deals with Nike, Visa and Sprint, with annual sponsor revenue estimated near $4 million.
But the numbers in the Davie Brown Index, a survey produced by The Marketing Arm that is widely used by national marketers, hint at Brees' potential.
To no surprise, Manning scores higher than Brees 78.99 to 51.83 overall, meaning his brand resonates quite a bit louder with the U.S. public.
The DBI shows Manning is recognized by name or face by 84.57 percent of Americans, while Brees is recognized by only 42.44 percent.
On the influence scale, Manning scores a 71.36 to Brees' 64.12. And on the trust barometer, Manning scores a 65.89 and Brees notches 61.13. But on pure appeal, Brees edges Manning 77.18 to 76.73.
The scores say that, once the public becomes aware of Brees, Winneker said, they like him a lot. Clearly, he added, Brees has the most to gain by piloting his team to Super Bowl glory.
It would also help Brees climb the NFL pay chart.
In 2004, the Colts signed Manning to a seven-year, $98 million deal, including a $34.5 million signing bonus. Much of Manning's contract is guaranteed.
Brees, on the other hand, always seems to need to prove himself. In 2006, the Saints, not fully convinced Brees could recover from his shoulder injury, signed him to a six-year, $60 million contract with only one year guaranteed.
The players' on-field earnings are more a reflection of where the two have come from, football sources said, than where they are headed.
Different roots
Peyton Manning is the cornerstone on which the current Indianapolis Colts dynasty is built.
Drew Brees is the cornerstone rejected by the football gods of Texas and the San Diego Chargers.
Manning is part of football's royal family, son of former NFL MVP quarterback Archie Manning and brother to New York Giants quarterback Eli Manning.
Brees most recently has endured familial hardships, with his mother, an attorney from Texas with whom he had a strained relationship, committing suicide this past year.
Coming out of the University of Tennessee, Manning was tall, strong-armed and well-heeled. He was the No. 1 overall pick in 1998.
Brees meanwhile, was taken by the Chargers with the first selection of the second round in 2001. Standing 6 feet tall in shoes, there were more questions about Brees' surgically repaired knee and diminutive stature than there were his amazing passing statistics during a stellar career at Purdue.
Brees is used to leaving a trail of doubters in his wake. Though he led his high school team to a Texas state title, his bad knee and relative shortness kept the Texas college powerhouses away. Purdue and the University of Kentucky were the only schools to come calling.
In San Diego, Brees once lost his starting job to aging Doug Flutie, and his future with the franchise became more dubious when the Chargers acquired Philip Rivers in 2004.
But many who met Brees, an honors graduate from Purdue's School of Business, quickly became believers.
"When you meet Drew, you quickly realize he has the drive and determination to succeed at whatever he does," said Purdue Athletic Director Morgan Burke. "He could be a star in politics or business just as easily as football."•
Please enable JavaScript to view this content.