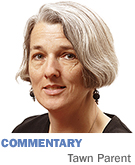 Strangers are giving me dirty looks, co-workers are granting me a wide berth, and my dad may never speak to me again. It might have something to do with the New Orleans Saints button on my collar.
If Indianapolis were playing any other team in the Super Bowl, I swear I'd be for the Colts. Not because I care about football, but because I'm in favor of anything that brings success and prestige to my hometown.
But I spent a few years in New Orleans. It's a city that gets into your blood. So you may leave the Crescent City behind, but its spirit sticks with you.
That spirit kicked into high gear when I saw the Saints overcome the Minnesota Vikings to seal their first-ever NFC championship in the Superdome. The place mattered.
My office window in New Orleans looked out on the Superdome, so I spent a fair amount of time gazing at the structure as I waited for inspiration to strike. And I experienced the famous roar of the Superdome crowds as I marched through the stadium as part of the Endymion Mardi Gras parade every winter.
A few years later, it was on a highway ramp near the Superdome that my friend Keith, a reporter for The Times-Picayune, was rescued from the rising floodwaters after Hurricane Katrina. Of course, the Superdome also became a shelter, a scene of death, a sea of suffering.
A big chunk of its roof was torn off. It wasn't clear that the building could be repaired. The Saints packed up their helmets and headed to San Antonio. It wasn't clear that they'd come back.
But, in 2006, they did. And New Orleanians repaid the favor by helping  the team sell out its season tickets for the first time ever. The Saints made it all the way to the NFC championship that season.
The city has always loved its Saints, even when they were down-and-out, which was most of the time that I lived there. Back then, some fans still wore paper bags on their heads, and my colleagues routinely moaned about the latest on-field embarrassment of "the Ain'ts." Still, there was an undercurrent of loyalty: The Saints may be screw-ups, but they're our screw-ups.
Even the emblem on the Saints uniforms—the French royal symbol that has been the city's insignia for nearly 300 years—has fundamental importance for locals.
"[The Saints] wear our fleur-de-lis," Ian McNulty, a New Orleans writer, told ESPN.com. "That's a deep symbol of this city and its legacy. It's not a made-up animal character."
Since Katrina, the fleur-de-lis has sprouted everywhere in New Orleans as a badge of community solidarity. And passion for the Saints has flowered as well. The team's success in its first season back in the Superdome—when New Orleans was still missing half of its people, storefronts stood empty and mail often didn't come—gave the city hope. Hope that it, too, might come back.
Incredibly, the city is mostly back, just four years after surviving the costliest natural disaster in our nation's history. Big challenges remain, but employment is at 87 percent of pre-Katrina levels, 70 percent of schools have reopened, and wherever people live, the mail comes.  
Just before the playoff game on Jan. 24, Wall Street Journal sports columnist Jason Gay wrote, "If the Saints win this weekend, we expect the Louisiana Superdome to levitate off the ground, stop at Parkway Bakery & Tavern for a roast beef po' boy and fly straight to Miami for the Super Bowl."
I'm pretty sure that's exactly what happened. What I would have given to be there celebrating that night with my friend Erika, a teacher and mom of three, whose family lost everything in the storm and evacuated to Houston, only to claw their way back to New Orleans like so many others.
Her husband and son spend many an autumn Sunday in the Superdome now. Most of the other people in the stands are regular folks, too, not corporate executives, who are in short supply in New Orleans. My friends sit side-by-side with fans who also have heartbreaking stories of loss, and brave stories of recovery. Week after week, they cheer on their team of castoffs and underdogs, who have so much in common with the city itself.
Chris Rose, a Times-Picayune columnist, said, "Damn it, we're tired of feeling like losers."
The Saints are helping New Orleanians feel differently, like maybe the city doesn't have to settle for getting back to where it was in 2005, like maybe the city could become even better. Having their team make it to the Super Bowl is a testament to how far New Orleans has come, and a sign of how far it could still go.
That's something I just have to cheer about.
So I'm going to spend next Sunday evening at Papa Roux's Gumbo Bowl party on the east side. I'll be screaming "Geaux Saints!" with other folks who know that, for New Orleans, this game is about much more than football.
As for the Colts, I wish them luck—next year. But this year, somebody else needs this win even more.•
_____
Parent is associate editor of IBJ. She previously was a reporter and associate editor at New Orleans CityBusiness.
Please enable JavaScript to view this content.