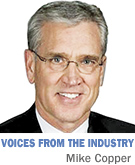 Indiana public school facilities have been criticized for costing too much and looking too good.
Now,
due to recent legislation and impending permanent caps on property taxes, we're about to swing to the opposite extreme
of schools' being in constant need of upgrades and repairs.
The looming inability of the state's 300-plus
school systems to repair aging facilities and build new schools for growing populations also promises to suppress job growth.
Making matters worse, the public appears to be confused about referendums required by recent legislation in order
to increase taxes for teacher salaries and building projects.
How did we come to this? Look at recent impacts on
two school funding sources.
The General Assembly is moving toward approving a voter referendum to limit tax increases
on homeowners to 1 percent a year. The limit, which is popular with voters, means huge reductions for schools and additional
limitations for tax dollars for capital projects.
When the tax cap began to be phased in last year, the fund that
provides for maintenance and repair of school facilities was affected.
With greater demands on updating student
learning through technology, there will be fewer or possibly even no dollars available for upkeep and repair of the physical
infrastructure of thousands of publicly owned facilities.
These facilities are worth billions of dollars. Fewer
tax dollars due to the caps means school systems that hired plumbers and electricians and painters will forgo those purchases,
furthering Indiana's job crisis and economic woes.
In addition, these reductions in capital projects funds
will force school districts to delay and then bundle normal maintenance and safety schedules into bigger overall projects
that must be funded by bonds through debt service funds—much like a homeowner's mortgage.
Subject now
to voter referendums rather than local school boards, the number of newly constructed school buildings for growing districts
and renovations to existing schools will decline given the current economy and political climate. The quality and safety of
Indiana's schools will also suffer.
These bonds will be priced even higher if, as Gov. Mitch Daniels has
projected, the state exhausts reserves in the general fund by the end of June.
Again, jobs are affected as Indiana
architects, engineers, brick masons, carpenters, cement workers and even small businesses that provide goods and services
to construction workers will be hurt by the loss of projects. Even the federal government issued stimulus dollars for just
such "shovel ready" projects to promote economic recovery, while Indiana has chosen a more conservative approach.
Finally, the voting public has yet to figure out the differences between new referendums now being held for the general
fund (teachers) versus those being held for the debt service fund (buildings).
Recent legislation makes rules for
running these public campaigns quite different and confusing. The Perry Township school district recently lost a debt service
referendum (facilities), while Beech Grove schools won a referendum centered on saving bus transportation. Hamilton Southeastern's
general fund referendum (salaries) was approved while Noblesville's facilities referendum was defeated. Franklin Township
schools lost a general fund referendum.
School districts can actively campaign and inform the voters about general
fund referendums but not for facility referendums. Any of these additional taxes approved by local voters comes outside the
1-percent property tax caps.
The assumption that school districts were building too many Taj Mahals, and the resulting
legislation, will lead us to too many unsafe buildings and portable classrooms. We've moved too quickly to curtail tax
revenue that should be sustaining both school facilities and vital jobs.
There's an appropriate middle ground
for providing needed dollars to support education and good schools, but the current direction is too far right.•
__________
Copper retired in June as superintendent of Lawrence Township schools. Views expressed here are
the writer's.

Please enable JavaScript to view this content.