Many not-for-profits struggled to raise money in 2009, but the cancer agency Little Red Door said it actually saw an increase in donations.

The organization raised $1.36 million, up 2 percent from 2008. At the same time, the demand for screening and detection services, as well as the cost of those services, continued to rise. Little Red Door offers a variety of services to low-income cancer patients.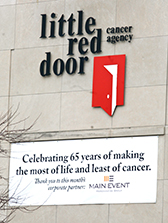 Little Red Door, which serves low-income cancer patients, raised more money in 2009 than the year before. (IBJ Photo/ Perry Reichanadter)
Executive Director Fred Duncan said he was pleased with the strong fund-raising result because it meant the agency didn't have to turn away clients, as it has in the past.

"Ultimately, we do not ever want to have to turn away someone in need of our services," Duncan said. "By continuing to be budget-conscious, working with our various health care organizations to keep costs low and seeking new private funding throughout the year, we should meet our goal of serving those uninsured and underinsured within our community."

Little Red Door hired Duncan in August after some turnover in the executive director's position. Previous Director John Aleshire left for the Humane Society of Indianapolis in September 2008, and an interim director, Mary Beth Tuohy, resigned the following March.