Would you hire a convicted felon if it didn't cost your company a dime?
Mayor Greg Ballard thinks many
businesses would. He's launching a pilot project to provide jobs for 70 ex-offenders, with their $10-an-hour wages covered
by Uncle Sam for six months.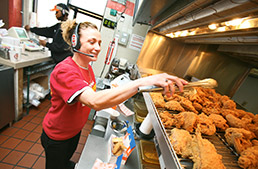 Stephanie Parman begged Popeye's Louisiana Chicken for a job after getting released from prison. She started
as a cashier and now earns more than $40,000 a year as a restaurant manager. (IBJ Photo/ Perry Reichanadter)
City officials hope that, after the six months, the ex-offenders transition into regular paying jobs,
or at least receive recommendations from the employer that paves the way for them to find other work.
It's the start of something the Ballard administration hopes becomes much bigger. The
mayor, a law-and-order Republican, wants to reduce recidivism at the grass-roots level, without spending
local tax money. Initial funding is coming from a $995,000 U.S. Department of Justice grant that's
part of President Obama's stimulus program.
Large cities like New York have government-run transitional
jobs programs. But Ballard's director of ex-offender re-entry, Rhiannon Williams, said the project is a first for Indianapolis—or
any city of similar size.
A handful of not-for-profits and religious organizations already focus on former prisoner
job placement here. Williams said Ballard is the first Indianapolis mayor to attempt to organize them, expand their impact,
and attract employers into the equation. Shortly after his inauguration in 2008, Ballard formally carved an ex-offender re-entry
office out of the Department of Public Safety.
Every year, more than 5,000 previously incarcerated people return
to crime and end up in Marion County's correctional facilities. Tough-talking public officials typically concentrate
on locking those criminals up and throwing away the key.
Ballard and his
aides believe rehabilitation could produce a better result, for the felons as well as Indianapolis.
"Just
because an individual has a felony does not mean they're going to be a poor employee, or that they're going to
steal. It's important for businesses to understand that," Williams said. "In the end, if we don't
work on the re-entry problem, it's going to impact the community, and in turn impact business."
In
January, Ballard released a request for proposals from companies interested in managing his new transitional jobs program.
Ballard chose to privatize the effort because he wants the program's manager to handle everything, including taxes and
payroll, job placement, supervision and regular statistical reporting of results.
Williams said $995,000 should
cover the firm's contract as well as the pay of the 70 ex-offenders expected to participate during the two-year pilot.
There are a host of reasons people return to crime after serving their time, from broken families to substance abuse.
But experts agree steady employment is the single most important variable that can keep ex-offenders from slipping back into
illegal activity.
It's a classic Catch-22. A job is the one thing ex-offenders need to become upstanding
citizens. But work can be extremely difficult for them to get. Many have little education and less experience. And for employers,
there are few bigger HR red flags than a felony on a resume.
"We set people coming out of prison up to
fail almost immediately after release," said Crystal Garcia, an assistant professor in IUPUI's School of Public
and Environmental Affairs. "The number one protective factor from recidivism is sustainable employment that pays a livable
wage. If they've got that, they've got a good chance."
"At some point, somebody's
got to help them," Garcia added. "Or these people will quickly return to victimizing society."
A second chance
Employers who already have experience hiring ex-offenders
say they actually can be outstanding workers.
Andre Moore, who serves as director of operations and part-owner
of five area Popeye's Louisiana Kitchen locations, hired Stephanie Parman in 2007 after she begged him for a job.
Parman, now 35, spent more than four years behind bars for a vehicular homicide conviction. Upon release, employment
prospects were scarce. Moore took a chance and hired Parman as a cashier at minimum wage.
Moore's bet soon
paid off.
"She was always busy. Washing dishes, learning prep," Moore said. "Every time I
came in, she was getting things done."
Within four months, Moore made Parman a floor manager. Additional
promotions followed. Last February, Moore put her in charge of his whole restaurant at 2402 E. 38th St.
Thanks
to Parman's hard work, friendly demeanor with customers and crew, and her attention to cleanliness, Moore said the location's
annual sales jumped from $700,000 to more than $1 million. As a manager, Parman's annual pay shot above $40,000.
More than half of Moore's 125 employees are ex-offenders like Parman. At Popeye's, such success stories
are common, Moore said. That's because former felons can be extraordinarily motivated to succeed.
"Incarcerated
people take the ball and run with it. People off the street [sometimes] come in with a bad attitude or dirty uniforms,"
Moore said. "They don't appreciate the opportunity."
"Everybody deserves a second chance,"
he added. "That's in the Bible."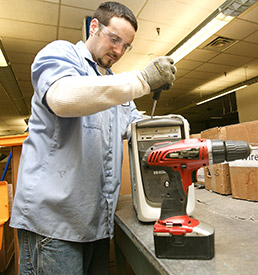 Michael Walker harvests copper, wires, steel and
plastic from discarded computers at Workforce Inc. He and other ex-offenders hope to transition to permanent jobs. (IBJ Photo/
Perry Reichanadter)
Visit Workforce Inc., a transitional jobs not-for-profit inside the former RCA plant at 754 N.
Sherman Drive, and you'll meet 31 ex-offenders as desperate to prove themselves as Parman was.
For these
men, standing up straight and looking strangers in the eye is an achievement. They spend their days tearing apart old computers
and television sets, bundling the leftover plastic for recycling. More valuable metallic innards are packaged and shipped
to Japan for smelting.
When a reporter visited recently, everyone at Workforce Inc. was celebrating a rare success:
A graduate had just landed a permanent job with ConAgra Foods. More often, they encounter the job market's harsh reality
of regular rejection.
Andrew King, 28, is nearing the end of his six months at Workforce Inc. When he finished
his sentence last June, King literally had nowhere to stay and no resources to pay for his court fees and mandatory GPS monitoring
ankle bracelet. So, for a month, he slept under a highway bridge.
Now, King lives in assisted housing. He hopes
Workforce Inc. will keep him among the handful of felons it's promoted to permanent jobs. King knows most other employers
won't consider hiring anyone with his background.
"Everyone here has a conviction," King said.
"And everyone here works."
Scratching the surface
The
people Ballard's transitional jobs pilot project will assist have done serious misdeeds. Think everything from drug-related
offenses to child solicitation to murder.
Despite its good intentions and nearly $1 million in resources, Ballard's
pilot project will merely scratch the surface of recidivism.
Workforce Inc. CEO Gregg Keesling has attempted
to assist hundreds of felons. He called Ballard "bold" for even attempting his program.
"This
is very complicated stuff. It would be so easy to pretend like this doesn't exist," he said. "The public
doesn't understand it. They pretend these people are just bad, and that it's that simple."
Few employers are willing to travel an extra mile for felons, Keesling said, especially with the state's unemployment
rate pushing 10 percent and an abundance of applicants with unblemished resumes hungry for work.
It's not
just a question of businesses' reluctance to embrace ex-cons. There are practical barriers, too. Some felons have court-ordered
obligations that regularly keep them away from work, Keesling said, such as random drug tests or probation meetings every
Friday. Others are dealing with complicated personal issues that might lead them to miss shifts unexpectedly.
"If you don't know why a guy's not at work and can't keep up, people assume it's a bad reason,"
Keesling said. "You've got to be smart enough to weed through what are legitimate reasons and what are reasons
people need to be dinged for."
Liability insurance is another challenge. Any employer willing to take on
felons will see its insurance costs rise, Keesling said. He said Workforce Inc. pays $19,000 annually for its policy.
But insurance is something employers must carry. Otherwise, an employee's felony record becomes an opportunity
trial lawyers could exploit.
"An employer's liability insurance will go up higher than the free money
[from Ballard's pilot project]," Keesling said. "After 9/11, requirements stiffened."
One thing that won't derail Ballard's effort is partisan politics. Perhaps even more so than Republicans, Democrats
are likely to support Ballard's attempts to find transitional jobs for ex-offenders.
For now, they're
simply skeptical that Ballard's pilot project will make much of a dent in one of society's toughest challenges.
"Anything we can do to give people a fresh start and keep them from a life of crime and reoffending, I support,"
said Democratic City-County Councilor Vernon Brown, a firefighter who sits on the Council's Public Safety Committee.
"Incarceration is a burden on taxpayers. If they reoffend, we pay again.
"Seventy out of 5,000,"
Brown added. "I guess it's better than zero out of 5,000."•
Please enable JavaScript to view this content.