Strip-center owner and developer Sandor Development Co. is moving its headquarters to Hamilton County after almost 50 years
in Indianapolis.
Sandor bought the 56,000-square-foot Standard Management Building at 10689 N. Pennsylvania St.
in December. The company plans to move its 35-employee operation to the first floor of the three-story building within six
months. The building has an Indianapolis address but actually is in Carmel.
The privately held company had drawn
up plans for a new headquarters on a vacant lot just north of its 22,000-square-foot offices at 2220 N. Meridian St., but
the real estate downturn made building an office less economical than buying a quality existing building at a distressed price,
said David Eskenazi, Sandor's president for Indianapolis.
The company this month hung a banner outside its
downtown headquarters advertising its entire building as available for lease, and posted a sign on its potential headquarters
site offering the plans and the property for sale.
Eskenazi declined to say how much Sandor paid for its new headquarters,
a modern glass-and-limestone structure built in 2001 on 4.4 acres one block east of U.S. 31.
"I'm sad
to be leaving downtown, but this building is in good condition and isn't taking a lot of thought or planning to make
a move," Eskenazi said. "It's a great opportunity to make a quick, easy transition."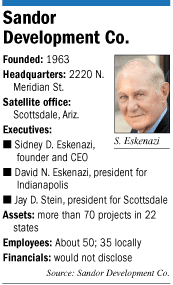 The
company's decision is a big blow to its near-downtown neighborhood, said Michael Osborne, president of Near North Community
Development Corp., which has its offices about a block south of Sandor's.
"It's very unfortunate,
not only because we lose a stakeholder in our community in a high-profile location, but also the fact they aren't undertaking
their planned new headquarters here, which would've been a brilliant contribution," Osborne said. "In redevelopment,
image is important. Somebody leaving doesn't send a good signal even if the decision is entirely reasonable."
Near North is focused on trying to find a company or companies interested in developing or reusing a cluster of Sandor-owned
properties northwest of 22nd and Meridian streets. The company owns a vacant lot north of its office building and a retail
structure to the south that has tax preparation firm Jackson Hewitt as a tenant.
Retailers have shown interest
in the area, but just about every sign of progress has been met with a letdown. A new Subway-anchored building is under construction
at the southeast corner of 22nd and Meridian. But a mom-and-pop sub shop called Balboa's at the northwest corner closed
last year, as did the Bonjour Café & Bakery at 24th and Meridian streets.
The odds are slim for a redevelopment
of all the Sandor parcels, at least in the near term, but the office building is a perfect size that should attract plenty
of interest, said Tom Osborne (no relation to Michael), a principal with locally based Resource Commercial Real Estate who
represented the local accounting firm London Witte Group in its 2008 purchase of the former Grain Dealers building at 1776
N. Meridian St.
London Witte actually was looking for about 20,000 square feet before it opted to acquire the entire
Grain Dealers property and lease out the space it didn't need to Clarian Health, Osborne said.
"That
size should really be a sweet spot in that area," he said. "The building would be a great opportunity for somebody
to renovate."
Sandor owns more than 70 retail properties in 20 states. A few of its local developments include
a Kroger scheduled to open this month in Nora, a Walgreens at 16th and Meridian streets, and the giant Wal-Mart-anchored College
Park center at West 86th Street and Michigan Road.
The company considered other options downtown but ultimately
opted for Hamilton County.
"My father [Sid Eskenazi, the company founder] has been here 50 years, so there
are a lot of emotions attached to it," David Eskenazi said. "But, for a long time, we've told our employees
we were going to move to something different."
The current anchor tenant of Sandor's new building,
Standard Life Insurance Company of Indiana, will occupy the second floor.
Indiana regulators took over Standard
Life in December 2008 after massive investment losses—thanks in part to investments in subprime mortgages—threatened
its obligations to policyholders. At the time, the company employed 74 people in Carmel.
Locally based Standard
Management Corp. sold the life insurance unit in 2005 to Kentucky-based Capital Assurance Corp.
Standard in 2008
announced a plan to sell and lease back the building at 10689 N. Pennsylvania St. in a deal that it said would move $7 million
off its balance sheet, but the company did not disclose an actual sale price for the property.•
Please enable JavaScript to view this content.