Nikki Sutton knows she's a talented interior designer. Now, she's making herself a brand.

Since founding Level Interior Architecture + Design in 2007 (on her 30th birthday), Sutton hasn't had any trouble finding work. And a look at Exact Target's headquarters in the Guaranty Building is enough to be awed by Sutton's modern and ultra unique eye.

There, exposed cement beams are paired with simplistic track lighting in a creative conference room that's also down-to-business. A mod mural spans a separation wall, ushering forth thoughts of a stylish mother board. It suggests that, if such a thing exists, it exists at Exact Target.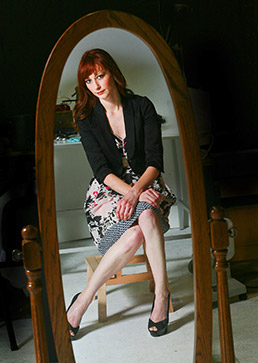 Sutton, 32, was first recognized for her style talent while working at Banana Republic in Portland. Now, it's part of her business. (IBJ Photo/ Perry Reichanadter)
But interior design isn't her focus these days, even if it is what pays her bills. Instead, she's expanded into photo-shoot styling, often starring in them as well.

"I love styling so much, suddenly work isn't work, it's just flexing a muscle," she said of a "job" that requires her to sift through thrift stores for the perfect tulle skirt she hadn't even been looking for.

It sounds like a dream job to me; dress people, then tell them what to do in front of the camera. In fact, it sounds like a dream job to a lot of people. Many of them go to New York and try to land work making food look pretty on a plate for a living, then go home wondering how they'll afford their next meal.

Sutton is aware of how meager the average stylist's living is—after all, we can't all be Rachel Zoe, with her own cable TV show and gaudy attitude. So she's combining both arms of her business (interior design and styling) under a bigger umbrella.

The company name? Nikki Sutton—which she says with a half eye roll, like just saying her own name makes her self-absorbed.

Nonetheless, nikkisutton.net has been born. Click the box on the left marked "stylist" and view the full repertoire of magazine-quality shots: a statuesque model styled as a member of "Kiss," unusually handsome men casually sharing a cocktail, a raven-haired stunner playfully chasing a huge dog down the block.

Click the box on the right and observe perfectly orchestrated living spaces, office scenes that look like updated sets from "Mad Men," and a dentist's office fit for Town & Country.

What I don't think she's completely embraced is that Nikki Sutton is already a brand. I wrote a blog post about her photo being featured on an overseas Web site, and that post received more hits than any other (OK, except for one on a Michael Jackson auction).

Her appearance is part of her brand. Sutton regularly punches up her hair's natural red tint and never strays from her signature straight bangs. Along with her freckles, she counts on these things being recognizable.

"I picture people talking about me—you know, that Nikki Sutton girl, the one with the freckles and the bangs like this," she said, making a cutting motion across her forehead.

It turns out that photo I blogged about is only one of many Sutton has done for the British sunglasses and accessories company Shade Station. Having one's services sought from abroad seems like a huge professional accomplishment, but Sutton didn't even mention it until I asked.

She's more interested in helping develop creative businesses locally.

Sutton's styling clientele began with promotional head shots for anyone, just to make a little money. She's since moved on to Indy's small pool of fashion designers like Berny Martin, Catherine Fritsch and Apgar Designs. Next is a shoot for Handbag Heaven, an online accessories retailer based in Greenwood, then the publicity stills for the upcoming Midwest Fashion Week scheduled for October.

Sutton is in the process of creating what I believe to be Indy's first true lifestyle brand, but she isn't doing it alone. Most photo shoots involve the same team: Polina Osherov at the lens and Kiralee Hubbard holding the makeup brush. Irina Green handles hair design. Soon, Sutton hopes to have an arsenal of models from surrounding cities, such as Cincinnati and Chicago, since locally she has but three favorites.

"We're a lot like a band," she said, "only everyone gets a turn being the lead singer."

To read more about Sutton's team, visit hauteintheheartland.blogspot.com.•

__________

If you'd like to share your own style ideas or know anyone who's making waves in the fashion community, contact Gabrielle at gposhadlo@ibj.com. This column appears monthly.