They aren't as obvious as the stereotypical thug in trench coat and sunglasses who unloads stolen jewelry and wristwatches
on unsuspecting tourists, but the NCAA considers them as unscrupulous.
They're the legions of counterfeiters who travel to large sporting events in hopes of scoring on the lucrative market
for sports apparel.
The NCAA will field a posse of police and hired hands to watch for unlicensed hats, T-shirts and other merchandise when Indianapolis
hosts the men's Final Four basketball championship here April 3-5.
"Recognizing it's not murder or drug dealing, it's paramount to what we do," said Michael Drucker,
a lawyer at Atlanta-based Collegiate Licensing Co. "It's vital to be able to control your [trade]marks and the
revenue they generate."
The NCAA contracts with Collegiate Licensing to grant licenses to companies wanting to sell legitimate NCAA apparel and help
enforce the licenses and collect royalties.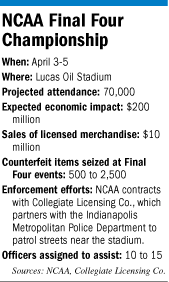 College Licensing works with local law enforcement to patrol streets near the venue hosting the event,
almost like they'd sniff out drug dealers.
For the Final Four, Drucker expects 20 employees to join a dozen Indianapolis police officers to put the squeeze on unlawful
vendors skulking around Lucas Oil Stadium.
U.S. Immigration and Customs Enforcement, which manages the National Intellectual Property Rights Coordination Center, estimates
sales of legitimate products during the Final Four exceed $10 million, making the tournament an attractive target for counterfeiters.
In fact, Collegiate Licensing and police typically confiscate 500 to 2,500 counterfeit items at a Final Four tournament.
The 2010 BCS National Championship football game between the University of Texas Longhorns and University of Alabama Crimson
Tide resulted in an even larger bounty—about 3,800 pieces from 65 vendors, Drucker said.
The NCAA is preparing for the threat in Indianapolis like a coach for a big game.
"We do tend to see most of the [infringement] activity during the men's basketball tournament, just because of
the high exposure of the event," said Jay Rossello, NCAA director of legal affairs.
Organized crime element
Indianapolis cops will begin searching for illegal transactions about a week before the Final Four games begin and conclude
the day after the championship game, Drucker said.
Their full-court press will include hotels where the four teams stay and Indianapolis International Airport.
Penalties are weak. Anyone caught peddling counterfeits simply might be instructed to surrender their cache. Or they could
be cited for trespassing or vending without a permit.
Those familiar with the seedier side of selling sports apparel realize it's often not relegated to a few enterprising
entrepreneurs looking to make a quick buck but, rather, to a much more serious threat—organized crime.
Counterfeiting is just as lucrative as the drug trade, without the attention and threat of steep prison sentences, said Karl
Manders, owner of the Indianapolis-based Continental Enterprises Inc. intellectual property consulting firm.
"It's one of those things that is a bigger problem than it seems to be," Manders said. "It's
so lucrative; the profit is huge."
Knockoffs are fairly simple to detect. All licensed merchandise sports a hologram label authenticating it as NCAA-approved.
The logo of the manufacturer, such as Nike or Adidas, must be visible as well.
In contrast, bootleg items usually are laden with defects. Shoddy screen prints and substandard embroidery are the most obvious
tip-offs. Other times—believe it or not—a word might be misspelled.
Counterfeiters often buy what's known as "seconds" from distributors. These are plain T-shirts that have
slight imperfections and cannot be sold to consumers in traditional retail outlets. The tags usually have been cut off, or
are missing, to indicate their worthless value.
Most unlicensed vendors carry 10 to 15 T-shirts with them at a time. If their faulty merchandise fails to raise red flags,
their sales methods should, Drucker said.
"Traditionally," he said, "licensed merchandise is not sold by people running through parking lots with
backpacks."
'Whac-A-Mole'
Overall, it's estimated that $200 billion to $250 billion of fake merchandise is sold in the United States annually.
The NCAA has about 50 trademarks and slogans protected, including Final Four, Elite Eight and Frozen Four, the men's
hockey championship.
Colleges and universities are responsible for protecting their own trademarks, and many also contract with Collegiate Licensing
for those services. The company counts 165 colleges and universities as clients, including Purdue University and the University
of Notre Dame, as well as several college conferences and the Heisman Trophy.
But if the Butler Bulldogs, for instance, were to advance to the Final Four, Collegiate Licensing could enforce any infringements
to the logo, even though it doesn't represent Butler, because the team is participating in an NCAA-sanctioned event.
A deep run in the tournament undoubtedly would bring more exposure to Butler, whose main threat of infringement comes from
student groups oblivious to the legal ramifications, said Lindsay Martin, Butler's manager of sports marketing and promotions.
"Schools that don't have their trademarks protected don't have a legal leg to stand on if something were
to come up," Martin said.
The bright spotlight shone on the Final Four arguably heightens the risk of trademark infringement to the NCAA and to participating
teams. But the NCAA's efforts to protect its rights extend beyond the tournament.
Infringement policies prevalent among all sports organizations are meant to protect authorized sponsors and advertisers who
pay big money to be affiliated with a league, or a particular team.
Sponsorship agreements often range in the hundreds of thousands of dollars and can reach into the millions.
Any unlicensed company insinuating a partnership with the NCAA is first hit with a cease-and-desist letter, said the NCAA's
Rossello. Often, a letter persuades offenders to stop.
"It's certainly important for us to make sure our partners receive the value they intended to get when they made
the investment," Rossello said. "The other part is that we don't want to tarnish the NCAA."
To be sure, lack of enforcement could jeopardize the NCAA brand, said Michael Swift, a lawyer at the local Maginot Moore
& Beck LLP intellectual property boutique.
The hard part, however, is stopping infringement that occurs over the Internet, which can run rampant on Web sites such as
eBay.
"That's like a game of Whac-A-Mole," Swift said. "Once you hit one, another pops up."•
Please enable JavaScript to view this content.