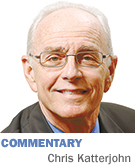 It's a tall order to write a farewell column after 30 years.
How do you sum up three decades in 650 words? You don't, really, but as I ponder the prospect, what comes up in me is a sense of gratitude: I've sat in a seat of privilege during my time at IBJ.
Privilege because my career here has given me so much.
First as managing editor, then as editor, and for the last 20 years as publisher, I've had a birds-eye view on a city that has transformed itself from a wanna-be to a bona-fide contender.
And I've been able to follow that story from what feels like an insider's perspective every step of the way.
I've been at the heart of a newspaper that was started from scratch in a brand new niche and grew into not only a successful business, but also a respected, award-winning publication, viewed locally as an institution and nationally as one of the best.
As the only remaining member of the team that started IBJ, I feel my departure marks the end of an era, and the beginning of a new one. It's been my privilege to help guide IBJ into adulthood.
And you know what? For the most part, this newspapering stuff is just plain fun. After 30 years, I still get jazzed when we find out about something big and break the story before anybody else does. I'll miss that.
This job has also given me an education. Not only have I learned a lot about running this business, but I've learned a lot about all kinds of different businesses. Very few jobs provide that opportunity.
My role here also has been my gateway to community involvement—from city and chamber of commerce committees to not-for-profit boards—and to meeting people I otherwise would never have had the chance to meet.
And, for the most part, the folks I've met have been great.
Through our national business-journal trade group, I've met men and women from all over the country who get to do the same things in their communities that I've gotten to do in mine. Even better, many of these professional acquaintances have become dear friends.
Of course, if you're lucky, the best part of any job is the people with whom you work. I couldn't have asked for a better group of colleagues, two of whom I've worked with more than 25 years.
And, finally, I offer thanks to our readers and advertisers. We obviously wouldn't have a newspaper or our jobs if it weren't for you. Thank you all for your support over the years.
People have reminded me often about the power of newspapers. We understand that the printed word not only reports reality but also creates it for our readers. You have to trust that what you read is true.
That is a responsibility we have never taken lightly. We have worked hard to earn your trust and keep it. Sure, we have made mistakes over the years, but we have never intentionally abused the power we have.
There have been lots of high points and a few low ones.
I will always remember the excitement I felt when I first walked in the door, six weeks before the first IBJ hit the street. I will always remember the excitement I felt just last October when we broke the Tim Durham story.
And there are a million "I-will-always-remembers" in between.
But as we all know, there comes a time to move on, and this is my time. My plan is take a few months off, then search out another opportunity. If I can find one that offers a fraction of the fun and satisfaction this one has, I'll be a happy man.
This has been my privilege. Thank you for everything.•
__________
To comment on this column, send e-mail to tharton@ibj.com. To reach Chris Katterjohn, send e-mail to ckatterjohn@indy.rr.com.

Please enable JavaScript to view this content.