The $1 billion art gallery also known as Indianapolis International Airport's new terminal, has gained another permanent work of art, and two temporary exhibits.

New Orleans native Marcus Akinlana created a piece reflecting Indiana's transportation history, known as "Roads to Deliberate Dreams: Indiana's Geniuses, Tinkerers and Speedsters."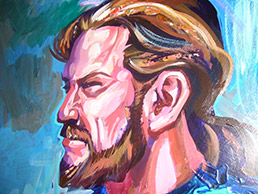 Indiana's transportation pioneers are depicted in new work at Indianapolis International Airport. (Photo Courtesy Indianapolis International Airport)
Akinlana's work, on two, 7-foot-by-30-foot panels, features astronauts, race cars and other aspects of Indiana's heritage, said Alpha Blackburn, vice president of the IND Foundation, which oversees the airport's arts and cultural initiatives.

Akinlana's work is on the overhead bulkhead above baggage claims offices, on the airport's lower level. The work was delayed by 16 months because Akinlana's New Orleans home and studio were destroyed by Hurricane Katrina.

Meanwhile, two temporary exhibits have opened.

One, in the display cases between the ticketing hall and Civic Plaza, is "The History of Transportation in Indiana," presented by the Indiana Historical Society.

The other, in concourse B, is, "Indiana's Tuskegee Airmen of Distinction," honoring America's first black military airmen. Indiana's last surviving Tuskegee airman is Dr. Quentin B. Smith of Gary, who was a flight instructor and later trained as a bomber pilot.