"Green" buildings are designed to save energy and go easy on the environment through using such materials as
bamboo, the fast-growing tropical grass that can be harvested in just five or six years.
So imagine the frustration for some Indiana hardwood growers when an architect specifies not hardwood but bamboo or even
steel.
How many tons of carbon dioxide were emitted by the diesel freighter hauling bamboo from Asia or by the belching steel mills
that have made Northwest Indiana such a garden spot—not?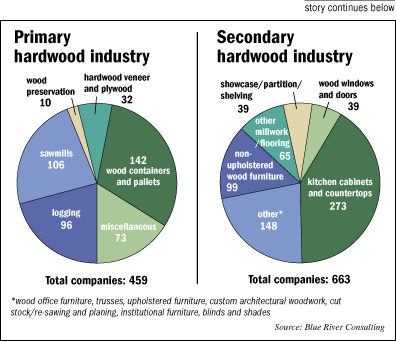 "I ask myself, 'How can this be green?'" said Robert Woodling, owner of Robert Woodling Timber,
a 100-acre hardwood farm in Unionville, just northeast of Bloomington.
Woodling grows more trees than he cuts, built his mill from local wood, and powers his vehicles with homemade bio-diesel.
"There's a group of woodland owners who've been sustainable long before it became a buzzword," added
Woodling, who sports a beard more akin to a dignified college professor than a lumberjack and wields tools out of the Spanish
Inquisition to goad logs into processing machines.
Yet, hardwood growers and wood product manufacturers still struggle for acceptance in systems that rate construction materials
for their green credentials.
That means the Hoosier industry stands to miss out on a new wave of customers—a big deal for a state with more acres,
4.6 million, in forest than the size of Connecticut and Rhode Island combined. Among the most popular hardwoods grown in Indiana
are ash, oak, hickory, cherry and walnut.
The most prevalent green building rating system, known as Leadership in Energy and Environmental Design, or LEED, is a voluntary
approach developed by the U.S. Green Building Council. The system assigns points for design and the way materials are used,
and can be a good guide for energy and environmental performance.
There are different levels of performance. For example, under the LEED commercial interior category, 50 to 59 points earns
you a "silver" certification. Greenies wanting maximum chest-thumping rights must earn 80 points for a "platinum"
rating.
All this sounds rather systematic and straightforward. But there's a problem if you're one of the vast majority
of family-owned hardwood growers in Indiana, with modest land holdings and a budget to match. It turns out that not just any
"wood" qualifies for points under USGBC rules. Rather, LEED recognizes wood grown under standards of the Forest
Stewardship Council, an organization that promotes sustainable growing practices around the world.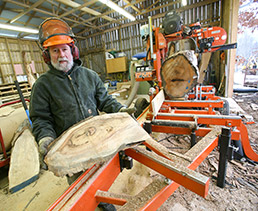 Tree grower Robert Woodling isn't the only member of the Hoosier hardwood industry questioning why some imports meet
environmental standards while locally sourced materials struggle for acceptance. (IBJ Photo/ Perry Reichanadter)
Generally, use of FSC-certified wood earns a couple of points toward a LEED score.
Certifying the wood requires growers to track their trees essentially from origin through harvest. For the modest grower
just trying to make ends meet, it's a pile of bureaucracy on top of the already-dense government rules, particularly
for those operating in the highly regulated environmental realm.
"FSC is not easy to obtain, and most of the forests in the region don't obtain it," said Luke Leising,
chairman of the USGBC's Indiana chapter and sustainability director at architecture and engineering firm American Structurepoint.
Indeed, nearly 86 percent of Indiana forests are privately owned, and many have 10- to 40-acre tracts owned by families for
years. For some, "it's just physically impossible to jump through the hoops," said Ray Moistner, executive
director of the Indiana Hardwood Lumbermen's Association.
Plan 'B'
So the association is trying to help members exploit another aspect of LEED that could favor Indiana hardwoods.
It turns out that using wood sourced "locally," within 500 miles, can qualify for up to three LEED points—whether
its Forest Stewardship-certified or not.
So then, why do growers have their overalls in a twist?
They say some architects and others in the green building world apparently don't realize or appreciate the locally
sourced provision. Some working on a green building project will call one of Moistner's members to inquire whether they're
Forest Stewardship-certified. Often a member will reply, no. But before he can explain there are still points to be earned
under the local sourcing rule, "they'll hang up the phone," Moistner said.

The challenge isn't limited to Indiana.
The USGBC national office has received grief from the hardwood industry over its use of the Forest Stewardship standards.
Leising said the office is aware of the hardwood industry's concerns, and that there's talk of broadening the
standard.
Novel approaches
But Indiana is one of few states trying a novel approach to improve green building sourcing opportunities for the
hardwood industry.
The state previously obtained Forest Stewardship certification for state-owned forests, some of which are opened to private
logging. Logs harvested are considered certified if they go through the proper chain of custody, and a number of Indiana mills
are custody-approved.
The Indiana Department of Natural Resources for decades also has helped private woodland owners receive recognition for good
stewardship through a forest and wildlife classification program. About 12,000 landowners, with upward of 650,000 acres, are
voluntarily participating in the classification system, under which they must adhere to standards for such considerations
as soil erosion and harvest inventories. Woodland owners in return receive tax breaks for following good environmental practices.
But about two years ago, DNR began trying to obtain Forest Stewardship certification for woodlands enrolled in its classified
system. Pooling woodlands essentially reduces costs and hurdles private owners enrolled in the program would otherwise incur.
No other state, with the possible exception of Minnesota, has gone this route, said assistant state forester Dan Ernst. He
said DNR hopes to get the green light from Forest Stewardship within months.
Tim Maloney, senior policy director of the Hoosier Environmental Council, said his group supports responsible timber harvests
on private lands "with the recognition it has to be done in the context of other resources," such as water, soil
quality and wildlife.
The council has questioned the state's increased access to private loggers of state-owned forests, saying it has increased
under the current administration. State land remains an important wildlife and recreational resource, Maloney said.
"From our standpoint, we certainly have questions whether this [logging] is the best use of these lands."•
Please enable JavaScript to view this content.