Simon Property Group CEO David E. Simon has been making his case for acquiring rival General Growth Properties in a series of letters.

The notes to General Growth CEO Adam Metz are cordial, ending in "Very truly yours." But they also show the confidence and bite familiar to anyone who has sat across the table from Simon.

Simon
In one, he describes his own company as "a fortress of stability" while blasting Chicago-based General Growth for its "past history of risky financial choices" and current "lack of urgency" in closing a deal to exit bankruptcy.

And he's blunt in attacking General Growth's attempts to duck Simon's $10 billion bid: "You render your 'process' a charade from the start by seeking to exclude the most logical and capable acquirer."

The letters are the most revealing details yet on how the shrewd and blunt deal-maker—an acquisitive former Wall Street wunderkind who transformed Simon into the nation's largest mall owner—is trying to land his biggest deal yet.

A Simon-GGP marriage would give the Indianapolis-based company ownership of about 40 percent of the nation's shopping malls and more than 60 percent of the most-sought-after centers, along with the kind of dominance over mall tenants David Simon long has coveted.

The general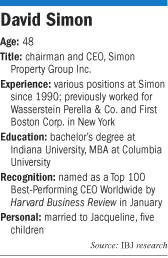 A Simon family confidant mused that David Simon, 48, has a lot in common with former Indiana University coach Bob Knight: He's brutally honest, prone to profanity, and always does things his way, despite years of advice from mentors and business associates to tone down the bluster. At the end of the day, though, you want to be on his team.

Simon, who earned his bachelor's degree from IU and an MBA from Columbia University, joined his father, Mel, and Uncle Herb at Melvin Simon & Associates Inc. in 1990 after a five-year stint on Wall Street, including three years at the aggressive investment bank Wasserstein Perella & Co.
The family business was in bad shape, generating less than one-tenth of the revenue it rakes in today. Simon, who was 28 when he returned to Indianapolis, began to install more discipline in development, accounting and staffing. He took over as Simon's president in 1993, became CEO in 1995, and ascended to chairman of the board in 2007.

The Harvard Business Review this year named Simon one of the world's 100 best-performing CEOs, crediting him with growing Simon's market value by $18 billion during his tenure.

"I think he is very bright, very aggressive and has done an unbelievable job of creating and perpetuating Simon Property," said Sam Zell, the Chicago real estate tycoon who sold his Equity Office Properties Trust for $39 billion in 2006 in the nation's largest-ever office portfolio deal.

The sale of General Growth, which Simon's offer values at $30 billion including the assumption of secured debt, would take the top spot for a retail portfolio.

Not subtle

Zell described Simon's style as "very direct"—not unlike Zell's confident and brash approach to deal making. Simon is willing to take a stand, and own it, whether time proves the move brilliant or boneheaded.

"I don't think subtlety is his long suit," Zell said. "I don't think anybody ever leaves a meeting with David and says, 'What do you think he meant?'"

Zell
Zell, who has partnered with Simon on deals before, acknowledged he has "looked at GGP extensively." But he would not say whether he is contemplating an investment.

Simon, who declined through a spokesman to comment for this story, acknowledged in an IBJ interview in 1992 that he's plenty demanding.

"I try to lead by example," Simon said at the time. "Mel and Herb have a terrific reputation in how they deal with people. Hopefully, some of that will rub off on me."

Simon keeps a low profile outside work. He's been married for more than 20 years, to Jacqueline, and the couple has five children, three of them living at home. They have vacation homes in Colorado and Mexico.

Simon is fiercely private. He doesn't make a show of charitable efforts. Simon avoids flash and conspicuous spending, but he lives comfortably.

He earns a salary of about $1.8 million per year, and his roughly 450,000 public shares pay another $1 million per year in dividends. He also holds other ownership units in the company, but it wasn't clear what they are worth.

Simon may be uncomfortable in the spotlight, but he's at home on the golf course. Golf Digest in 2006 ranked Simon among the Top 50 CEO golfers among Fortune 1000 companies, with a 7.6 handicap.

Old guard

Simon spends much of his time in New York City, meeting with bankers, investors and Wall Street analysts.

At one such event, a dinner hosted by the investment firm Stifel Nicolaus at The Four Seasons (where a hamburger will run you $27), Simon showed a sense of humor.

Stifel Nicolaus analyst and former mall-industry executive David M. Fick said he struggled to come up with a gift idea for Simon, the headline speaker. He settled on a book by Al Taubman, the founder of Michigan-based Taubman Centers Inc.

In the book, Taubman bashes David Simon for his "ugly" attempt to acquire the company for $1.5 billion in 2002.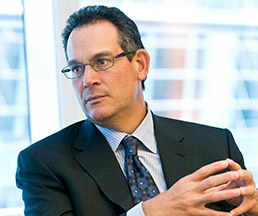 David Simon has pulled the trigger on many big acquisitions since becoming CEO in 1995. Including secured debt, the General Growth deal would be worth $30 billion. (Photo/ Bloomberg News)
Simon had sought to capitalize on a low point for Taubman, a former chairman of the auction house Sotheby's, who at the time was spending a year in jail for fixing commissions with rival auction house Christy's. Taubman said David Simon's overtures were a particular affront, since Mel and Herb had been friends for years—"at least I thought they were," he wrote.

Taubman shareholders supported the deal, but the family killed it by virtue of controlling a special class of stock.

"In the business world, it used to be true that family businesses didn't attack other family businesses," Taubman wrote in the book, "Threshold Resistance: The Extraordinary Career of a Luxury Retailing Pioneer." But, "So much for history."

David Simon took the gift, promptly turned to page 180, where he is mentioned, signed it and returned it to Fick.

Win friends

Simon is focused on running the company and doesn't "give a damn" about things he's not so good at, like winning friends, said Herman Renfro, a former Simon executive who oversaw the Circle Centre mall project.

Simon's amiable deputies, President Richard S. Sokolov and Chief Financial Officer Stephen E. Sterrett, have been known to follow in his wake, mending bruised egos and explaining to employees, customers or investors that "David is just being David."

He's been known to dress down even large institutional investment managers for asking questions that show a lack of expertise on the mall business. And Wall Street analysts are accustomed to getting an earful if they ask a question Simon deems inappropriate on a conference call.

"He may ruffle feathers, but no one questions his business acumen," said Renfro, who wishes he had held on to the Simon stock he once owned. "I wouldn't bet against David making money. He's pretty effective at what he does."

Now that Simon has entered the fray for General Growth, Renfro said, expect him to "go as far as he thinks is reasonable to make the deal without going out on a limb and overpaying for it."

Simon hasn't been shy in the past about pulling the trigger on big deals: The company paid $1.5 billion for DeBartolo Realty Corp. in 1996, $5.8 billion for Corporate Property Investors in 1998, $3.5 billion for Chelsea Property Group, and $1.6 billion for Mills Corp., both in 2007. The company agreed in December to pay $2.2 billion for Prime Outlets.

Competitors have learned never to count Simon out. In 1998, executives at Rouse Co. thought they had won a bidding war for Corporate Property Investors. But Simon reopened negotiations overnight and the Rouse CEO woke up to find out he had lost the deal.

Superior offer

Strong leaders with powerful personalities can single-handedly make or break big deals, said Steven M. Davidoff, an associate professor of law at the University of Connecticut who writes on mergers and acquisitions for The New York Times DealBook.

But because Simon's quest for General Growth is playing out in bankruptcy court, cold numbers probably will upstage folks like David Simon.

"Whether he's a good or bad guy or a hard negotiator probably is not going to influence the outcome that much," said Davidoff, who last year published "Gods at War: Shotgun Takeovers, Government by Deal and the Private Equity Implosion." "Bankruptcy court is a pretty level playing field—most likely Simon will win if they come out with a superior offer."

On the other hand, management teams in bankruptcy can be "very creative" in blocking deals they don't want to consider, said Bob Shortle, a co-founder of locally based private-investment firm Periculum Capital.

"They know more than anybody, and most don't like to give up their company because they lose their job," Shortle said. "Ultimately, the substance of a transaction is generally what wins. If I were a judge, it would be hard not to take Simon's deal."

Rich Moore, an analyst with RBC Capital Markets, thinks Simon ultimately will win the bidding war for General Growth, over a less firm offer from Canada's Brookfield Asset Management and a potential offer from New York-based Vornado Realty Trust.

But Simon will be fine whether or not it prevails.

"They don't need this to be relevant—they will be relevant no matter what happens," Moore said. "David has transformed that company really into what it is, a dominant player in the space. They're sitting in a terrific position."•