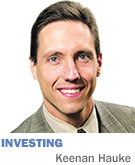 When you make a mistake, it is a lot easier to blame someone else than
it is to own up to it.
I have three boys ranging in age from 2 to 10 and every once in a blue moon, a lamp gets knocked over, a toilet gets flooded
or something spills. Typically, after one of these uncommon events (my boys are almost perfect, after all), three fingers
from three different hands start pointing at the closest brother. As the parent, though, I just want to know how it happened
so I can maybe prevent it from happening again.
I normally don't expect complete child-like behavior from heads of state, but every political leader in Europe has
been acting like a little kid trying to run away from the broken window. It has been about a month since the world learned
of Greece's deficit situation (and by today's standards, you know they must have a problem).
Greece has one of the largest national debts of any country in the world, third world or G20. The country claims much of
the debt stems from the summer Olympics in Athens, but me thinks there are a few other reasons. Chief among them is the utter
contradiction between wanting a socialist government and the desire to spend like a free market capitalist. According to European
leadership, however, lack of financial discipline is not the reason for the latest Greek woes. All the blame, my friends,
lies with the evil hedge fund managers and their attempts to profit.
Greek Prime Minister Papandreou was in Washington, D.C., this week blaming "speculators who only place value on immediate
returns, with utter disregard for the consequences on the larger economic system. If the Euro crisis metastasizes, it could
create a new global financial crisis with implications as grave as the U.S.-originated crisis of two years ago."
Prime Minister Merkel of Germany is calling for new, short-term regulations to shut down funds placing bets against Greek
debt. President Obama is expected to listen to Papandreou to consider joining the hedge-fund witch hunt. This, despite the
latest U.S. and European financial market reports showing no increase in negative bets against Greek debt by any of the large
hedge funds. But why let facts get in the way!
I truly hope our folks in Washington do nothing more than buy the prime minister a good dinner, smile and send him on his
way. Blaming the free market for all the world's problems has to stop. Even though the United States is far from a true
free-market system, it is the closest in existence and has done more to improve the human condition than anything in history
besides the birth of Christ. We are not the problem. Our money managers are not the problem. Socialism, communism, any form
of command-and-control economy—that is the problem.
If the Greeks are serious about fixing their country, they will cut their spending and reduce the amount of government interference
in their economy. The prime minister rails against funds looking for immediate gains, but his country enjoyed the instant
gratification of decades of borrowed money. Hey, Papandreou, you want speculators to go away? Here's a clue. Stop spending!
Live within your means, and the speculators will let you live.
You don't see these so-called vulture funds circling Australia. Why? Because Australia has no debt. There are funds
around the world that do take advantage of weakness like this, but it is self-inflicted weakness. It does make me worry a
little, though, because if we don't clean up our act within 10 years, those funds could be circling the United States.
And if it happens, we will have only ourselves to blame.•
__________
Hauke is the CEO of Samex Capital Advisors, a locally based money manager. His column appears every other week. Views
expressed here are the writer's. Hauke can be reached at 203-3365 or at keenan@samexcapital.com.
Please enable JavaScript to view this content.