Scrap-metal recycler J. Solotken & Co. has moved from 101 S. Harding St. to 6701 English Ave., the building formerly
occupied by mechanical contractor Frank E. Irish Co.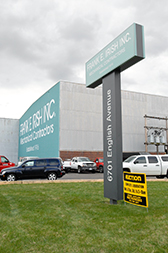 J. Solotken & Co. moved into Frank E. Irish's former building on English Avenue. (IBJ File Photo)
Irish went out of business in May 2008. Solotken, a family-owned Indianapolis business, bought the 140,000-square-foot building
the following December.
A spokesman for J. Solotken said the company invested $4.5 million in the building's purchase and new equipment, energy-efficient
lighting and HVAC systems.
Solotken was the city's fourth-largest recycler in 2008 with 40 full-time-equivalent employees, according to IBJ
research. The company was founded in 1914 and occupied the Harding Street location since 1936. The company still owns the
Harding Street facility and hasn't decided what to do with it.
 
Please enable JavaScript to view this content.