Carl Brizzi was preparing to take over as Marion County prosecutor in late 2002 when he met John Bales, an up-and-coming real estate broker with CB Richard Ellis.

Brizzi
Departing Prosecutor Scott Newman had picked Bales, on the advice of Auditor Martha Womacks, to help shepherd a deal to consolidate the department's office space into 71,000 square feet in the 11-story 251 East Ohio building. Newman signed the deal but left the details of designing the space to Brizzi.

The prosecutor hit it off with Bales. The pair began to hang out and partner on real estate deals, including a bank branch and a small office building. Bales became one of Brizzi's top political contributors, giving more than $5,000 to Brizzi's re-election effort in 2006.

Bales
Meanwhile, records show Brizzi directed more lucrative work for the Prosecutor's Office to his friend and business partner. From 2003 to 2007, the Prosecutor's Office negotiated three separate amendments to its original lease, each resulting in a new commission check for Bales.

Brizzi, 41, already has come under fire for investments in companies connected to another friend and prolific Republican donor, Timothy Durham, who is the target of an FBI securities fraud investigation. Durham was Brizzi's finance chairman for his 2006 re-election.

Now, the FBI is asking questions about Brizzi's business dealings while in office, including whether he put business relationships with people like Durham and Bales ahead of those who elected him. His handling of the Prosecutor's Office lease deal, worth more than $1 million annually in rent payments, is one of the deals attracting interest.

Prosecution of an elected official at the state level requires an actual quid pro quo, but the standard under the federal Hobbs Act is lower: Any elected official who receives money or property under "color of official right" or through "fear of economic harm" can be charged.

Brizzi, who said earlier this year he will not seek a third term as prosecutor, declined an interview request. But Prosecutor's Office spokesman Mario Massillamany said Brizzi had no choice but to negotiate with Bales on changes to the lease.

"According to the terms of the lease that Prosecutor Newman signed, only Mr. Bales could negotiate the amendment and subsequent extension," Massillamany wrote in an e-mail. "Mr. Bales has not represented the office in any other capacity."

But an expert on government ethics questioned Brizzi's judgment in pursuing a personal business relationship with a vendor to his elected office.

Judy Nadler, a senior fellow on government ethics at Santa Clara University, said it would be nearly impossible for any public official to put the interests of constituents first if a decision conflicts with his own financial interests.

That's why elected officials must avoid situations that even suggest a conflict, said Nadler, a former two-term mayor and council member in Santa Clara, Calif.

"Sometimes people forget they are public servants, not businessmen or developers," Nadler said. "Either be a real estate mogul or serve out your time as a public servant."

Early extension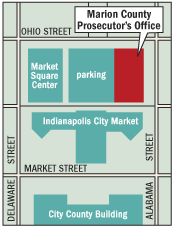 Before the Prosecutor's Office moved into 251 East Ohio, its functions were spread out over a few floors in the City-County Building, a suite at 17 W. Jackson Place above the Ike and Jonesy's bar, and a leak-prone 9,000-square-foot space in the Victoria Centre at 22 E. Washington St., said Newman, the former prosecutor.

Newman said he brought in Bales, 43, to represent the Prosecutor's Office after watching other Marion County officeholders negotiate their own leases and get bad deals. Newman signed the deal in December 2002.

"Bales was wringing his hands—he was afraid I would negotiate it to death," Newman said. "I introduced him to Carl as I was leaving office."

The lease deal—valued at $9.8 million over 10 years—paid Bales a 4-percent commission, about $392,000. The landlord paid both Bales' commission and a 2 percent fee for its own broker.

Brizzi made the first change to the deal in his first month in office. He executed an amendment that extended the lease more than 18 months, to 2014—paying Bales another $51,000. The document does not say whether the building owner provided something in exchange for the lease extension.

Office market observers say the extension could be related to cost overruns on the construction of the space or a change in fixtures to suit Brizzi's tastes. Such changes to major lease deals are not uncommon.

A few months later, in August 2003, Brizzi signed off on another amendment, this time waiving three months of free rent gained in the first amendment to entice the landlord to help cover a $300,000 tab to connect the new offices to a computer network at the City-County Building. Bales had overlooked the cost of running the wires in the original deal, said a broker familiar with the agreement. Bales nonetheless earned another $12,000 or so in fees on the second amendment.

Four years later, in August 2007, Brizzi signed a third amendment to the lease. The deal added another 6,800 square feet to the Prosecutor's Office space, and extended the entire lease deal to 2017.

Bales collected another commission check, likely for more than $219,000, based on an IBJ calculation of the value of the additional annual rent payments.

Massillamany said the amendments will help the department save on rent by locking in a long-term deal. He said the 2007 amendment cut total rent an estimated $423,000.

Bales did not return phone messages.

Competitive rate

The current lease rate for the Prosecutor's Office is $15.69 per square foot, which is competitive compared with similar space available downtown. Market Tower, for example, is marketing space for $17 to $20 per square foot, and M&I Plaza is listing space at $18 per square foot.

But the space is pricier than what other city agencies pay for offices in the City-County Building, which is 100-percent occupied. Those departments pay $10.35 per square foot, said Deputy Controller Jason Dudich.

To lease space outside the City-County Building, a municipal division must seek approval from the City-County Council. The council approved the initial Prosecutor's Office move in October 2002, and the expansion in June 2007.

The resolution authorizing the lease extension and expansion was sponsored by former Republican Councilman Lincoln Plowman, who resigned from the council and the Indianapolis Metropolitan Police Department this month after word leaked he is the subject of a federal investigation. There was no indication his resignation was connected to the Prosecutor's Office deal.

The 251 East Ohio building is owned by Santa Monica, Calif.-based Hertz Investment Group, which acquired the property and the Gold Building at 151 N. Delaware St. for more than $40 million in 2006.

A year after Hertz bought the Indianapolis buildings, the company landed the expansion deal with the Prosecutor's Office. The owner also scored a tax-assessment drop of more than $9 million, thanks to its public-sector tenants.

Two masters

Brizzi also has partnered with Bales, now president of locally based Venture Cos., as a private investor.

In 2004, Brizzi bought and later flipped two condos in Broad Ripple's Reserve development, which was developed by Bales and partners including Steve Pittman and Barnes & Thornburg attorney Ben Pecar.

Brizzi and Bales partnered in 2005 to develop a Key Bank branch in Broad Ripple, at a time Bales was a member of the Metropolitan Development Commission as a county appointee. Bales was reappointed in 2006—at the request of Womacks, the former county auditor—despite concerns over his spotty attendance record at board meetings.

In 2008, Bales and Brizzi took an ownership interest in a building in Elkhart where the state Department of Child Services is a major tenant. Brizzi has said on disclosure forms his stake in the building's ownership is worth $50,000 to $100,000.

Brizzi also owns a 10-percent stake in downtown's Harry & Izzy's restaurant, which he acquired in 2007 and says is worth $100,000 to $250,000. The same year, he worked with Bales to try to raise $30 million for a fund to buy distressed residential and commercial projects in Florida and Indiana. The plan fizzled when they could not generate sufficient interest from investors.

Prosecuting attorneys as a general rule are allowed to maintain outside business interests, including in real estate, as long as they don't conflict with prosecutorial responsibilities, said Steve Johnson, executive director of the Indiana Prosecuting Attorneys Council.

He noted that Brizzi sought and received the Indiana attorney general's blessing of his deal to invest in Harry & Izzy's.

Higher standard

Since he took office, Brizzi has managed to build a real estate portfolio without much money or extensive assets. He earns $125,000 a year as prosecutor. A divorce settlement filed in February 2009 shows Brizzi and his wife had three residences, each with first and second mortgages. He pays about $1,000 a month in child support for his four children, and he is paying for student loans.

Meanwhile, Bales has continued to capitalize on political connections to secure real estate deals. In 2008, he won a no-bid contract to handle the sale of all surplus city property, mirroring a similar contract he has with the state.

For now, though, the city has stopped sending work to Venture and Bales. Michael Huber, the city's director of enterprise development, said the deal is on hold as the city shifts its strategy away from a sale-and-lease model to focus on partnerships with businesses and not-for-profits interested in better uses of properties such as City Market.

Brizzi acknowledged in a December letter to supporters that he has made mistakes, including a decision to serve on the board of Durham's Fair Finance Co. He later backed out of the commitment after learning IBJ was investigating more than $168 million in related-party loans the Akron, Ohio, company had made to Durham, partners and related entities.

Another flap over Brizzi involves $29,000 in campaign contributions he accepted from businessman Harrison Epperly. At the same time, an attorney for Epperly's daughter—who got a 110-year sentence in 1991 for a murder-for-hire scheme—was seeking her early release.

Brizzi's office supported the sentence modification, and Paula Epperly Willoughby was freed in July 2009. Brizzi returned the contributions and said they were not a factor in his decision.

"As a public official, I am, understandably and appropriately, held to a higher standard—and any association or action is subject to greater scrutiny," Brizzi wrote in December, referring to his involvement in Fair Finance. "In hindsight, I should have conducted greater due diligence … before agreeing to serve on the board."•