If they ever do a remake of "Waterworld," Matthew T. Klein might want to audition for the role of Mariner, which
was played by Kevin Costner.
Like Costner's character, who was being chased by pirates and mutants, the executive director of the city's Department
of Waterworks for the last year has been dogged by a torrent of trouble facing the city's water utility.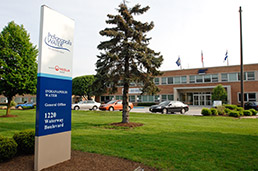 Indianapolis Water has been a lightning rod for controversy. (IBJ File Photo)
Not the least of which was fallout from Indianapolis Water's request for a 35-percent rate increase to comply with
new federal regulations and to complete capital projects deferred since the city bought the utility five years ago.
If he's not hearing partisan criticism about the rate hikes, he's hearing from Broad Ripple residents concerned
the utility will make a mess of things when it trenches and resurfaces the Central Canal.
A paradise to waterfowl and walkers in Broad Ripple, the seven-mile stretch of canal is the city's primary conduit
of raw water, carrying it from a dam in Broad Ripple to the main water treatment plant closer to downtown.
Klein has agreed to serve on a panel discussion concerning the canal: "Indy's Central Canal—public resource
or private pipeline?" during the Indiana University Law Environmental Symposium, April 1 at IUPUI's Inlow Hall.
Other panelists include Tom Healy, of the Broad Ripple Village Association, and Lou Ann Baker, a vice president for Veolia
Water, which the city hired to operate the utility under the department's supervision.
The symposium also will discuss water quality issues and whether Indiana could face the kind of water-scarcity problems that
have caused skirmishes in Southwestern states.
Mayor Greg Ballard earlier this month announced a tentative agreement to sell the city's water and sewer utilities
to Citizens Energy. The city would wipe from its books $1.5 billion in debt and receive more than $425 million in cash that
would be used for various infrastructure improvements.
Please enable JavaScript to view this content.