Business hates uncertainty.

It's an apt axiom for the immediate aftermath of President Obama's March 23 signing of health insurance reform.

Most employers in central Indiana are just beginning to figure out what the bill will mean for their businesses. But because they can't be certain, they tend to fear it more than favor it.

"Right now, I think people are still trying to digest it, but I think businesspeople in general are negative," said Paul Nysewander, an accountant in Plainfield who has many small-business clients.

The new law would extend insurance coverage to 32 million more Americans by expanding the federal-state Medicaid program and by paying subsidies to help low-income Americans buy private insurance.

The law also reforms the insurance market by no longer allowing health insurers to exclude sick patients from their plans, but also by requiring individuals to buy insurance and employers to offer it to workers.

Some of employers' uncertainty comes from the fact that the legislation is not complete. Obama signed into law the version of reform that passed the Senate on Christmas Eve. But the House of Representatives approved that bill only after securing an agreement from Senate leaders that they'll pass a second bill that makes several key changes to the initial bill.

But uncertainty also reigns because of the sheer size of the bill, because its myriad provisions require additional rule-writing by federal regulators, and because the impact on employers will depend on changes health insurers make in response to the new laws and rules.

Susan Rider, a broker at Gregory & Appel Insurance, said she's been slammed with phone calls and e-mails from employers seeking help to understand the bill.

"They thought that this thing wouldn't pass. And then, bam, it did pass," she said. "It did catch a lot of people off guard."

Some major Indianapolis-based employers—such as The Finish Line Inc. and the state of Indiana—said it is too early to comment on the law's impact on them. Among business managers who did comment, most expect the new rules will mean higher costs.

Tom Easterday, vice president of Subaru Indiana Automotive in Lafayette, expects the bill to add nearly $1 million in costs. That would mean less than a 10-percent increase for Subaru, which acts as its own insurer to 7,000 people on its health plan.

"That's still significant because our industry is so competitive," he said. The bill does require some good things, he added, nearly all of which Subaru already provides through its benefits. "All of this is just added cost, in our opinion, for no good reason."

Easterday's estimate suggests more moderate cost increases than the 20 percent anticipated by Illinois-based Caterpillar Inc., which employs nearly 1,500 people at an engine plant in Lafayette.

Caterpillar expects to take a $100 million hit this year because the law limits its tax deductions for its retiree health plan. That's less than 1 percent of the company's annual $32.4 billion in revenue.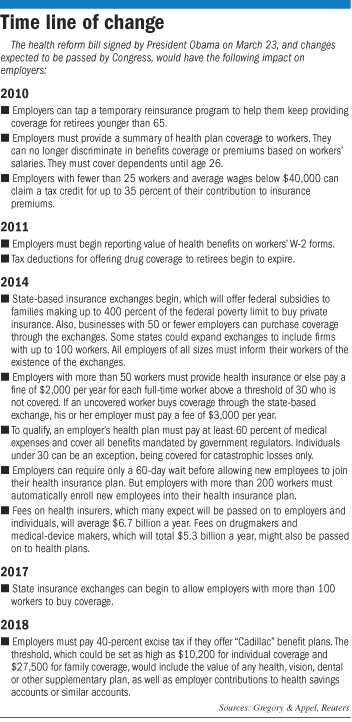 But the company still fears the rest of the bill could threaten its competitiveness against global competitors.

"We strongly believe the current legislation is not in the best interests of Caterpillar or the more than 150,000 employees, retirees and dependents that we cover," wrote Gregory Folley, Caterpillar's chief human resources officer, in a March 18 letter to congressional leaders earlier this month urging a vote against the bill.

Proponents of the bill have argued for its benefits to small-business owners, not giant conglomerates.

It's companies with fewer than 10 employees that are hammered by the current system, with one-third of their premium costs going toward administration, not medical claims, according to an analysis by the New York-based Lewin Group. By contrast, companies with more than 500 workers pay 10 percent or less toward administration.

If a tiny firm has one employee rack up huge medical bills, it can make the entire company uninsurable, or force the company to carve out that one employee from its health plan.

The new health care laws would try to remedy those challenges by creating state-based health insurance exchanges that would combine small-business workers and individuals into one, larger pool. It would also allow insurance companies to use no more than 30 percent of premiums for administrative costs and profits.

"Comprehensive national health reform has the potential to lower the cost of offering health insurance for small firms, as well as making the process more transparent and predictable," wrote Elise Gould and Alexander Hertel-Fernandez in a December analysis of health reform for the liberal Economic Policy Institute.

Nysewander thinks the exchanges could help him provide coverage. Right now, only one of his three employees does not have coverage through a spouse, so Nysewander helps that employee buy insurance on the individual market. The premiums have spiked 172 percent in the past six years, even after a switch to a high-deductible plan.

"Those might be beneficial down the road," he said of the exchanges. "We're paying an enormous amount for health insurance. I don't see how it could be any more expensive."

At the same time, Nysewander fears the extra restrictions on health insurers might force many of them out of business, which would actually reduce the already low level of competition.

He also dislikes a mandate that all employers with at least 50 workers provide health insurance to their full-time employees. That requirement, he said, could be a drag on future hiring.

Tim Hardt agrees. He's the founder and director of Whitestown-based Indy Juniors Volleyball Inc., a girls' league similar to AAU basketball. The company employs 32 coaches, all but two of them part time.

But the bill Obama signed defines as full time any employee who works 390 hours in a quarter. Because his coaches travel to out-of-state tournaments, they work more than 460 hours each quarter.

If Hardt's organization keeps growing to where he needs more than 50 coaches, he fears he will be required to provide health insurance or pay a fine of $2,000 for each worker over a threshold of 30.

Hardt is examining whether he can work around the requirement by making his coaches independent contractors, or through some other change. But right now, the uncertainty is driving him mad.

"I am confident that I will hit the 50 threshold," he said. "And if I do, I will go out of business."•