A big problem is looming in health care—Indiana needs thousands more doctors, nurses, home health aides and other workers, but baby boomers, the eldest of whom are turning 64, are starting to retire.

No one's quite sure how to reconcile the anticipated shortage. However, one stopgap might be through Volunteers in Medicine, a not-for-profit that places retired and active doctors, nurse practitioners and other health-care providers in clinics to work with patients who are uninsured or underinsured.

The Indianapolis chapter of the Vermont-based organization has seven locations locally where 40 doctors and five nurse practitioners donate hours.

John Mollaun, executive director of one site, Kingsway Community Care Center in Avon, said the volunteers take some pressure off hospital emergency rooms and help catch conditions such as diabetes early.

"They certainly fill a gap with the uninsured and people who have less ability to pay that may not have access to health care," Mollaun said. "But it doesn't increase the number of providers."

The Indiana Department of Workforce Development projects demand for 33,000 additional health care workers between 2006 and 2016. Most are registered nurses, but home health aides, pharmacists and physical therapists will be needed, too.

Plugging the gap won't be easy.

The osteopathy college that Marian University is scheduled to open in 2012 is expected to help alleviate the state's shortage of primary care physicians.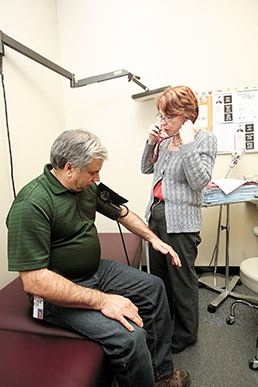 Volunteers in Medicine contributes 40 doctors and five nurses to seven locations in the Indianapolis area. (IBJ Photo/ Perry Reichanadter)
However, the demand for more nurses comes as the National Council of State Boards of Nursing plans to make its tests to become a registered nurse more difficult, said Linda Woolley, a registered nurse with the Indiana Association of Homes and Services for the Aging who is on the board of the Indiana Nursing Workforce Development Center.

Nursing instructors are paid so poorly at the university level that there's little incentive for qualified people to leave hospital settings, Woolley said.

Eric Wright, director of the Center for Health Policy at IUPUI, said volunteers are helpful in the health care system, but an acute shortage of primary care providers will continue into the foreseeable future.

"The research is fairly clear," he said, "that primary care is most effective when the provider and patient have a stable, longer-term relationship because the patient and provider develop a stronger rapport and do a better job of managing chronic health problems. This typically isn't the gap that ViM fills within the system."

While Volunteers in Medicine won't plug the shortfall, it can dent the problem.

The organization has 77 clinics in 25 states and boasts nearly 10,000 medical and non-medical volunteers.

Indiana has two other chapters in Columbus and in Bloomington, which is by the far the largest location in the state.

Since the Bloomington location opened three years ago, more than 225 physicians and 600 non-physicians have seen more than 6,000 patients. The clinic now serves an average of 100 patients a day.

Cook Medical founder Bill Cook helped launch the Bloomington clinic by donating a building and $650,000.

"Mr. Cook is a strong believer in access to primary care for everybody, as evidenced by the Cook Family Health Center he set up 17 years ago to take care of Cook employees and their families in Bloomington," said Jim Gardner, Cook Medical's chief medical science officer.

Elizabeth Sturgeon, executive director of the Volunteers in Medicine Clinic of Monroe County, said the clinic typically has at least two primary care physicians or nurse practitioners working. Fifteen to 20 patients are in either the waiting room or one of the eight exam rooms at any one time.

The clinic operates on a $750,000 annual budget—and the kindness of the community. Bloomington Hospital provides ancillary services such as X-rays and labs for free. Medicines come from pharmaceutical companies' Patience Assistance Program. Many of the doctors and nurses who volunteer there are not retired; they give of their time on top of their current practice.

Cook's Gardner cautions that Volunteers in Medicine isn't suitable for every community.

There have to be enough active and retired medical workers to staff a clinic. Hospitals and local government must buy in. And then there's the money.

"There aren't many Bill Cooks out there who are going to step up and write a $650,000 check and provide a building," he said.

When the program does take hold, many of the volunteers become strong believers in its power.

In Indianapolis, Dr. Meredith Langhorst, who for seven years has given one four-hour shift a month at Shepherd Health Clinic downtown, views the volunteer work as a calling.

"We took our oath to help those in need," Langhorst said.

"Our society is, unfortunately, so much about how many patients we can fit in a day to make all the ends meet," she added. "We forget we have a phenomenal ability to go out and serve our community."•