Butler University basketball coach Brad Stevens has an annual base pay of $350,000 with another $37,851 in benefits and deferred compensation.

Not bad for a 33-year-old. But it's no comparison to what big-time men's college basketball coaches make.

In recent years, Butler has raised its men's basketball program to an elite status, becoming the Horizon League's dominant team and qualifying for the NCAA tournament nine times since 1997. That run includes three Sweet Sixteens—culminating in this season's Final Four.

Now, Butler finds itself at a crossroads, and the direction school officials take will determine whether they retain Stevens.

"After this year's tournament is over, there will be a line of people who want to talk to him," said Bob Beaudine, whose Dallas-based executive search firm placed Steve Alford at the University of New Mexico and Scott Drew at Baylor University, and counts many of the nation's largest schools and most-successful coaches as clients.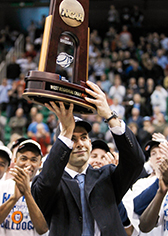 Brad Stevens (Associated Press photo)
While Stevens' contract has a buyout clause that would require another school to pay Butler a substantial sum—estimated at high six figures or low seven figures—to hire him away, Beaudine doesn't think it will present much of a barrier to the big schools likely to come calling.

"There's no one who is looking for a top-flight coach that would hesitate to make a $1 million buyout," said Beaudine, whom Sports Illustrated recently tabbed as "the most powerful man in sports you've never heard of."

Beaudine expects colleges with coaching vacancies to start contacting Stevens and his agent immediately after the Final Four. That puts pressure on Butler Athletics Director Barry Collier and President Bobby Fong.

Stevens has a contract with Butler through 2016, but administrators are likely to increase the coach's pay in an attempt to retain him.

"[Butler officials] will sit down and try to figure what value this run to the Final Four has for the university, and will try to pay Stevens accordingly," Beaudine said.

The value could be significant, considering the national attention generated by two front-page stories in USA Today and features on CNN, NBC, CBS, ESPN and in The New York Times—all during the last week of March alone. Such intangibles are difficult to measure, but the school's licensing agency estimates that more than $2.5 million in Butler apparel and memorabilia will be sold surrounding the school's tournament run.

While talking to reporters in the week leading up to the Final Four at Lucas Oil Stadium, Stevens offered no guarantees that he's committing to Butler long term.

"First and foremost, I'm loyal to Butler," Stevens said when asked about the possibility of leaving for greener pastures. "You never want to speak in absolutes."

Fong promises to keep his coach near the top of the pay heap among Horizon League coaches. Stevens is already the highest-paid coach in the Horizon League, sports business experts said.

"We recognize value for services, and I can say that because Brad makes more than me," Fong said with a laugh.

Fong made $323,704 in the fiscal year ended June 30, 2008, according to Butler's most recent IRS Form 990, which not-for-profits must file annually.

"I want to be careful about winning at all costs," Fong said. "We're talking about a certain market here. We don't intend to compete with the larger conferences on salaries."

Indeed, Stevens' base pay is dwarfed by that of Indiana University coach Tom Crean, who gets $600,000 annually. Mark Few, who coaches at Gonzaga University, a small private school in Washington state that has grown its basketball program, has base pay of $851,000.

But base pay isn't where the real money is for big-time college coaches.



Coaches at schools like Ohio State University and Purdue University earn massive salaries through ancillary deals including agreements with shoe manufacturers and broadcasters. There are few such deals for schools like Butler, because they don't have the large alumni base and national following of the bigger schools.

Stevens' base pay trails Ohio State coach Thad Matta's by just $10,000 and was $120,000 more than that of Purdue coach Matt Painter before he signed a new contract—announced April 2—with a base salary of $1.3 million and up to $1 million in incentives.

But Matta, who coached at Butler for the 2000-2001 season before fleeing to Xavier University, then Ohio State, makes an additional $410,000 annually through his shoe and apparel deals. He gets another $420,000 from television and radio shows, plus car and personal travel allowances, country club memberships, revenue from basketball clinics, and more. All that amounts to more than $2 million a year.

Add up all the additional goodies in Crean's contract, and he's raking in $2.5 million.

And if these coaches have the kind of success Stevens is having in the NCAA tournament, their cups fill even fuller.

Stevens likely gets a low-five-figure bonus for winning the Horizon League, sports-business experts said, and he might get a low-six-figure bonus for getting to the Final Four. If he were at a school like IU or Ohio State, his bonus would be much larger.

Matta gets $40,000 for simply getting his team into the NCAA tournament. A Big Ten regular-season title is worth $20,000 and winning the conference tournament is worth $40,000. There's more for success in the NCAA tournament, and another $40,000 if the team's graduation rate is 60 percent.

Crean's post-season bonus structure is even more lucrative. IU will pay him $125,000 if the team wins the Big Ten regular-season title, including ties. There's another $50,000 incentive for winning the conference tournament. If Crean gets his team to the Final Four, he is owed $260,000. And if IU wins the national championship, Crean gets $510,000.

Butler alumni are urging Fong to do what he can to retain Stevens.

"Should Butler try to retain Brad Stevens? You bet," said Tim King, a 1966 Butler graduate who served on the school's board of trustees for 24 years. "Does Brad Stevens deserve more money? As an alumni, I'd say yes. But there's a lot of emotion there talking. There needs to be an element of realism."

Luckily for Butler, a coach's decision isn't based solely on personal income.

"First and foremost, it's about people," Beaudine said. "If we've learned one thing from Steve Alford at Iowa and Billy Gillespie at Kentucky, you have to have the right fit.

"Then it's about having the right tools, what's best for your family, where you can best create a legacy, then it's about money. If a university can't compete solely monetarily, school officials have to be creative in creating the proper atmosphere for a coach. And I believe Butler has done that."

Butler has been down this path before. Ironically, it all started with Collier, now the school's athletics director.

Collier left after the 1999-2000 season to take a job at the University of Nebraska. Butler promoted Matta from an assistant position. Following one season, Matta departed and was replaced by his assistant, Todd Lickliter, who coached the team to two Sweet Sixteen berths in six seasons before departing to the University of Iowa. Lickliter's departure gave rise to his assistant, Stevens.

Lickliter might provide Stevens with another valuable lesson: In March, he was fired by Iowa after three losing seasons. However, he's owed a $2.4 million payout from the Hawkeyes as a result of that termination.

But Stevens isn't thinking about failure. In his first three years, he has exceeded what anyone else at Butler ever has accomplished. He amassed more wins—88—than any third-year coach at Butler. This is the school's first-ever trip to the Final Four and its biggest blast of the national spotlight.

Only Bobby Knight and Branch McCracken at IU and Ray Meyer at DePaul University were younger than Stevens when they took their teams to a Final Four.

Fong is in no mood to think about failure, either.

"I want Brad to stay a long time, but we have a way of reloading," Fong said. "As long as we continue to perpetuate the Butler way, we'll be all right."•