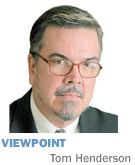 As Vice President Joe Biden might say, it's a really big deal. The bill for our ancient
sewer infrastructure and aging water resources has been coming due for a long time. It has dogged city-county administrations,
which have handily ignored the problem for decades.
Instead, we just paid fines while even small rains caused raw sewage to be dumped into the conveniently located White River.
It was one of those untidy little future depreciation details that was ignored during the formation of Unigov decades ago.
Local politicians and the various health departments have been wrestling with what to do, as fines and Environmental Protection
Agency pressures have been growing—along with population and businesses. Now there's a new idea: Push the burdens
from city-county governments to Citizens Energy Group. Citizens would take on the debt and perhaps do something about the
problems. Economies of scale would create an efficiently run utility, serving the citizenry. Perhaps.
Part of the overall utility problem is that lack of government oversight and public policy vision has made Indianapolis one
of the highest-polluting and just plain ugliest cities in the Midwest.  
If you live on the south side, you can see the problem, called the Indianapolis Power and Light Co. generating plant. Located
just north is Covanta, which burns trash to generate steam. Both are world-class smoke belchers. IPL uses coal, and while
it has spent plenty of money trying to scrub the smoke, it's been in denial for decades: There is no such thing as clean
coal. That politicians use the phrase is laughable.
IPALCO was sold to Virginia-based AES Corp., a publicly traded company, and its stockholders and pensioners lost millions
of dollars when AES stock subsequently dropped like a rock. The board of IPALCO governors at the time, which included our
current governor, got lots of heat, not from the generating plants, but from steamed stockholders and pensioners.
The AES acquisition of IPALCO fits with our desire for inexpensive electricity. We like the price; it's in some cases
astoundingly less than in other major cities. It worked well for us in our manufacturing days. Those days are over. We're
a diversified economy now.
Yet the visual pollution remains in several forms. We have not only the clouds of IPALCO smoke in Indianapolis and Martinsville,
but the visual pollution of growth. Here, public policy has failed us as our streets are now lined with thousands of miles
of high-voltage wires. Bad zoning, coupled with lack of easement and right-of-way purchase, have allowed Indianapolis to be
strung like a dead Christmas tree from end to end. We're blighted.
The steam heat that flows through downtown buildings, the IUPUI campus and elsewhere comes at the hideous cost of burning
our trash through Covanta's gargantuan incinerator. One day, someone on the south side will prove the effects of toxic
emissions and the growth of cancer and pulmonary diseases. Expensive litigation might ensue. At some point, we'll either
have a larger trash problem because we can't burn it, or a steam problem, as we look for a source of non-polluting heat.
But let's not forget the sewers, built so very long ago. They're about to move from the city's responsibility
to CEG's. While an otherwise stellar employer and corporate citizen, it will be the one that now faces pressure from
the EPA, and the one that'll need bond money and financing to go through the Herculean task of rebuilding storm and
sanitary sewers in the face of increasingly sophisticated requirements.
The water utility faces the most radical change, along with sewer management. Its rates will climb the most radically over
the next decade, as it needs to finance enormous amounts of construction. Shifting the burden actually solves little.
And so Citizens Energy Group, a public charitable trust, gains the ownership of the rights of way, the easements, the capital
infrastructure of the area's largest utilities. The asset and liability shift is unprecedented. I encourage all of you
to ask questions, and now, before the smoke clears—expensively.•
__________
Henderson is managing director of ExtremeLabs Inc., a Bloomington computer analysis firm.
Please enable JavaScript to view this content.