The Hendricks County Convention and Visitors Bureau recently named Indianapolis-based MZD Advertising as its advertising
agency of record.
The decision followed a bidding war in which 17 agencies submitted proposals for the account.
"We were most impressed with the enthusiasm MZD showed throughout the selection process," said Hendricks County
CVB Associate Director Jaime Bohler Smith.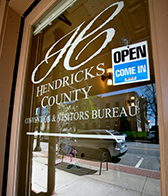 Hendricks
County officials think a marketing campaign could boost tourism there significantly. (IBJ Photo/ Perry Reichanadter)
As part of its winning bid, the MZD account team embarked on a day-long road trip and visited every town and city in Hendricks
County, according to Ray Volpe, who spearheaded the agency's effort to earn the tourism business.
From the road trip, it developed a series of postcards featuring a variety of destinations, including the Challenger Learning
Center in Brownsburg and the Mayberry Café in Danville, among others. The MZD team presented its journey using a traditional
35mm slide show.
"We thought it would be a great touch to go back in time a bit and present the visit as if the folks from Hendricks
County were sitting in our living room, so to speak," said Volpe, noting that the production of the slides required
sending the images to a firm in Kansas, as it is one of the few places left nationally that is capable of making 35mm slides.
Please enable JavaScript to view this content.