I recently stumbled across a local e-commerce company that's something like the Forever 21 of handbags. Like that fast-fashion retailer with a reputation for copying runway looks, the Greenwood-based Handbag Heaven's stock clearly isn't designer merchandise, but it looks a lot like it. And for about $50 a pop, the copies are good enough to be tempting. I've been thinking about the "Sami" bag in particular, since it bears a striking resemblance to the "Stam satchel" by Marc Jacobs, a bag I've lusted after for more than a year.
In light of the copyright infringement lawsuits Coach has brought against two Indianapolis retailers, I find myself wondering if my Sami purchase is an ethical one, especially as someone who appreciates apparel (and accessories) as an art form.
On one hand, I love designer goods and I believe that nothing beats the quality of a $900 dress or a $700 pair of shoes. I don't think the buyers of such merchandise are just lusting after labels: Those with the means are willing to pay for such things because the solid construction and attention to detail make them worth it. That's why I jump at the chance to own said merchandise whenever possible, like when I snagged a Prada cocktail number from Thrifty Threads for $85.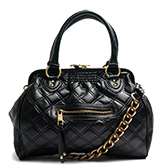 Handbag Heaven's Sami bag, above, is a close imitation of Marc Jacob's Stam Satchel, which retails for about $1,450. (Photo Courtesy Handbag Heaven)
That said, I tend to care less about the name inside a garment than I do the appearance and quality of an item. Handbag X could be made by Joe Schmo's grandma for all I care; if it's beautiful, it's beautiful.
It's by this reasoning I came to purchase an overtly counterfeit Cartier briefcase while vacationing in Belize. It's red leather, embossed with the company's logo. The price tag alone was enough to know it's a fake ($200 vs. more than $2,000 for the real thing), but it would be a sharp-looking bag even if I didn't know what the interlocking "C's" stand for.
OK, so I do sometimes picture children in impoverished nations working their little fingers to the bone for pennies each day so stylish-but-cash-strapped people like me can carry a purse that looks like something I'll never be able to afford. Yes, that thought makes me feel guilty. But so does shopping at Wal-Mart and changing the channel when a Christian Children's Fund commercial comes on. I can live with the seedy underbelly, I guess, because I think every industry has one.
Fashion professionals have been trying to suppress the Forever 21s of the world since 1941, when the Fashion Originators' Guild began registering designs and refusing to sell to retailers who dealt in copies. The Federal Trade Commission, however, said that was a no-no.
Designers are justifiably worried their merchandise will be devalued by the knock-off items. If a potential customer can't tell the difference between the $1,450 Stam satchel and the $54.95 Sami bag, why would anyone in their right mind shell out the big bucks?
I'll tell you why. The Stam satchel will last the wearer 10 years or more if she (or he) decides to keep it that long, whereas the chintzy Sami will last a few seasons before disintegrating. In fact, the black tiered BCBG-imposter dress I bought from Forever 21 last year has already begun to fray.
Of course, we all have to deal with our financial realities. The Sami bag is my only option. But if I ever do have the good fortune to have my choice between premium merchandise and its shadow, you can bet I'll be about $1,450 poorer.
For now? The Sami will do—even if it carries a little guilt in addition to my Prada wallet and Kate Spade sunglasses (both the real deal).•
__________
If you'd like to share your own style ideas or know anyone who's making waves in the fashion community, contact Gabrielle Poshadlo at gposhadlo@ibj.com. This column appears monthly.
Please enable JavaScript to view this content.