Clarian Health's disclosure of two new building projects in the past two months demonstrates that once again the Indianapolis-based
hospital system has an appetite to build.
Indeed, Clarian is planning to spend $1.7 billion in the next five years on capital projects, half of that going to its downtown
Indianapolis campuses.
"I feel much better" than a year ago, said Marvin Pember, Clarian's chief financial officer. "We
had good growth in our core business and patients across central Indiana."
 

Pember
A year ago, Clarian posted a $633 million hit to its investment portfolio, which prompted it to halt two construction projects,
lay off 50 workers, and cut executives' pay.
Those moves helped Clarian save $45 million, helping to boost its overall operating gain to roughly $175 million, according
to unaudited data published by Standard & Poor's Ratings Services. In 2008, Clarian had an operating gain of $55
million.
Some of the increase was attributable to Clarian's acquisition of hospitals in Bloomington, Muncie and Tipton, and
the opening of a new hospital in late 2008 in Lafayette.
But its operating margin was much better, rising to 4.6 percent last year from 1.8 percent in 2008, Standard & Poor's
noted. Clarian enjoyed a 12-percent surge in inpatient admissions.
"2009 turned out to be a great year for them," said Brian Williamson, a Standard & Poor's credit analyst
who covers Clarian and other not-for-profit hospitals. "We've seen stronger hospital systems just get stronger.
They're saying, 'Well, now we can strategically take advantage of things we pushed off for a year.'"
In February, Clarian said it would build a $75 million outpatient center focusing on neurosciences by 2013. And this month,
Clarian said it would spend as much as $500 million to construct a bed tower at Methodist Hospital, as well as add parking,
office space and improvements to its utilities and streetscape.
Work also is proceeding on a small hospital and medical office building in Fishers, called Clarian Saxony, and on a 10-floor
tower at Clarian's Riley Hospital for Children downtown.
Clarian is mulling selling as much as $200 million in bonds later this year, which would be the first time since before the
Wall Street meltdown of September 2008 that Clarian has sold bonds.
Pember, however, said he's still being a bit cautious given that not everything is back to the way it was three years
ago.
"I don't expect the Dow to go back to 14,000 anytime soon," Pember said. "So you have to operate
with a degree of conservatism and caution."
Clarian's investment portfolio has improved—but it is far from being fully recovered. Through the first nine
months of 2009, Clarian recorded investment income and gains on interest-rate swaps of $178 million.
Clarian's days of cash on hand—a key measure of financial strength and flexibility—has yet to return to
pre-recession levels. After being above the "gold standard" of 200 days for years, Clarian's days of cash
on hand dipped to 141 at the end of 2008 and as low as 132 in 2009.
The investment losses were a big reason for that, as were Clarian's assumption of responsibility for Bloomington Hospital,
Ball Memorial Hospital, Tipton Hospital and the Clarian Arnett hospital in Lafayette.
Williamson described Clarian's balance sheet as "adequate" in an April 16 report that reaffirmed its AAA
rating on a series of Clarian revenue bonds. But the bond sale later this year, he said, "could negatively impact balance-sheet
ratios."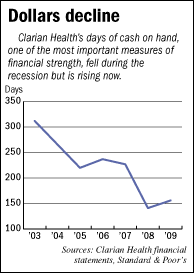 Year-end results are not yet available for other major hospital systems in the Indianapolis area.
Community Health Network saw its inpatient admissions decline during the first three quarters of 2009. But a price increase
and additional imaging revenue helped revenue increase.
Overall, the hospital system's income from operations rose 27 percent to $26.3 million. Its operating margin through
the first nine months was 2.8 percent.
Community Health soon will open a 44-bed expansion to its Community Hospital South on County Line Road.
At St. Francis Hospital & Health Centers, inpatient admissions rose 4 percent during the first half of 2009. That increase
helped it post operating income of $33.2 million. Its margin was a whopping 9.2 percent.
Last fall, St. Francis resumed construction on its 225-bed tower at its Indianapolis hospital. The hospital system sold $225
million in bonds last fall to help finance the project, which will allow St. Francis to consolidate operations from its Beech
Grove hospital, which is set to close in 2012.•
Please enable JavaScript to view this content.