Renovation work finally has begun on the Penn Arts building at 16th and Pennsylvania streets.
Developer Christopher Piazza, who paid $1.4 million for the building in 2008, said he gave up on banks unwilling to lend
early this year and found two equity investors instead.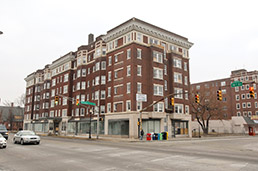 Penn Arts
will have a fitness studio, clubhouse and rooftop terrace. (IBJ Photo/ Perry Reichanadter)
He had to cut the budget in half, to $1.5 million, and expects to have the first apartment units available by September.
Apartments will start at $885, and will feature original trim, doors and radiator heating, bay windows, stained concrete floors,
open-style kitchens with bar seating, 40-inch wall-mounted LCD TVs, and new appliances.
"The original decorative awning will be lit up as it was in 1922, the stylish commercial spaces will be ready for retail
tenants, new signage will be installed, existing parking will be expanded, and metered parking will be installed on 16th in
the front of the building pending necessary approvals," added Piazza, 25, who plans to move the headquarters of his
company, Reverie Estates, into the building.
The building also will feature a complimentary laundry room, fitness studio, clubhouse with conference facilities, and a
rooftop terrace.
Piazza said his equity partners in the project are William Poovey and John Hyatt.
Please enable JavaScript to view this content.