I'm not a fan of outdoor dining. Why? Because I grew up in New Jersey and have been the victim of one too many snatch-and-grabs
by stealthy seagulls. And though I'm aware these airborne sneak thieves are rare anywhere west of the Delaware River,
I still hesitate when asked if I prefer inside or on the deck.
With spring springing, though, it seemed silly to eat anywhere but the canal-side deck when I visited Flatwater Restaurant
(832 E. Westfield Blvd., 257-5466). Taking the spot formerly occupied by Bazbeaux Pizza and Canal Point Grill, it promises
a respite "between the rapids of life, the twists and turns of the daily grind and the turbulent white water."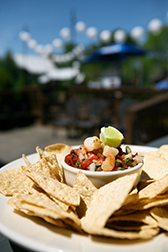 At Flatwater
Restaurant, shrimp adds character to the flavorful salsa. And outdoor seating is a must. (IBJ Photo/ Perry Reichanadter)
I—and probably you as well—could use a helping of that. So with an eye on ducks, we took a spot on the deck and
got busy with the Shrimp Salsa and Chips appetizer ($9.50), a more interesting variation on the common nachos and dip. With
tiny chopped veggies and chunks of seafood, it got things off to a laid-back start.
Two meaty sandwiches were tasty but seemed a little out of place here. The Steak Sandwich ($10.50) featured substantial slices
of thicker-than-Philly meat, with plenty falling out of the roll to fork up afterward. Mushrooms and caramelized onions gave
it even more heft. Ditto for the Burger ($8), capped with applewood smoked bacon and a choice of cheese on a just-right Kaiser
bun. Homemade fries were well worth adding for $1.50.
Visiting the entrée side of the menu, we found the Grilled Salmon ($15) a better fit for the environment. Its sesame-cilantro
glaze validated our selection. And a Caesar Salad ($8.50) paired with Mahi Mahi Tacos ($8) proved an even more inspired choice.
The Tacos come from the Small Plate section of the menu, a trend I'm still trying to sort out. Here, soft wraps enclosed
two delicious mounds of fish, pico de gallo, cilantro and cheese, so call it what you will.
The ducks, for their part, respectfully kept to their place. Appreciating their sensitivity, I couldn't resist tossing
a bit of bread into the water to share our bounty.•
Please enable JavaScript to view this content.