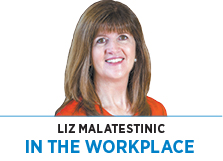 As I drove through my hometown recently, I noticed four businesses in a row that had "help wanted" signs. Looking across the street, I saw two more. Clearly, these are difficult times for employers to maintain staffing levels.
Under such pressure, it can be all too easy for employers to resort to desperate measures, like hiring people on the spot with a cursory interview or no interview at all. Unfortunately, and perhaps predictably, many of those hires do not work out and employers find themselves back in the same spot.
You are probably familiar with the practice of "ghosting," a phenomenon I wrote about last year. This involves candidates not showing up for job interviews—or even for the first day on the job. The problem has persisted in this tight labor market, in many cases morphing into what is now being called "ghosting coasting."
Ghosting coasting is a new challenge, as noted by the Federal Reserve Bank of Atlanta in its latest assessment of economic trends. Adrienne Slack, an executive with the Atlanta Fed, told NPR that the problem involves applicants who accept jobs, coast through onboarding and the first few days of training, and then disappear. Basically, they work long enough to collect one paycheck. The practice is primarily happening in restaurants, but manufacturing has been impacted as well. According to Slack, ghosting coasting often occurs because people discover the job is harder than they expected.
Given the current competition for talent, perhaps this phenomenon shouldn't be surprising. Too often in their eagerness to fill positions, recruiters can act like company cheerleaders by sharing only the most positive aspects of a job with applicants. While that approach may be successful in getting candidates to accept positions, it can lead to disappointment (as well as a waste of resources) when those new employees quit shortly thereafter. Being more realistic in interviews may result in fewer acceptances, but it could also result in better retention.
The situation may be exacerbated by the proliferation of sign-on bonuses for even the most entry-level jobs. Most employers wisely make this payment contingent on completing three to six months of employment, but others are paying out as quickly as 30 days. This is yet another example of a potentially successful hiring technique that's less successful in retention. For companies to thrive, they must focus on retention where possible.
Hiring for retention takes a little more time and effort, but the impact on a business can be substantial. For many companies, this means simply going back to the basics of hiring: conducting thorough, behavior-based interviews that ask for examples of past experience. It also means taking time to conduct reference checks and being willing to turn down candidates who do not demonstrate an interest in your organization.
In times like these it can be easy to slide into bad interview habits by focusing too much on "fit." No company wants to hire employees who are disruptive or difficult, but a hyper focus on fit results in subjective, personality-based judgments, which may have nothing to do with someone's ability to do the job. And, as you probably know, hiring for fit can also result in inadvertent discrimination due to the natural human tendency to gravitate toward people like ourselves.
On the flip side, some companies are struggling due to elaborate hiring processes that involve multiple layers of interviews. By the time they get through all those steps, good candidates have already accepted another offer. A possible solution for this situation would be panel interviewing, which involves scheduling several interviewers to meet as a team with each candidate. Doing so can greatly reduce the amount of time it takes to hire an individual. This also improves hiring decisions because it can be easy for individual interviewers to miss "red flags," or at least yellow ones. By meeting as a group with candidates, the team can compare impressions immediately and synergize their thoughts to produce better hires.
Unfortunately for employers, the talent crunch is not expected to abate any time soon. Hiring will continue to be a challenge but taking the time to improve the process can certainly pay dividends over time.•
__________
Malatestinic is a teaching professor in human resource management at the Indiana University Kelley School of Business at IUPUI.
Please enable JavaScript to view this content.