An initiative to bring in 10 of the biggest travel tour operators in the United Kingdom for this year's Indianapolis
500 could be a critical first step in bolstering business at the Indianapolis Motor Speedway, area golf courses and Indianapolis
International Airport, where city boosters hope to establish direct flights to London.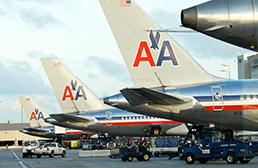 American Airlines has interest in developing a direct flight from Indianapolis to London. (AP Photo)
The Indianapolis Convention & Visitors Association is partnering with the Indianapolis Motor Speedway and American Airlines
to show off the Brickyard to a new audience over Memorial Day weekend.
ICVA officials went to London in December to begin courting British touring companies and travel writers and earlier this
year finalized plans to bring in the Brits for a visit.
Despite the recent economic downturn, demand for flights from Indianapolis to Europe—and London in particular—have
remained steady in the last year, said Chris Matney, Indianapolis Airport Authority air service director.
Matney said 200 passengers depart daily from Indianapolis to Europe and about one-fourth of those are headed to London. All
of them are on their way to connecting flights because there are no direct transatlantic flights from here.
ICVA CEO Don Welsh thinks a direct flight from Indianapolis to London would significantly increase passenger traffic here
by attracting many people who now fly from Chicago.
"With joint ventures like that between ICVA and the IMS, combined with continued growth of local demand for travel
to the UK and Europe, there is a good possibility we'll be able to develop direct flights from Indianapolis to those
areas in the future," Matney said. "This service would also have the potential to make an important contribution
to the city's economy."
Pittsburgh International Airport completed a study last year that indicated having a Boeing 757, which can carry between
186 and 279 passengers, provide nonstop transatlantic service five times a week would generate a significant economic impact
to the city.
Citing that study, Pittsburgh city officials last year entered into an agreement with Delta Airlines that would provide the
airline with a guaranteed $9 million in revenue over a two-year period in exchange for bringing a nonstop European flight
to its airport.
"Because Pittsburgh is similar to Indianapolis in the size of their airport and the number of passengers served, we
have reason to believe the benefit in Indianapolis would be similar," Matney said.
The UK contingent coming here will arrive May 27 and depart May 31, the day after the race. The group, which might include
a travel writer, will be flown in compliments of American Airlines and stay at the Omni Hotel.
Indy is hidden gem
Highlights of the trip include Carburetion Day May 28 and the Indianapolis 500 May 30, Welsh said. The contingent
also will tour the new midfield airport terminal, Lucas Oil Stadium, Indiana Convention Center, and surrounding hotels and
restaurants.
The UK group will tour downtown by Segway and have breakfast with Mayor Greg Ballard.
"We want to show these tour operators every element of the city," Welsh said.
Other area attractions, such as the Children's Museum of Indianapolis and Indianapolis Museum of Art, are expected
to be on the tour, but UK travel tour guides said they are most interested in central Indiana's golf courses.
"Most people know that people in the UK are very interested in auto racing, so there was a natural tie-in with the
Indianapolis Motor Speedway and Indianapolis 500," Welsh said. "What was more surprising was their interest in
our golf courses."
Behind soccer and rugby, auto racing and golf are two of the most popular sports in the UK.
"When they found out Pete Dye was from Indianapolis, they simply went nuts," Welsh said. "They're
very big followers of golf, and they know all the well-known course designers in the industry."
Lynda Daboh, spokeswoman for London-based First Public Relations, which is helping organize the tour, thinks Indianapolis
could become a major destination for British travelers.
"We think it's something of a hidden gem," Daboh said. "The tour operators that will be coming over
know the U.S. very, very well. They've been there many times.
"But they've been to New York, they've been to California, and they've been to Florida. They're
looking for something new to sell, and they think Indianapolis could be part of a very attractive travel package."
Daboh said the majority of British travelers use touring companies to arrange vacations.
The attraction of Pete Dye
While most Brits are well aware of the Indianapolis 500, UK tour operators were taken aback by the quality of golf
courses in close proximity to Indianapolis, Daboh said, adding that they also were surprised by the city's size and
amenities.
Daboh thinks the combination of sports attractions in Indianapolis will play well with the UK travelers, adding that, if
tour operators like what they see in Indianapolis in May, it could mean hundreds or even thousands of British tourists coming
here annually.
"There's a big, big market for sports tourism among people in London and around the UK," Daboh said. "People
here love to travel to big sports events, and everyone here knows about the Indianapolis 500. Add in the golf offerings, and
I think you have a destination that will be very, very appealing to many people here."
The boost to the local golf community comes at a good time, said Mike David, executive director of the Indiana Golf Office,
the organizing and sanctioning body for golf in Indiana.
"This market is overbuilt," David said. "We have an abundance of golf courses and not an abundance of players
right now."
About a dozen area golf courses are in serious financial trouble, David said, including The Legends in Franklin, which filed
for bankruptcy in late April and will try to reorganize.
David said Indiana doesn't have the number of resort courses found in other Midwestern states such as Michigan and
Wisconsin, but it does have more Pete Dye-designed courses—15 of them—than any state. California is second, with
eight.
"We have Pete in our own back yard, so we probably don't realize just how big a draw he is," David said.
"But in places like England and Scotland, there's a really big following."
David said Dye-designed courses like the Brickyard Crossing, The Fort Golf Resort, Plum Creek Golf Club in Carmel, The Dye
Course in French Lick, and Kampen Course in West Lafayette could be some of the biggest draws for out-of-town visitors.
ICVA officials are already working to bring over UK groups for other IMS events.
The potential for uptick in business also comes at a good time for the Speedway, which has experienced static to declining
attendance in recent years. The European exposure could also help the Indy Racing League.
"The Indy Racing League right now is trying to reach out with its product into new world markets," said Tim Frost,
a Chicago-based motorsports business consultant. "What better way to do that than to bring part of the European audience
over to see your biggest event. This could be a great marketing tool."
The next wave from the UK will include more travel writers, Welsh said, and could happen as soon as this summer.
"We think there will be a lot of interest in coming over to watch the MotoGP motorcycle race," Welsh said. "That's
a very big sport there. We think showcasing the MotoGP race to this audience in this marquee venue could generate big business
for the city."•
Please enable JavaScript to view this content.