The Interfaith Hunger Initiative hopes to raise $50,000 to $100,000 through the Dalai Lama's public talk May 14 at
Conseco Fieldhouse.
The all-volunteer organization formed in late 2008 is working to improve access to local food pantries and supplying school
lunches to kids in Kenya, Executive Director David Miner said. IHI, with total revenue last year of $110,000, thinks the Dalai
Lama—one of the most well-known religious and political leaders in the world—could generate a significant financial
windfall.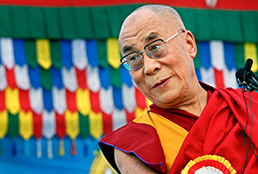 The Dalai Lama will give a talk at Conseco Fieldhouse to benefit charities. (AP Photo)

But Miner said he will also be happy to break even.
"The best part for us is the publicity," he said.
IHI, led by Kent Millard, pastor at St. Luke's United Methodist Church, organized the event along with the Tibetan
Mongolian Buddhist Cultural Center in Bloomington. The Dalai Lama will decide after the event how to distribute the money.
"It's his decision," Miner said.
The sponsoring charities hope to draw 12,000 to 15,000 attendees. Tickets, which are $25 for adults and $15 for students,
were available nationwide through Ticketmaster. Miner said Elaine Mellencamp was trying to persuade Ticketmaster to lower
its usual cut of sales.
Please enable JavaScript to view this content.