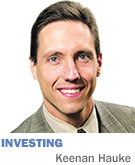 That oil spill in the Gulf of Mexico is a nasty event that truly deserves all of our attention.
I want to see the hole capped quickly so the environment doesn't get beat up any more than it already has, but I have
a feeling the economic and political ramifications will be felt for years to come.
When news of the spill first hit, two energy companies were instantly pounded by investors. BP, which is the oil company
taking the stuff out of the ground, and Transocean Ltd., which is the largest rig and drill supplier in the world, lost 8
percent each, along with some additional losses the day after.
The modern-day investment markets are connected sort of like our bodies, with the knee bone connected to the thigh bone,
etc. That phenomenon led to massive stock market losses for any firm related to energy services. Companies like Schlumberger
were getting hit, even though it had nothing to do with the catastrophe. (Keep an eye out for collateral damage in places
it shouldn't be, and take advantage of it.)
The opportunity lies not with BP or Transocean, as these firms will have a lot of problems on their hands, but with the other
related companies that will remain untouched by this situation.
BP, in addition to being handed the cleanup bill, will suffer a reputation hit that will end up costing it at least some
business in the near term. Same goes for Transocean. Keep an eye on companies like Halliburton and Schlumberger, though, as
these stocks could see a short-term rebound after the dust settles over the next few weeks. Halliburton was involved in the
drilling process, but not enough to ding them up. Exxon and Conoco Phillips may also see a positive halo effect in coming
months as they take some share from BP. In a bull market, these strategies are worth looking at.
There is a longer-term ripple here that may grow into a wave of some magnitude. Deep-water drilling operations are going
to come under strong political pressure to temporarily cease and desist due to the environmental risk. New projects are going
to have a hard time getting the green light.
California Gov. Arnold Schwarzenegger announced last week he was halting plans for deep-water exploration off the coast of
Santa Barbara. Hundreds of environmental groups sent protest letters to Washington, D.C, demanding more regulations of drilling
of all kinds. This means operations with well-established deep-water production will soon enjoy a government-mandated barrier
to entry. That is a positive for the current players, but a negative for longer-term oil production.
You have probably heard the term "peak oil" and the ongoing intellectual debate about global oil reserves. The
fact is that we will never run out of oil; it is simply going to become more and more difficult and expensive to get it.
The International Energy Association estimates that global oil demand is going to increase 18 percent over the next 10 years.
The price of oil, like all prices, is beholden to the iron-clad law of supply and demand.
Global production hit 85 million barrels a day in May 2005 and stayed near that peak for three years. We will never see that
much production again. Never. Mexico's main oil wells, which provide its government with 40 percent of its annual revenue,
are declining in production 7 percent each year. We suspect Saudi Arabia is experiencing similar problems. Oil is going to
climb to $200 a barrel. When? I don't know. But it is going to happen.•
__________
Hauke is the CEO of Samex Capital Advisors, a locally based money manager. Samex Capital Operations Director Scott Noble
contributed to this column. Hauke's column appears every other week. Views expressed here are the writer's. Hauke
can be reached at 203-3365 or at keenan@samexcapital.com.
Please enable JavaScript to view this content.