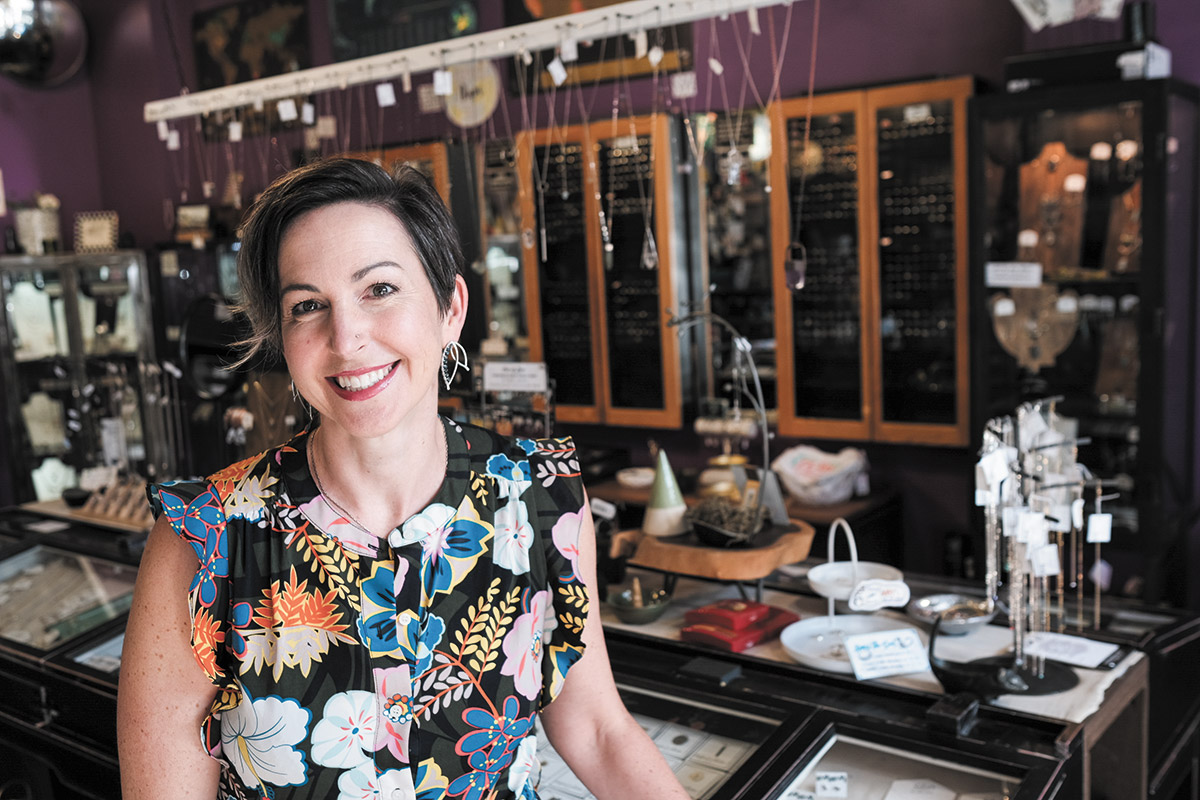 Head Honcho
Silver in the City
When Kristin Kohn opened Silver in the City in 2000, she had no idea whether the Mass Ave shop would be a success. It was enough to be pursuing her dream.
Within six months, though, the shop was producing a profit—and has continued to do so ever since.
"I'm not sure if I ever saw it growing larger than just me sitting in the shop all day," Kohn said. These days, though, Kohn oversees operations from her office on the lower level of the Mass Ave building, where she also handles marketing, finance, HR and jewelry buying—her favorite job. Twice a week, she travels to Carmel to check on her Silver in the City location there.
"Luckily I have found a talented group of people who handle buying, social media, inventory processing, e-com order fulfillment and the day-to-day operations on the sales floors," she said. "I do my best to take exceptional care of this team as they are taking care of my customers and my business daily."
Kohn pays full-time employees a living wage, and Silver in the City offers health insurance and a retirement plan—generous perks for a small retailer. Staff also can earn a monthly bonus by meeting sales goals.
She's also generous when it comes to the community, routinely donating both money and merchandise to local charities. Twice, she gave 100% of one day's sales to organizations she believes in, contributing more than $100,000 to Planned Parenthood and the ACLU.
"That can be a risky stance to take publicly," she said. "But I have seen so much support from our [Silver in the City] community."
Rising up: Kohn's retail dream began during an unpaid internship, when she took a job at a "small hippie shop" in Baltimore's Fell's Point neighborhood. "Those were my happiest working hours, setting up merchandise displays and signage, making beaded necklaces, helping customers find gifts, even closing out the register for the night. I became close friends with the store owner, who encouraged me to start my own shop."
In 2008, Kohn opened Nurture, a children's clothing store across the street from Silver in the City. She sold it three years later.
Affiliations: Kohn is a founding member of the Mass Ave Merchants Association, serves on the Young Actors' Theatre board of directors and co-leads a Girl Scout troop.
Mentors: "On Mass Ave, I found a mentor in Cassie Stockamp, the former executive director of the Athenaeum Foundation. During her 10 years on the Avenue, Cassie showed me strength, perseverance and how to bring everyone to the table, even in conflict. … How to balance family and work and community. How to own failure and move forward. How to be influential and thoughtful. How to believe in a vision and work to bring it to life."
"Made it" moment: "I felt like I had 'made it' the first day I opened my doors for business and every day since. It was liberating and exhilarating. I finally felt the self-worth and respect I had been denying myself. … I hope every person might have the opportunity to feel this way someday."
Advice she'd give young women: "Band together to lift one another toward your goals."
Check out more Women of Influence honorees.
Please enable JavaScript to view this content.