Honoree, Non-Physician
Caitlin Church
Cleft & Craniofacial Anomalies Program Co-Coordinator, Riley Children's Health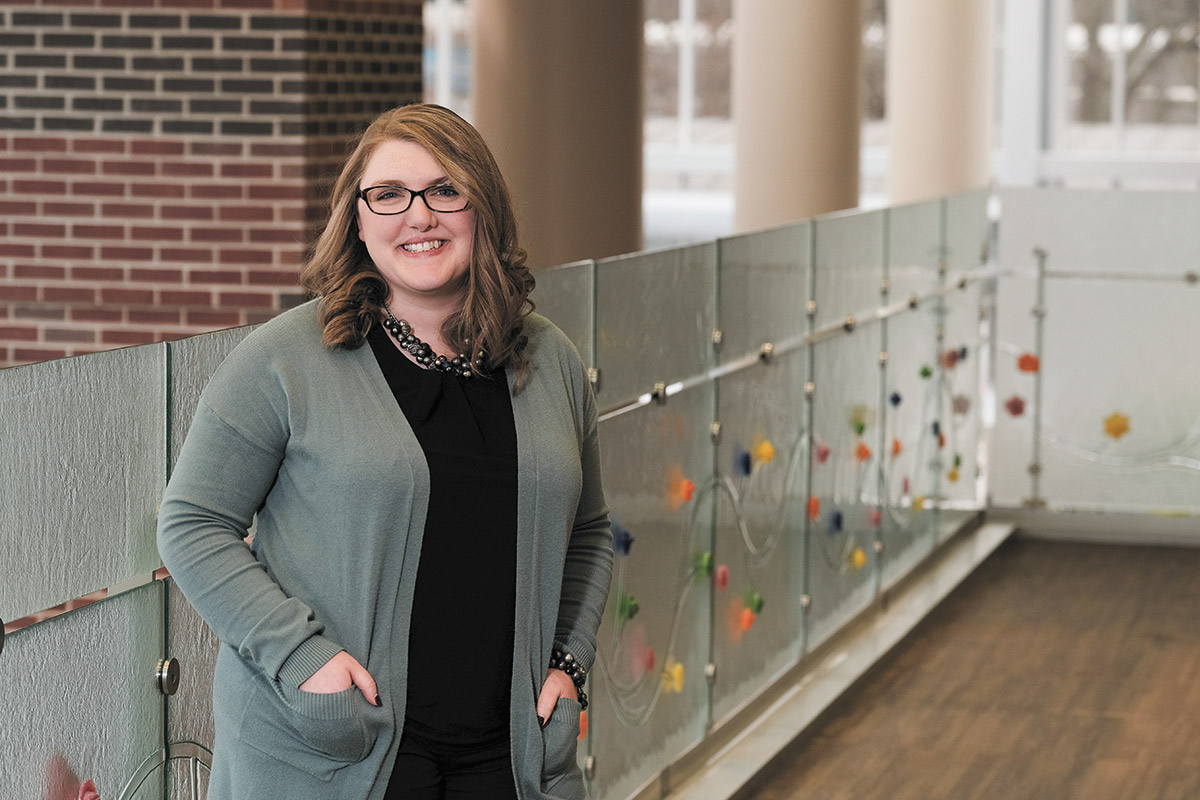 Caitlin Church is uniquely qualified for her job.
As co-coordinator of Riley Children's Health's Cleft & Craniofacial Anomalies Program, she coordinates patient care for children born with cleft lips and palates and other abnormalities; and she runs Camp About Face, an annual summer camp that develops confidence and self-esteem in the children she serves.
Church, 32, loves her job because she's seen the other side of it. She was born with a cleft lip and palate and had been through 16 surgeries for the condition by the time she turned 16 years old.
Now, the facial deformities she dealt with as a child are barely noticeable, which is not lost on the parents she meets who've learned their unborn child will face the same challenges Church had to overcome.
"Many parents have never met an adult who had a cleft lip or palate," Church said. "I love to see their faces when I tell them I was a Riley kid, too—and this is what it looks like 30 years down the road."
Though Church seems tailor-made for her job, she found it at the end of a winding path. The Warsaw native decided in high school that she wanted to be a physical therapist. But she liked her college humanities classes more than her science classes and switched her major to communications.
After graduating in 2010, she held a few jobs that fit her degree and eventually became operations director at a landscaping company. She was happy with that job on the day in 2014 when she met her former Riley patient care coordinator for lunch. This was the same woman who had encouraged Church at the age of 8 or 9 to attend Camp About Face, something Church did for 10 years. At lunch, the woman said she was retiring after 40 years and encouraged Church to apply for the job.
She took the leap, got the job and now coordinates care for hundreds of patients a week, working with each family to plan next steps and explain what they should expect.
"Patients might be seeing 13 different doctors," she said, and the parents don't know where to begin. Church tries to make it as easy as possible by offering a Monday morning clinic that serves about 35 patients a week. The clinic brings together numerous providers in one place, a godsend for parents whose child might need to see up to six doctors a week. Patients come from all over Indiana, and some from neighboring states, so it's not feasible for them to visit Riley for separate appointments.
"This is what multidisciplinary care can look like," Church said.
One of Church's favorite jobs is encouraging kids to give Camp About Face a try and then seeing how much they enjoy it. One little boy Church had talked into going to camp came sprinting over to her after being there only a few hours and wrapped her in a bear hug. Then he ran off without saying a word.
Parents, especially, appreciate Church's firsthand experience.
"She knows, she understands, she listens, and she goes above and beyond every day," said Jennifer Vierling, whose son Ian is a patient. "She has deeply touched the lives of thousands of families, including ours."•
Please enable JavaScript to view this content.