Here's the latest on Tuesday's primary election:

4:55 p.m., June 3
Democratic party chairman loses primary election
Indiana Democratic Party Chairman John Zody lost his primary race for Indiana Senate District 20 on Tuesday.
Shelli Yoder, a lecturer at the Indiana University Kelley School of Business who has previously run to represent the 9th Congressional District, won with 80% of the vote over Zody.
The seat, which covers most of Monroe County, had previously been held by Democrat Mark Stoops, who did not seek reelection this year.
Yoder significantly outraised Zody in the race, bringing in more than $91,000 since Jan. 1, while Zody only raised about $39,000, which included more than $20,000 that was raised before the start of the year.
The seat is considered safe for Democrats.
—
10:25 a.m., June 3
Republican incumbent Sherman trailing late in District 93 race
Republican incumbent Dollyne Sherman is on the verge of losing her primary race for Indiana House District 93 to a political newcomer.
Sherman was elected in a GOP caucus about a year ago to serve the rest of retiring Rep. Rep. Dave Frizzell's term in the General Assembly. Frizzell had represented the district, which includes portions of Johnson and Marion counties, since 1992.
With 80% of the precincts reporting, John Jacob, a former auditor for the Indiana State Board of Accounts, was ahead by fewer than 200 votes.
Several media outlets have called the race for Jacob, but votes are still be tallied Wednesday morning.
Sherman has worked for Govs. Robert Orr and Mitch Daniels, along with U.S. Rep. Susan Brooks. She defeated six other candidates in the June 2019 caucus for the seat.
Jacob has never run for office before. He owns a design firm with his wife, Angie.
—
11:15 p.m., June 2
Hamilton County attorney wins GOP primary for Bosma's seat
Chris Jeter, founding partner of Massillamany Jeter & Carson LLP, has defeated former Fishers Deputy Mayor Leah McGrath in the Republican primary for Indiana House District 88.
The seat was previously held by former House Speaker Brian Bosma, who served as a state lawmaker for 34 years before retiring this year.
The district includes portions of Marion, Hancock and Hamilton counties.
Jeter secured 58% of the vote with 76% of precincts reporting.
The race turned negative in the final days, with McGrath sending out a mailer criticizing Jeter because the law firm he founded focuses on criminal defense work.
Jeter's campaign had also sent out a negative mail piece against McGrath for her support from other elected officials. Fishers Mayor Scott Fadness and Gov. Eric Holcomb had endorsed McGrath in the race.
—
10:45 p.m., June 2
Hamilton County stops counting votes for the night, will resume Wednesday
Candidates in three high-profile Hamilton County primary election races were left in suspense after Tuesday night's last update.
Shortly after 10 p.m., Hamilton County election workers reported all 221 precincts in the county had been tallied from 34,430 in-person votes.
But Hamilton County Clerk Kathy Williams said there are roughly 17,000 more absentee votes that will be counted starting at 8 a.m. Wednesday, with final results expected later in the day.
For many races, preliminary tallies weren't enough to determine who would win their respective races.
In the Hamilton County Council at-large Republican primary, two incumbents are at risk of losing their seats.
Sue Maki remains in the lead with 18%, followed by incumbent Brad Beaver with 15% and Steve Nation with 14%.
Incumbents Rick McKinney and Jeff Hern each have about 11%. Former Noblesville Mayor John Ditslear has 13.8%, Tony Scott has received 8% and Lyneen Burrow has 8%.
After an early back-and-forth, Hamilton County treasurer Republican candidate Susan Byer had received 54% of the vote over opponent Kim Good who had 46%. Roughly 2,400 votes separate the two candidates.
Hamilton County Commissioner Steve Dillinger has a strong lead over his Republican challenger Charlie McMillan Jr. Dillinger has 63% of the vote over McMillan's 37%.
—
10:40 p.m., June 2
Political newcomer wins open Johnson County Statehouse seat
A political newcomer with a background in adult education has won the five-way GOP primary to replace longtime Republican state Rep. Woody Burton.
Michelle Davis, director of adult education at Central Nine Career Center, earned 43% of the vote for the Johnson County seat with  69% reporting.
Jay Hart, who repairs and restores vintage motorcycles for a living and unsuccessfully ran for Greenwood City Council last year, was in second with 33% of the vote, and current Greenwood City Councilor David Hopper was in third with 13%.
—
10:20 p.m., June 2
Winners called in two open, contested Statehouse races
In the Indiana Senate District 20 race, Envoy Inc. President and Owner Scott Baldwin has won the Republican primary.
Baldwin was running against JR Gaylor, president and CEO of Associated Builders and Contractors of Indiana and Kentucky, and the race had turned negative, with attack ads running on TV leading up to Election Day.
An independent political action committee with ties to a trades union also got involved and spent tens of thousands of dollars to try to defeat Gaylor.
With about half of the precincts reporting, Baldwin was leading Gaylor 67% to 33%, and multiple news outlets had called the race for Baldwin.
The district covers parts of Hamilton County and is currently held by Republican Victoria Spartz, who ran for Congress and won her competitive primary Tuesday night.
In the open House District 100 Democratic primary, Indianapolis City-County Councilor and IndyHub President Blake Johnson won over Clif Marsiglio, senior management analyst for IUPUI.
With about half of the precincts reporting for the Indianapolis seat, Johnson led Marsiglio nearly 77% to 23%. Multiple news outlets have called the race for Johnson.
The seat was previously held by Democrat Dan Forestal, who decided not to seek reelection this year after facing charges of drunken driving and impersonating a public servant.
–
9:45 p.m., June 2
Byer leads Good in Hamilton County treasurer race
The latest election results in Hamilton County show Republican treasurer candidate Susan Byer expanding her lead over her opponent, Kim Good.
Byer had 54% of the vote to Good's 46% with 163 of 221 precincts reporting.
Hamilton County Commissioner Steve Dillinger continues to lead his opponent, Charlie McMillan Jr., in the GOP primary race with 63% of the vote to 37%.
In the Hamilton County Council at-large Republican primary, Sue Maki remained at the top with 18%. Incumbent Brad Beaver is in second with 15% and Steve Nation is third just less than 15%. Three candidates will win.
The rest of the candidates in that race are John Ditslear with 13.5% of the vote, incumbent Rick McKinney with 11.5%, incumbent Jeff Hern with 11%, Lyneen Burrow with 8% and Tony Scott with 8%.
Hamilton County Clerk Kathy Williams said she anticipates issuing one more round of results tonight before an additional 17,000 absentee ballots are counted starting at 8 a.m. Wednesday.
—
9:25 p.m., June 2
Washington Township voters favoring school referendums
Two referendums worth a combined $301 million in Washington Township appear favorable among voters.
With 31% of precincts reporting, 65% of voters have voted in favor of Question 1, which asks voters to allow the school district to impose a property tax rate of 25 cents (up from 11 cents) for every $100 of assessed value for the next eight years to provide funding to improve student safety, increase student support services, expand academic support programs and retain teachers and staff.
And 60% of voters have supported Question 2, which asks voters to allow the school district to issue bonds to finance $285 million in construction projects. The bonds are estimated to increase the property tax rate for debt service by 31.72 cents per $100 of assessed valuation.
The referendums met opposition from two local businessmen, Al Hubbard and Devin Anderson of E&A Industries, who self-funded a digital campaign against the referendums.
—
9:20 p.m., June 2
Spartz, Hale win 5th District primaries
Indiana state Sen. Victoria Spartz has won the crowded Republican primary in Indiana's 5th Congressional District, the Associated Press has declared.
Spartz defeated 14 other GOP candidates in the race, including former nurse Beth Henderson, former Marion County Prosecutor Carl Brizzi, former student ministry worship pastor at Northview Church Micah Beckwith and Indiana State Treasurer Kelly Mitchell.
With 51% of precincts reporting, Spartz led with 39% of the vote. Her next closest opponent was Henderson who captured 19%.
In the Democratic primary, former state lawmaker Christina Hale has won a five-way contest, the AP declared. Hale had 39% of the vote with 59% of precincts reporting.
9:05 p.m., June 2
Baldwin has early lead in HamCo Statehouse race
In the Indiana Senate District 20 Republican primary, Scott Baldwin is in the lead with 31% of precincts reporting.
Baldwin faces John Gaylor in the open race for Victoria Spartz's Statehouse seat in Hamilton County.
Baldwin, who was supported by Fishers Mayor Scott Fadness and Noblesville Mayor Chris Jensen, is leading 67% to 33%.
8:35 p.m., June 2
Voters are still casting ballots in Marion County
Two-and-a-half hours after polls closed, voters remained still in line at some of the vote centers, including one at North Central High School.
Polls officially closed at 6 p.m. but several polling locations still had long lines.  And as long as voters are in line by 6 p.m., they are allowed to vote—no matter how long it takes.
As of 8:30 p.m., Marion County had not released any results.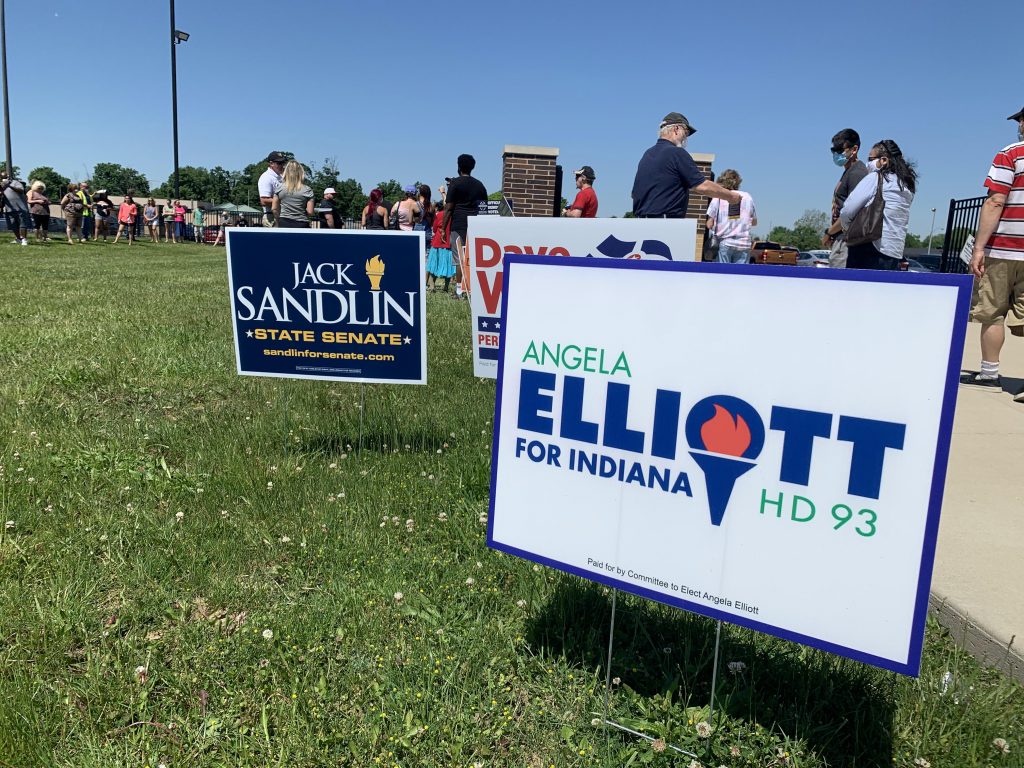 —
8 p.m., June 2
Club for Growth declares winner before big majority of 5th District results are reported
Club for Growth, the political action committee supporting state Sen. Victoria Spartz in the Republican primary for the 5th Congressional District, has already claimed victory in the race.
David McIntosh, president of the organization, issued a statement at 7:46 p.m. congratulating her.
"Victoria Spartz knows first-hand just how dangerous socialism is from her youth growing up in Soviet Ukraine, we congratulate her on her victory, and look forward to supporting her in the general election," McIntosh said in the statement. "As a fellow Hoosier I am proud of her principled, free-market positions she will take to Washington."
According to results reported by The New York Times, Spartz is up in the race with nearly 38% of the vote, with 31% of the precincts in the 5th District reporting.
But it's unclear how many of those votes include absentee ballots. In Hamilton County, where a significant portion of votes in the 5th District come from, only about half of the 37,000 absentee ballots have been tallied and none of the precincts have reported in-person votes yet.
And Marion County, which also provides a significant votes in the district, hasn't released any results.
—
7::52 p.m., June 2
Hamilton County has counted half of its absentee ballots
As of 6 pm Tuesday, Hamilton County poll workers had tallied more than half of the county's roughly 37,000 absentee ballots.
With 22,932 votes tallied, unofficial results show Kim Good is leading in the race for Hamilton County treasurer. With 51% of the votes, Good is 215 votes ahead of Susan Byer.
Incumbent Steve Dillinger leads newcomer Charlie McMillan Jr. by 2,328 votes in the Hamilton County Commissioner District 2 race. As of 6 pm, Dillinger had received 61% of the votes to McMillan Jr.'s 39%.
The top contenders in the race for the Hamilton County Council's three at-large seats are Sue Maki (20%), Steve Nation (16%) and Brad Beaver (14%).
John Ditslear received 13%; Rick McKinney and Jeff Hern were neck-and-neck at 11.18% and 11.17%, respectively; Lyneen Burrow stood at 8%, and Tony Scott received 5% of the votes.
—
7:14 p.m., June 2
The Associated Press has called the Democratic presidential primary in Indiana for the only candidate still running—former Vice President Joe Biden. Nine Democratic candidates were on the ballot, but most of those individuals dropped out months ago, including former South Bend Mayor Pete Buttigieg. U.S. Sen. Bernie Sanders was the last candidate still challenging Biden, but he ended his campaign in April.
7 p.m., June 2
Dozens of voters are still waiting in line to cast ballots still, even though polls have officially closed throughout the entire state. Any voter who was in line before polls closed is allowed to still cast a ballot.
IndyStar reporter Tony Cook shared on Twitter that he has been in line for more than an hour at North Central High School and at least 100 people are behind him.
I've been in line to vote at North Central for over an hour now. Not even close yet. And there's at least 100 people behind me. pic.twitter.com/cAByxjpMpp

— Tony Cook (@indystartony) June 2, 2020
—
6 p.m., June 2
Polls close in most of Indiana
Polls have closed in most of Indiana—and despite an unusually high number of Hoosiers opting for mail-in ballots, many voters in Indianapolis were forced to wait in line.
Voters are weighing in on primary races for all nine congressional seats, all 100 Indiana House seats, 25 Indiana Senate seats and some county-level offices. 
The presidential and the gubernatorial races are also on the ballot, but the presidential nominees for both parties have essentially already been decided—Republican President Donald Trump and former Democratic Vice President Joe Biden—and Republican Gov. Eric Holcomb and Democratic gubernatorial candidate Woody Myers are unopposed in their races.
In central Indiana, attention is on the Republican primary in the 5th Congressional District, where 15 GOP candidates are vying for the seat that Republican Congresswoman Susan Brooks is vacating. Five Democrats are also running for seat, but former state lawmaker Christina Hale is expected to win that race. 
Nearly 550,000 voters requested mail-in ballots statewide—more than 10 times the number of those ballots cast during the 2016 primary—after coronavirus concerns prompted officials to delay the primary from its original May 5 date and allow any voter to cast a ballot by mail rather than needing an excuse to do so.
In Marion County, more than 122,550 ballots were requested by mail. That's more than 20 times the number of voters who cast a ballot by mail in the last presidential primary election in 2016. 
Fewer people cast in-person ballots early in Marion County than in previous elections, with less than 3,500 ballots cast. But in-person early voting was limited to about a week as opposed to a month. In 2016, more than 8,700 individuals voted early in-person.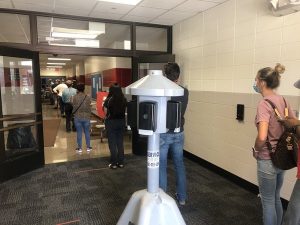 Many counties drastically cut the numbers of polling sites that were open Tuesday, which created long lines for voters, depending on the time and the location. In Indianapolis, only 22 polling locations were open, compared to the normal 270 sites.
At about 4:30 p.m. outside the Indianapolis City-County Building, a line of nearly 100 individuals wrapped around the west side entrance over to Alabama Street. Most people wore masks and were keeping distance from each other in line. A woman near the entrance to the building said she had been waiting about 40 minutes. 
Long lines formed at Beech Grove High School, where voters snaked around an inside lobby and then out the door and along the football bleachers outside.
The lines at other locations weren't as long, though. At James Garfield School on the south side, only about 40 people were in line. A hand sanitizer station was positioned just inside the building entrance for voters to use.
Election officials have warned that the high number of mail-in ballots will likely cause results to be delayed, possibly for multiple days.
Please enable JavaScript to view this content.