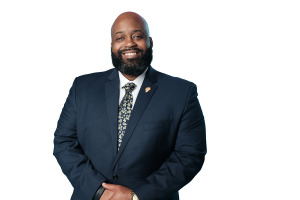 Founder and Executive Director
Vanguard Collegiate
Robert Marshall started Vanguard Collegiate of Indianapolis as a sort of payback. "Education saved my life," said Marshall, who grew up in the 46218 ZIP code, where "there weren't a plethora of high-quality school options." His mother worked two jobs to pay for him to attend the best school option she could find. He felt that "I owe it to the community that developed me to serve as an influential guide to those coming behind me."
Getting here: Marshall worked in youth-development organizations throughout Indianapolis but felt he could make a stronger impact supporting schools with programs both in and after school. He was recruited to participate in a program to recruit and train Black and brown young professionals to serve on school boards and, upon completion, was approached by a local charter school to serve on its board. That school was part of a Boston-based organization called Building Excellent Schools, which later reached out and asked if he'd ever thought about opening a school. 
First job: 12-year-old reporter for the Indianapolis Recorder. "I remember thinking it was so cool that I could use my press pass to see movies first, see sporting events like the '96 Dream Team 2, and share my opinions on events that were important to teens at the time. But what was more important was learning to write effectively and concisely, gaining perspective and living experiences that showed me there was more to the world than my neighborhood."

Proud moment: In its three-year history, Marshall's school has not expelled a single scholar—even though nationally, Black students in general and Black males specifically have historically been expelled more often than other students.  
Influential people: His late mother, Diane. "We will always have with us her love, wisdom, kindness, gentleness, sternness and the memories she created with great intention for us to cherish when times get hard."
Givebacks: Indianapolis Urban League's The Exchange board member; Kappa Alpha Psi board member
Downtime: watching basketball and terrible movies, listening to music, grilling, family time •
Check out more Forty Under 40 honorees.
Please enable JavaScript to view this content.