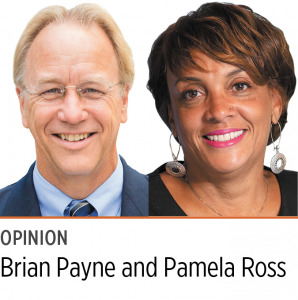 We at Central Indiana Community Foundation and its affiliates and partners—including The Indianapolis Foundation, Hamilton County Community Foundation and Women's Fund of Central Indiana—have always focused on an innovative approach to community philanthropy and an entrepreneurial vision for our community.
We have always been willing to start with an interesting new idea and adapt along the way. The Indianapolis Cultural Trail: A Legacy of Gene & Marilyn Glick is one good example.
However, we believe the most important example is our journey toward equitable opportunity for all and dismantling systemic racism.
In July 2018, IBJ published a cover article that previewed our new mission and our focused commitment to dismantling systemic racism in central Indiana.
This generational commitment began in February 2015 when new data started attracting attention that the American dream of upward mobility was at a 110-year low. Data soon followed that Indianapolis was 47th out of the 50 largest cities in America for upward mobility.
We saw this as a crisis but, at first, didn't fully realize it was a tragedy significantly caused by systemic racism in America and in our central Indiana communities.
What began as a focus on equitable opportunity for all individuals to reach their full potential deepened when our staff and board became educated and aware of the racial disparities in opportunity and the way policies and programs have been operationalized to disproportionately and specifically keep Black, Latino and Indigenous people from reaching their full potential.
This has devastatingly detrimental economic, moral, spiritual and social impacts on our entire community, including white people.
In 2017, a colleague at an all-staff meeting asked senior leadership if staff should be expected to talk about race and systemic racism in the community. This caught leadership by surprise, and we stammered and stuttered. We had not yet gotten that far in our thinking.
Six months later, we decided we would have to talk about race and systemic racism if we had any realistic chance of achieving our new mission of equitable opportunity for all individuals in central Indiana—no matter place, race or identity.
And since there had not been a community-wide conversation about race in decades in Indianapolis or central Indiana, we figured it was up to us to start that conversation. The IBJ cover article on our mission was the beginning, and we followed up with a convening of almost 2,000 people on April 11, 2019, at Bankers Life Fieldhouse.
And then 2020 came, and the disproportionate effects of COVID-19 on people of color and the murder of George Floyd forced the entire country into the conversation about race and systemic racism.
We at CICF have felt a tremendous amount of community support. We have had our challenges internally with staff discussions and externally with individuals and a few fundholders who have not agreed with our assessment or our language. Gratefully, our board has never wavered in its commitment and support.
We believe the data and history speak loudly and truthfully about systemic racism and that all individuals in our community should take the time to get informed and to connect with people of different races, identities and lived experiences.
We at CICF—and all of us in central Indiana—need to come together, do the work of learning about not only our painful past but also the current perpetuation of racist systems. We must get in a conversation in which we listen as much as we talk, and once we learn, we act. Later this year, we will launch a racial-equity-engagement platform called "The Movement of 10,000" to do those very things.
CICF will stay committed to bold action and new and innovative approaches to dismantling systems that were built on racist principles and replace them with systems built on principles of equity.
We pledge to be more thoughtful about the language we use so we can effectively call people into the conversation and not call them out and discourage them from participating in the most important work our community and country could possibly do. We invite you to join us.•
__________
Payne is president and CEO of the Central Indiana Community Foundation and president of The Indianapolis Foundation. Ross is vice president of opportunity, equity and inclusion at CICF.
Please enable JavaScript to view this content.