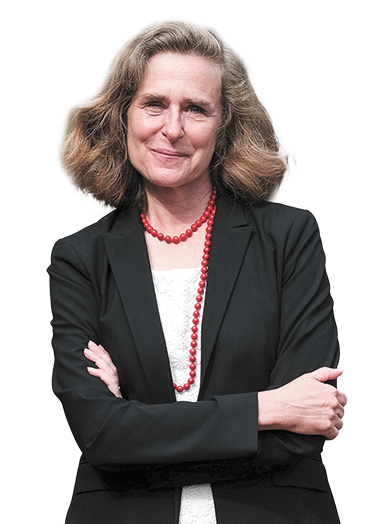 "A force of nature."
That's what one former colleague called Pamela Whitten, Indiana University's 19th president and the first woman to lead the more-than-200-year-old institution.
The IU board of trustees announced in April that Whitten—then the president of Kennesaw State University in Georgia—would take over as president on July 1.
She replaced Michael McRobbie, who said in August 2020 that he would step down after 14 years overseeing the school, which has about 90,000 degree-seeking students across its core campuses in Bloomington and Indianapolis, online and at seven regional sites.
IU board members said Whitten's success in fundraising, enrollment growth and improving diversity among students and faculty were key to their decision to choose her after a national search.
Whitten—addressing the board right after the vote to hire her—pledged to keep an IU education affordable, accessible and high-quality, and to ensure "diverse, tolerant and inclusive" campuses.
"Central to all that we do across every area of the university will be ensuring the success of our students, who are truly our lifeblood," she said.
Whitten had been at Kennesaw State, a public university with more than 41,000 students, since June 2018, when she was appointed president by the state's University System Board of Regents. KSU, founded in 1963, offers more than 150 undergraduate, graduate and doctoral degrees on two campuses in suburban Atlanta.
Whitten took over at KSU after its previous president resigned amid criticism of his
handling of student protests concerning the national anthem.
Rick Van Kooten, executive dean of the College of Arts and Sciences at IU Bloomington and an adviser on the presidential search, said Whitten "took over the reins of an institution that was somewhat of a train wreck and turned it around in just two years. It required close interaction with the state Legislature and skills in fundraising."
Before moving to Kennesaw State, Whitten served from 2014-2018 as senior vice president for academic affairs and provost at the University of Georgia.
She previously spent 16 years at Michigan State University, where she rose to be the dean of the College of Communication Arts and Sciences. She was also director for telemedicine at the University of Kansas Medical Center and a Purdue University professor of health communication and Regenstrief faculty scholar.
Former colleagues told IBJ that Whitten is fast-moving with tremendous energy, usually focused on students.
"The grass doesn't grow under her feet," said Rahul Shrivastav, vice president of instruction at the University of Georgia. "She was always very student-focused from the academic side, but she was also in the basketball arena or the football stadium with the students, talking to them."
"You could be in a meeting with her and have an open conversation. She could listen to 10 people talking, and very quickly zero in on the common theme, and then rally everybody around that particular issue. That was really a talent."
James Spaniolo, retired dean of the College of Communications at Michigan State University, said he referred to Whitten as a "force of nature" and said she would "actually jog from one meeting to another."
"She understands the academic enterprise," Spaniolo said. "She's very analytical, very quick in assessing situations
and developing plans of action and strategic initiatives."
Whitten became just the sixth woman to serve as president of a public college in Indiana. Two women are presidents in Indiana now: Deborah Curtis at Indiana State and Sue Ellspermann at Ivy Tech Community College. Several women are or have been presidents at Indiana's private colleges.•
Check out more 2021 Newsmakers.
Please enable JavaScript to view this content.