The mass shooting at a FedEx facility near the Indianapolis International Airport in April made national headlines and reignited debate over a state law designed to keep firearms out of the hands of those who pose a danger to themselves or others.
The shootings added to what was a growing list of homicides in the city.
By early November, Indianapolis had recorded 217 homicides for 2021, with two months left in the year—breaking its record for the second straight year. The city recorded 215 criminal homicides in all of 2020.
The FedEx shooting occurred at a ground faciility near the Indianapolis International Airport on April 15. Brandon Hole, a former employee, shot and killed eight people within minutes, before turning a gun on himself.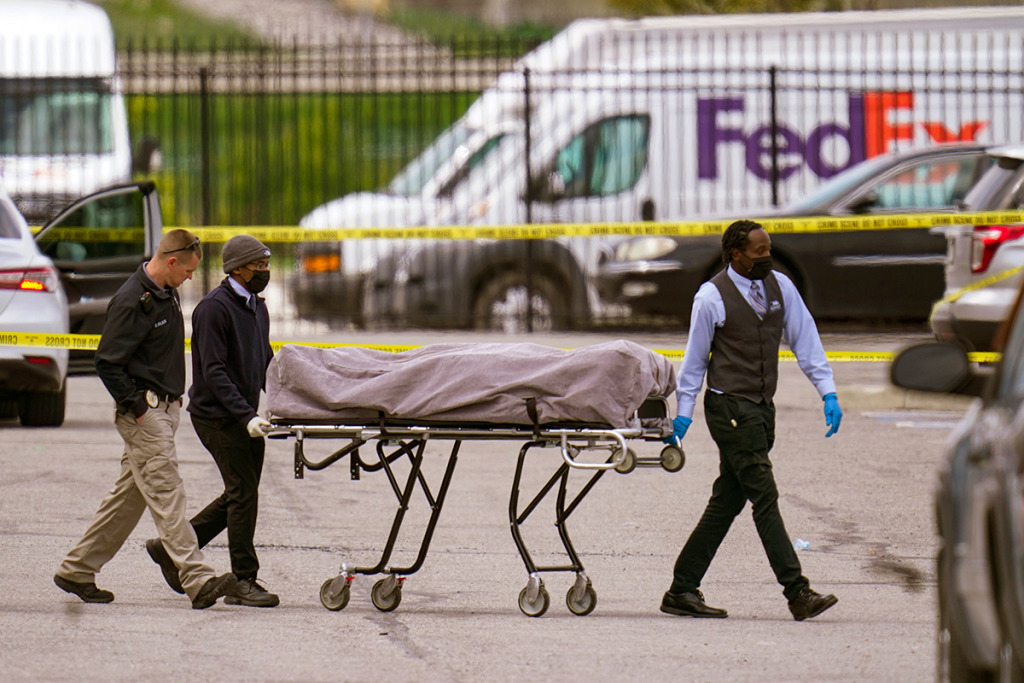 Those who died were Matthew Alexander, Samaria Blackwell, Amarjeet Johal, Jasvinder Kaur, Amarji Sekhon, Jaswinder Singh, Karli Smith and John Weisert.
Four were of Indianapolis' Sikh religious community. Though city police and federal authorities concluded in July that Hole was not motivated by race or ethnicity, not all were convinced.
"Though law enforcement has said this investigation is over, for all the families who lost loved ones, the survivors, the Sikh community, and anyone else impacted by hate violence, these questions will remain forever," said Sikh Coalition Legal Director Amrith Kaur in a statement at the time.
The violence also sparked intense debate over Indiana's red-flag law, which lets law enforcement officers seize guns from those a judge agrees are dangerous, and prevent them from buying more. Indiana's red-flag law was thought to be among the strongest in the country.
In September 2020, Hole legally purchased the two high-powered rifles he used in the FedEx shooting, despite having had a gun seized in March earlier that year—after his mother called police to say her son might commit "suicide by cop."
But Hole never appeared before a judge for a hearing under the red-flag law.
Marion County Prosecutor Ryan Mears said he hadn't invoked the law in the 2020 case because a two-week deadline on initial court hearings didn't allow enough time to subpoena medical records. Those records, Mears said, could have demonstrated violent tendencies or suicidal thoughts. Failing in court would've meant returning the gun.
Other records, however, might have worked. The Indianapolis Star reported in October that, in a 2013 police report, an 11-year-old Hole was accused of punching his mother in the face and stabbing her with a table knife.
In August, Mayor Joe Hogsett unveiled a $166.5 million anti-violence plan at a City-County Council meeting, on top of a billion-dollar operating budget proposal that focuses heavily on public safety.
The three-year anti-violence plan—which the council approved several weeks later—is funded with $150 million in federal dollars, more than a third of the $419 million the city will receive in federal coronavirus relief.
The anti-violence plan gives $33 million to traditional law enforcement efforts, $82 million to community-led programming and $51.5 million to "root cause" services like mental health care, hunger relief and workforce development.
The Indianapolis Metropolitan Police Department will spend nearly $20 million to fund 100 new police officer positions, plus another $4.5 million on 22 new civilian Public Safety Officer Unit positions, which handle non-emergency situations.•
Check out more year-in-review stories from 2021.
Please enable JavaScript to view this content.