OK, I admit it—I like hot dogs. Maybe a little too much. I blame my husband, who worked his way through college at Fort Wayne's famous Coney Island wiener stand.

But I'm also a grammar snob, which is one reason it took me so long to make the trek to Broad Ripple to try Gourmet Frank's (916 E. Westfield Blvd., 252-5790). There is no Frank, just an unnecessary apostrophe—which I call the Hoosier possessive—in the simple description of its star menu item: franks, as in hot dogs.

I quelled my inner copy editor in the interest of official business, though, visiting the out-of-the-way eatery for lunch. Tucked down an alley behind sister establishment Zoe's Yogurt Village (with which it shares a kitchen), it's as unassuming as you'd expect a hot dog joint to be.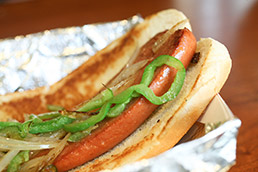 The foot-long Hebrew National is just one of nine dogs/sausages at Gourmet Frank's on Westfield Boulevard. (IBJ Photo/ Perry Reichanadter)
Diners order at the counter, then wait for their selections to be grilled and assembled. The array of options was dizzying for someone who's used to such decisions being made for her. Nine different kinds of dogs/sausage ($5.25-$5.50) and at least as many toppings. We didn't get too fancy.

I chose the foot-long Hebrew National with grilled peppers and onions. The dog was butterflied before spending time on the flat-top grill with the veggies and bun, and proved a messy delight when it all came together beneath a generous layer of spicy mustard. The bun—melt-in-your-mouth soft despite the quick crunch from the grill—was especially memorable. Notsomuch the pasta salad ($2.99), which was almost entirely pasta and no "salad."

My companion tried the Smoked Chicken Apple sausage, or at least he thought he did. The menu also includes an Organic Chicken & Apple dog, and he couldn't swear that he made the distinction when he ordered. Not much smoky flavor was in evidence, at any rate, and the bun didn't do a particularly good job of holding the decent-but-unmemorable sausage it was designed to contain.

The Loaded Chili Cheese Fries ($3.50) showed promise, but suffered from being undercooked. Even the house-seasoned waffle fries that weren't smothered in chili and cheddar were noticeably limp—which doesn't mean they didn't get eaten, of course.

After our meal, we headed up the alley to give Zoe's a try. The tangy non-fat frozen yogurt (48 cents per ounce) was a welcome antidote to our decadent lunch—at least that's what I'll tell my dietitian if she asks.•

—Andrea Muirragui Davis

__________

Last in our month-long series of visits to new Broad Ripple area dining spots.