A basic fact about electric vehicles: They're made up of many different components, but fewer than in gasoline-powered vehicles.
That is one reason the drive toward electric vehicles represents a disruptive force—but also a source of opportunity—for traditional automakers and suppliers, as well as for states where the industry has been a mainstay.
"The earlier we get people thinking about this … the more competitive we'll be," said Ananth Iyer, professor of management at Purdue University's Krannert School of Management.
The issue is especially critical for Indiana, which is one of the nation's leading automotive producers. The state's five automotive assembly plants, and the suppliers who serve them, produce 1.3 million cars and trucks per year, employing just more than 110,000 workers.
The transition to electric vehicles and the manufacturing that supports them won't happen overnight, but it has already started, both in Indiana and elsewhere.
According to the not-for-profit Center for Automotive Research in Ann Arbor, Michigan, 16.5 million total vehicles will be produced in North America next year. Just less than 4 million of those, or close to 25%, will be either hybrids or electric vehicles. By 2029, CAR predicts, North America will produce 17.8 million vehicles, with just more than half of them either hybrids or electrics.
"We're in the early stages here, but in the next decade and a half, most companies expect to have made the full transition" to electric vehicles, said Bernard Swiecki, CAR's director of research.
At present, none of Indiana's automotive plants is producing a purely electric vehicle. But their parent companies are taking steps into the market—as are suppliers.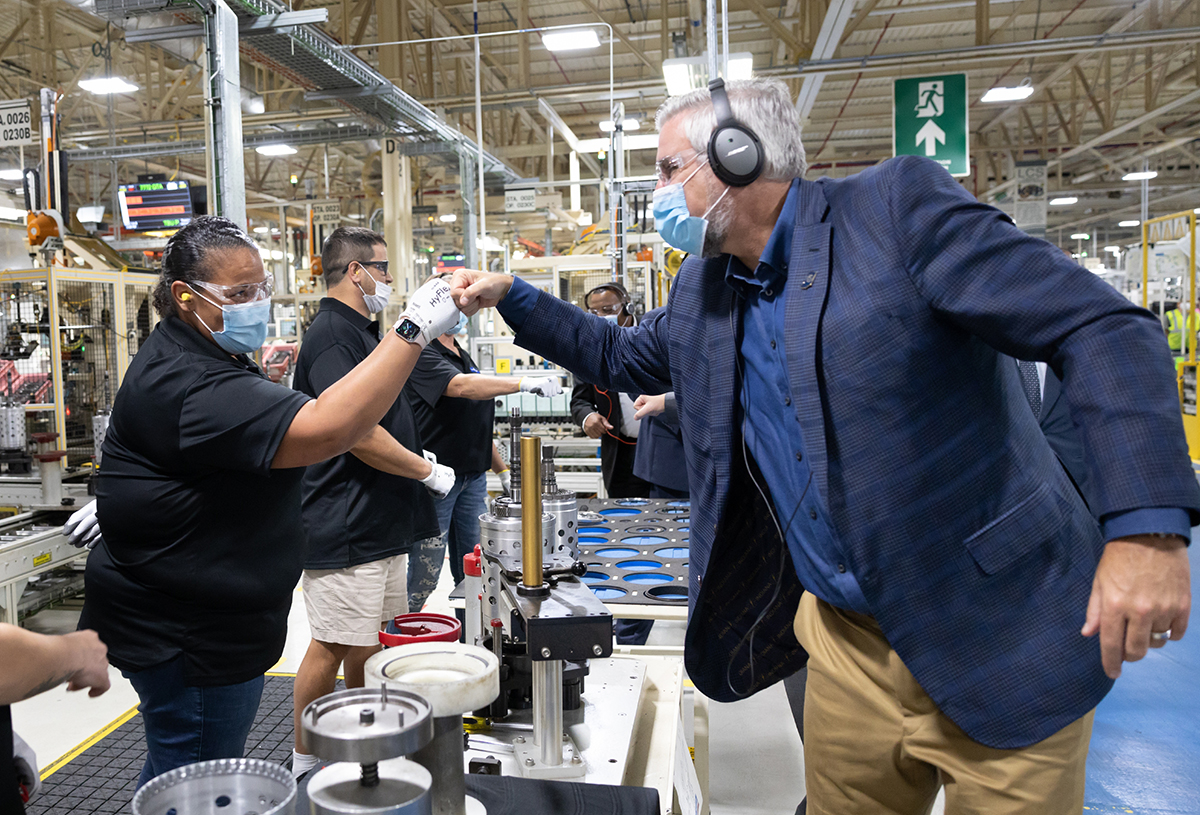 A few examples:
Japan-based Subaru will launch its first all-electric vehicle, the Solterra sports utility vehicle, next month. The vehicle was produced in collaboration with Toyota and is being made by Toyota in Japan. Subaru says it may move production to its main market, the U.S., when it has built sufficient sales volume for the Solterra, Reuters reported last fall. Subaru's only manufacturing plant outside Japan is in Lafayette.
In a briefing last month, Japan-based Honda said it plans to launch 30 electric vehicles globally by 2030, with a production volume of more than 2 million units per year. Those vehicles include two all-electric SUVs set to debut in North America in 2024, developed jointly with General Motors.
Currently, Honda produces two hybrid vehicles at its Greensburg plant—the Insight sedan and the CR-V, a compact SUV.
Honda spokeswoman Yolanda White said Honda plans to establish a dedicated electric vehicle production line in North America, though it has not yet announced a location.
And last fall, Stellantis (formerly Fiat Chrysler) announced it would invest $229 million to retool its Kokomo plants to produce vehicle transmissions that can be used in hybrid vehicles. Excluding its heavy trucks, Stellantis has said, all of its product launches starting in 2024 will include a battery-electric version, with a goal of having more than 25 battery-electric products in its U.S. product lineup by 2030.
And the biggest announcement yet: Stellantis said Tuesday it is partnering with Samsung SDI on a $2.5 billion battery-manufacturing plant that will employ about 1,400 people when it opens in 2025.
The transition has the potential to seriously disrupt the legacy auto industry, in Indiana and across the U.S.
One reason is that the barrier to entry for electric vehicles is lower than for traditional gas-powered vehicles, Swiecki said. The engines and transmissions in gas-powered vehicles use complex and proprietary technology, he said. But the equation is different for cars powered by batteries and electric motors.
"When you change that, you've removed the main thing that made it difficult to be a new entrant," Swiecki said. "A company who doesn't have that legacy to have the capability of making all of these things [engines and transmissions] suddenly has a shot of entering the market."
Tesla may be the best-known electric vehicle maker, but the market also includes startups like Vietnam-based VinFast, which launched in 2017. Even Dyson, the vacuum maker, launched an electric-vehicle division, though it decided in 2019 to cease those efforts.
And, earlier this month, Taiwan-based Foxconn, best known as a contract manufacturer of the iPhone and other consumer electronics, closed on the purchase of the Lordstown Motors plant in Ohio. Foxconn plans to make electric vehicles at the facility.
"Holy cow, that's wacky," Swiecki said.
Quantifying the risk
Iyer and several of his Purdue colleagues are attempting to quantify the potential disruption and come up with some solutions. They produced a study released last fall that examines the potential impact of electric vehicles on Indiana's automotive suppliers. The study focused on 14 counties in the west-central part of the state, including Tippecanoe County, where Subaru Automotive of Indiana's manufacturing plant is located. The study region does not include the Indianapolis area.
The 14-county area includes 528 companies in the automotive supply chain. Those companies employ more than 46,000 people and have total revenue topping $10.4 billion, the study shows. But if they don't take steps to adapt to the electric vehicle market, those companies risk seeing their revenue and their employment plunge 32%.
An estimated 25% of the companies, or 130 of them, could see their revenue "decimated," the study says.
The impact, Iyer said, is largely because some of the basic components of internal combustion vehicles—like traditional engines, fuel systems and transmissions—aren't needed in pure electric vehicles.
But the study also suggests that, if companies take an innovative approach, the potential impact to revenue could be as little as 3.8%.
A range of options
Manufacturers should not look at the electric-vehicle trend with a "doom and gloom" mindset, Iyer said. "I really think, if they think in advance, new opportunities may open up."
He said companies should be looking at their capabilities with a wide lens—considering not just what they do now, but what they could do with their workforce, equipment and know-how.
"That constellation of people can do a lot more than the specific product they make," Iyer said. "This is really what a company should be thinking about."
In some cases, Iyer said, a company might investigate new markets in adjacent industries. A company that makes pumps for automobiles, for instance, might be able to move into making pumps for dishwashers.
Reshoring, or the trend of bringing supply chains back to the U.S. from overseas, could provide other opportunities, Iyer said. A part-maker might be able to find new customers who are interested in having domestic sourcing options.
A third option, which Iyer admits is a more radical step, is for companies to think about entirely new opportunities that electric vehicles may present. There might be an opportunity in the salvage and recycling of electric-vehicle batteries, for instance. A large manufacturer could even install charging stations in its parking lot and make money from the customers who pay to use the chargers, he said.
Iyer and his colleagues are not the only ones thinking of how the state's auto industry can adapt.
Last fall, the Indiana Legislature created the Electric Vehicle Product Commission, a 10-member commission whose mission is to explore how Indiana's auto industry can adapt for the age of electric vehicles.
The group began meeting in November and is working on a report that evaluates the industry and offers suggestions for possible legislation. The commission aims to have that report ready for the Indiana Economic Development Corp. by Sept. 30.
The commission's chairman is Ben Wrightsman, who also serves as the CEO of the Battery Innovation Center in Newberry, near the Naval Surface Warfare Center in Crane.
Wrightsman is optimistic that Indiana will remain a manufacturing leader in the evolving electric vehicle industry.
While California has gotten a lot of early attention for its electric-vehicle activities, Wrightsman said, that state's political and regulatory climates make it harder for things to happen quickly there.
That, he said, is where Indiana has an edge. Its strong manufacturing capabilities, trained automotive workforce and pro-business climate enable the state to move more quickly, even if other states get an earlier start. "Our climate allows us to move and be agile enough. … I feel very confident that we'll be part of the industry lead."
Adapting the workforce
Wrightsman said he's also confident that Indiana's workforce is willing and able to adapt to the demands of electric vehicle production. If someone knows how to assemble a gas-powered vehicle, he said, learning the skills needed for electric-vehicle assembly is not a huge leap. "I think we've got a willing workforce that's asking the question of, 'What do we need, and what's next?'"
Conexus Indiana, an Indianapolis-based not-for-profit organization that supports the state's advanced manufacturing and logistics industries, is also looking ahead.
Bryce Carpenter, vice president of industry engagement at Conexus, said his organization is pitching the IEDC on a study that would examine what parts of the state's automotive supply chain will need retraining. The study might become part of the Electric Vehicle Product Commission's work, Carpenter said.
Carpenter, and others, also expect the shift to electric vehicles to have an impact on workforce numbers, since electric vehicles don't require as many parts. "Any time you have fewer parts, that translates into less steps in your manufacturing process."
But Carpenter also noted manufacturers are facing a labor shortage, with many vacancies going unfilled. So reductions might not result in wide-scale layoffs.
Like Iyer and his colleagues, Carpenter said Conexus expects that some automotive suppliers will be more impacted than others in the transition to electric vehicles.
Regardless of their power source, all vehicles need things like tires, seating and mirrors, Carpenter said. "There are elements of the supply chain that will remain intact."
Carpenter also pointed out the shift to electric vehicles won't happen overnight. That's good news for those manufacturers that will have to make bigger adjustments to their businesses.
"[A] company that's making fuel injectors is going to have the better part of 10 years to transition their portfolio to serve the EV market," Carpenter said.
Batteries are key
But because some parts of the supply chain will change, Conexus is also looking at how to fill in the gaps: How can Indiana recruit battery-makers and other manufacturers that will be needed for the production of electric vehicles, but might not yet have a presence here?
"The state needs to create a robust supply chain," Carpenter said.
This is something Iyer also thinks about. Speaking to IBJ before the Stellantis announcement on Tuesday, he said he was worried that battery makers had recently announced big projects in Ohio, Kentucky, Tennessee and Michigan—but not in Indiana.
Toyota, which has an assembly plant in the southwest Indiana city of Princeton, announced late last year that it had selected North Carolina as the site of a planned $1.29 billion battery plant.
Location is significant, Iyer said, because battery plants tend to be large-scale facilities, and the batteries are so heavy that it's not economically feasible to transport them long distances.
"Once you have a battery plant, it becomes optimal for the [vehicle] assembly plants to be not far from the battery plants," Iyer said.
In the meantime, Iyer said, he and his colleagues are continuing to share their study with parties around the state. They've created an electric vehicle opportunity group with about 75 companies, which held its first meeting earlier this month.
Purdue is also working to expand its study from its initial 14 counties so that it includes data from the entire state.
"We're continuing to push the agenda of this report," Iyer said. "It's our intention to keep this going so there's a dialogue."•
Please enable JavaScript to view this content.