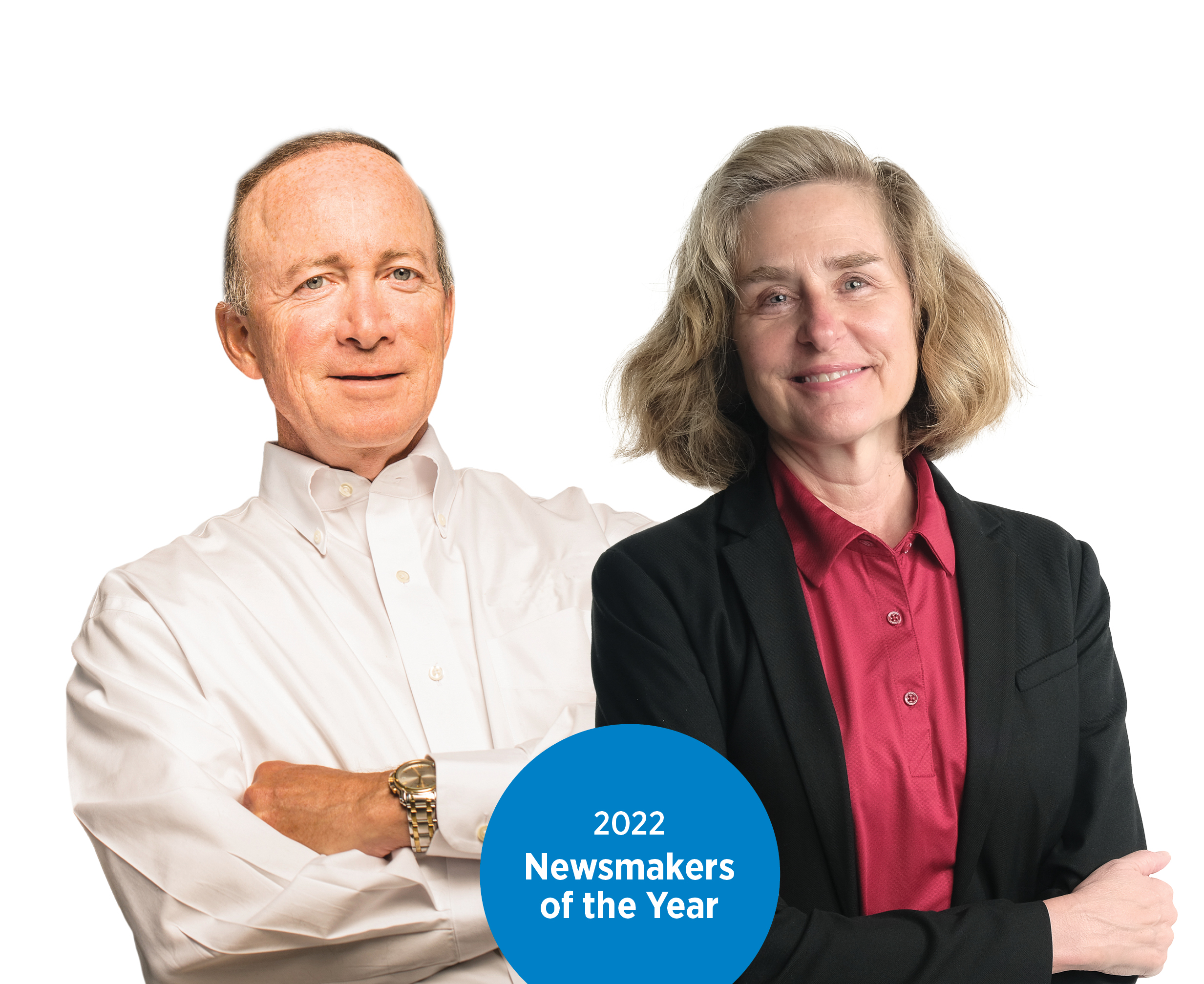 The presidents of Indiana's public research universities—one just a year into her job and the other preparing for retirement after a 10-year tenure—dropped the news in August: They were dissolving IUPUI, their joint operation in Indianapolis, with each school forging new paths in the capital city.
Much of the campus will become Indiana University Indianapolis, with Purdue University aiming to significantly grow its Indianapolis programs in what it describes as an extension of its West Lafayette campus.
The split is a move that state and local officials and many business leaders had quietly advocated for years because it gives each school the opportunity to develop its own strengths in the city without being hampered by the confusing partnership.
Still, it took the right two leaders to make it happen.
Purdue President Mitch Daniels, a former Indiana governor who has made the success of Indiana's economy his guiding light, had been trying to get a conversation going with his counterpart at IU for several years. 
But the discussion didn't get traction until IU's previous president, Michael McRobbie, retired in 2021, and was succeeded by Whitten.
"It just didn't fit into IU's plans," Daniels told IBJ. "Then, President Whitten took a fresh look. And I'm just very grateful to her and her board for being open-minded and working with us on what I think is becoming a very exciting joint project."
Whitten came to Indiana from Kennesaw State in Georgia and said that, when she interviewed for the president's job, the IU board of trustees told her that transforming IUPUI was a major priority. The split is a step toward that goal.
"We get to design a world-class urban university for the city of Indianapolis and really put the city on the map," she said.
IU will continue to operate the campus and rebrand starting in 2024. Purdue will continue to offer classes in a handful of buildings while it grows by more than 1,000 students in the coming years. 
At the time of the announcement, Purdue had 5,000 undergraduate, graduate and professional students enrolled at IUPUI; IU had 26,000 on the campus.
The universities will work together on a biosciences engineering institute, made up of IU's School of Medicine and health-related disciplines and Purdue's Weldon School of Biomedical Engineering and its health-related programs.
IU will take over operation of what is now the School of Science at IUPUI, except for its Department of Computer Science, which will become part of Purdue—and expand its Bloomington-based Luddy School of Informatics, Computing and Engineering with new computer science programs in Indianapolis.
The IUPUI decision came amid big years for both presidents.
Daniels announced in June that he will step down in December after 10 years in the job, a time in which Purdue's enrollment hit records and the school kept its tuition flat, even as others raised their costs.
And in November, Purdue announced that Daniels will remain chair of the Purdue Research Foundation after he leaves his post as president of the university. The school said Daniels will continue to oversee the economic development pipeline and growth of Discovery Park District at Purdue. He will also serve as liaison to the Legislature and Indiana government as Purdue establishes an independent presence in Indianapolis.
In September, at her first State of the University address, Whitten unveiled a framework for a new strategy called IU 2030.
The plan will be divided into three areas: student success and opportunity; transformative research and creativity; and service to state, nation and beyond.
"We are embarking upon an unprecedented opportunity to collectively create a future of unbridled impact that will result from our ambition and imagination," Whitten said about the plan. "I'm honored to have the opportunity to take this journey together."•
Check out more 2022 Newsmakers.
Please enable JavaScript to view this content.