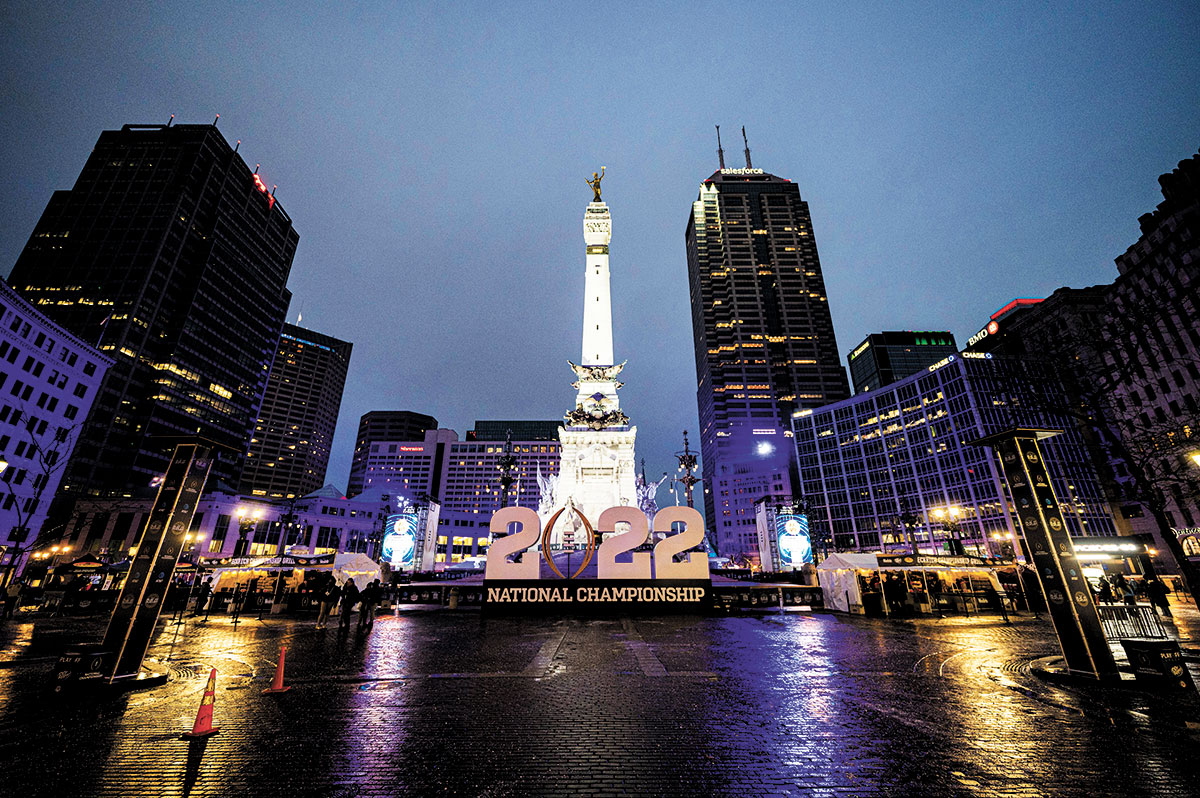 Indianapolis played host to the 2022 College Football Playoff National Championship game on Jan. 10 at Lucas Oil Stadium, bringing more than $156 million to the city in the process.
The title game—in which Georgia won its first national championship since 1980, defeating Alabama 33-18—was the biggest football championship to be held in Indianapolis since the Super Bowl in 2012.
According to a study from Maryland-based Rockport Analytics, revenue generated from the event (or tied to it) was on par with expectations at around $150 million. 
It was also the first fully ticketed, national-scale event the city hosted during the pandemic and came about 10 months after central Indiana hosted the majority of the NCAA Division I men's basketball tournament in 2021. That event—hampered by reduced attendance limits and other health restrictions—generated $47 million in economic impact for the city.
The study found the net impact on the central Indiana economy for the football championship was $81.4 million. In addition, the College Football Playoff generated media exposure for Indianapolis worth $34 million, driven in large part by the 22.6 million people who tuned into the game on ESPN.
About 56,000 people visited Indianapolis for the game, spending an average of $281 per day. Nearly 80% of the game's spectators were from outside of Indianapolis, and about 70% were from out-of-state, according to the report. About 24% of fans came from Georgia and about 10% came from Alabama.
The report also said the event:
◗ Generated 66,700 room nights, taking 27% of the available hotels in the entire Indianapolis metropolitan area over the four-day period.
◗ Resulted in $19.7 million in tax receipts for local, state and federal governments.
◗ Generated $53 million in local wages, supporting 1,455 jobs.
◗ Led to $39 million in spending on game and event operations, including broadcasting.
It's not clear when Indianapolis might have an opportunity to host the game again, as host cities are set through 2026. Local organizers spent $14 million to host the event, with most of that coming through donations from individuals and businesses; some donations came through in-kind contributions.
The College Football Playoff National Championship was selected as the best college event in 2022 by SportsTravel Magazine—a first for the game.•
Check out more year-in-review stories from 2022.
Please enable JavaScript to view this content.