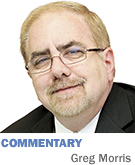 My name is Greg Morris and I am the new publisher of the Indianapolis Business Journal.
I was appointed interim publisher March 1; however, this issue of IBJ marks the first time I am privileged to speak
to you as the full-fledged publisher. I am grateful and humbled for the opportunity to serve as the sixth publisher in IBJ's
history, succeeding Chris Katterjohn, who was publisher the past 20 years.
My mission is to ensure IBJ provides the best and most comprehensive business news available to the central Indiana
business community and to provide that information in the format you want to receive it. More on this topic later but, first,
here's a little history.
I came to IBJ 19 years ago while sitting out a six-month non-compete contract in the broadcast business. IBJ's
ownership also owned three radio stations and the plan was to work on improving sales at IBJ while working my way
into the radio company. I did end up as director of sales and a station manager at the radio company, but a funny thing happened
along the way. I never left IBJ. I loved my job at IBJ.
When we sold our radio company in late 2004, I ended up at IBJ full time. Since then, Chris Katterjohn and I basically
co-managed IBJ Media. That experience positioned me for the publisher job I have today.
So, who am I? I've lived in the Indianapolis metro area most of my life and am a product of Carmel schools and Indiana
University. My wife, Joyce, is a manager in the banking business and we have three grown children living and working in the
area. I am an active member on the United Way of Central Indiana board, and I'm an officer and board member for the
Hoosier State Press Association. The HSPA represents 175 daily and non-daily paid circulation newspapers in the state and
is dedicated to protecting and empowering the great tradition of newspapering in Indiana.
At IBJ, we're doing our part to help HSPA carry out that mission. Producing a journalistic publication that
provides business news you can count on is serious business. This is especially critical at a time there is so much confusion
about what real news is as opposed to opinion, speculation, rumor or public relations. The same philosophy carries over to
our digital and online products. You should be confident that IBJ's tradition of award-winning journalism will
continue under new leadership. I can assure you it will.
We look at our company as not just a newspaper, but a news company. The newspaper is our primary form of disseminating information
and I'm pleased to say the printed paper is here to stay. Of course, we also have ibj.com and the newsletters and alerts
we send via e-mail. Our website, by the way, is a finalist for an Eppy Award. We'll find out how we fared against CBS'
"MoneyWatch," Crain's Chicago Business and a handful of other finalists in our two categories when the awards
are handed out by Editor & Publisher magazine June 17 in Las Vegas. Win or lose, we're honored to be in
such fine company.
We're not resting on our laurels. Coming soon, we're going to bring you mobile news via apps on your iPhone,
BlackBerry and Android smart phone. This is just the beginning of many new technological ways to supplement our newspaper
and better serve our customers. Think print and digital together as we move forward.
As a businessperson, I understand the challenging times businesses are experiencing today. We want to provide news that is
valuable to your business and/or your career. I want to thank our loyal subscribers, readers and advertisers for your patronage.
It is your choice to do business with us and I do not take that choice for granted. If you have any suggestions, observations
or complaints, or catch us doing something you like, I would appreciate hearing from you.•
__________
Morris is publisher of IBJ. His column appears every other week. To comment on this column, send e-mail to [email protected]
Please enable JavaScript to view this content.