I've never been to the original Pennsylvania Street eatery, so I had no point of reference for my inaugural trip to Urban Element II (415 N. Alabama St., 602-5408). All the better to avoid potential disappointment—with one restaurant or the other—since comparisons between the two would be unavoidable.

But I had been in the Alabama space before, during its previous life as Elements, the similarly named but unrelated fine-dining restaurant that closed last year. Not much has changed in terms of decor, but menu is decidedly more accessible, both in price and concept. Think chicken tenders, not beef cheeks.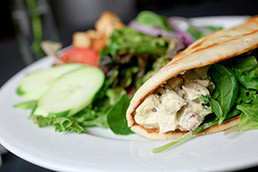 The Curried Chicken Salad was the highlight of our lengthy—but free—lunch. (IBJ Photo/ Perry Reichanadter)
Lucky enough to find a parking meter out front, my dining companion and I arrived for lunch and settled in for our meal, ordering the decadent Shrimp and Crab Bake ($8) to tide us over while we waited for our healthy(ish) sandwiches. And we waited.

After about 30 minutes and a trip outside to plug the meter, our server arrived tableside with not our food but a confession: He had forgotten to ring up our appetizer. No apology, no promise of expediency, just the facts, ma'am.

His attitude raised our eyebrows, but mistakes happen. We were enjoying our conversation, and neither of us had to rush back to the office. (Of course, I was on the clock, anyway, although he didn't know that since our reviews are anonymous.)

And when another staffer delivered the warm bowl of creamy, crabby goodness a short time later with the promise of a 50-percent discount, all the better. How such problems are fixed says a lot about a restaurant's culture.

It didn't take long for our meals to arrive, but in the meantime we exchanged sympathetic looks with a couple of other tables of diners who also had been waiting awhile. Then we forgot all about them and dug in.

My Curried Chicken Salad Sandwich and side salad ($6.50) was outstanding—plenty of chunks of grilled chicken tossed in a spicy green curry sauce, topped with mixed greens and served between two pieces of pita bread. The salad also was good, aided by a tasty—and unusual—pineapple vinaigrette.

The Veggie Sandwich ($6) my friend ordered also delivered, but in less- spectacular fashion. Wheat bread sandwiched sliced cucumbers, tomatoes, red onions and avocado and two kinds of cheese—though the promised cheddar looked more like American. The standard side of fries was OK, but nothing to rave about.

So did we get the promised half-price appetizer to compensate us for our lengthy lunch? Not exactly. While we were debating who would take home the yummy leftover crab bake, one of the other diners got our attention to tell us he had picked up our tab, along with that of the table next to us. Turns out he was one of the owners, and he wanted to apologize for our wait.

Since he had no way of knowing we were reviewing the restaurant, we accepted, thanked him, and planned our next trip—on our own dime.•

—Andrea Muirragui Davis

__________

First in our month-long series of "elemental" restaurant reviews.