The parent of locally based lithium-ion battery maker EnerDel is putting together hundreds of millions of dollars in financing to fund a business plan that could bring revenue to nearly $1 billion within five years.
EnerDel, a maker of battery packs for electric vehicles, is by far the largest subsidiary of New York-based Ener1, a publicly traded firm that also develops fuel-cell products and nanotechnology-based materials used in manufacturing.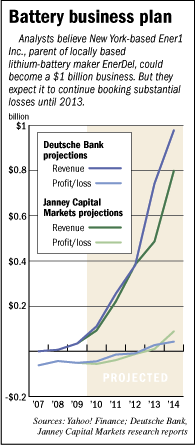 "Ener1 has worked hard over the last few years to lay out the foundation to exploit the huge growth potential as the electric vehicle industry and applications for energy-storage technology gather momentum," Ener1 CEO Charles Gassenheimer said in a conference call with analysts last month.
On June 1, the company took a big step forward by announcing a $65 million equity investment from its largest shareholder, a group that includes Russian industrialist Boris G. Zingarevich, co-founder of the world's largest pulp and paper company.
Even more cash could come rolling in soon. Ener1 spokeswoman Rachel Carroll said the $65 million was one step in a multi-part financing plan the company hopes to put in place by the end of the summer. One element, she said, would be a similar equity investment by another prior Ener1 investor.
Last August, the company received a $118 million federal stimulus grant, and Carroll said another huge federal infusion is in the works. She said Ener1 has received a term sheet from the U.S. Department of Energy for a roughly $300 million low-interest loan.
The company also is in line for $21 million in tax credits from the state of Indiana because it chose to build its first full-scale battery production facility in Hancock County. The recently opened plant plans to hire 1,400 people over the next several years.
EnerDel formed in 1994 via the merger of the lithium-battery operations of Ener1 and Michigan-based Delphi Corp. The company has its headquarters at Hague Road, where about 200 of its 260 employees and independent contractors work.
The capital infusions have allowed EnerDel to roll out an ambitious expansion plan despite the absence of profits. Ener1 over the last three years has reported total losses topping $150 million. Revenue in 2009 was just $35 million.
The investment firm Deutsche Bank is bullish on Ener1 but projects the firm won't turn profitable until 2013. It estimates that revenue in 2014 will reach $978 million.
Helping fuel the growth, Deutsche Bank says, is a joint venture Ener1 announced May 27 with Wanxiang, one of the largest auto parts suppliers in China.
"We believe our assessment of Ener1's revenue/earnings prospects are reasonably conservative," Deutsche Bank said in its report. "Nevertheless, we acknowledge it is not yet possible to model the company's growth trajectory with precision, particularly in the 2012+ time frame, which is most critical to Ener1's valuation."
Deutsche Bank said risks include loss of customers, poor execution of early programs, and eventual price deflation in the battery market. The investment firm also notes the company will rely on a relatively small number of customers, some of which have yet to sign long-term production contracts.
Janney Capital Markets isn't as optimistic, but thinks that by 2014 the company could bring in $799 million in revenue and post an $88 million profit.
Success would give the Indiana economy a big boost. Carroll said the company plans to invest $600 million here as it ramps up production to 120,000 electric vehicle battery packs annually. The company is currently building and shipping 25 a week.
The company has strong leadership in place to execute its ambitious strategy, said Charles Staley, CEO of the Anderson-based Flagship Enterprise Center, a business incubator with close ties to the auto industry.
At the helm is Rick Stanley, former president of Anderson-based Remy Inc., a maker of electrical components for the auto industry. Stanley joined EnerDel as president last fall.
"If anybody can make this work, I believe EnerDel is one of those companies that could," Stanley said.
"Currently, EnerDel is the only U.S. domestic manufacturer of commercial-scale auto-grade lithium batteries. That gives them an advantage. They're first to the table. Down the road, they're going to be great for the central part of the state."•
Please enable JavaScript to view this content.